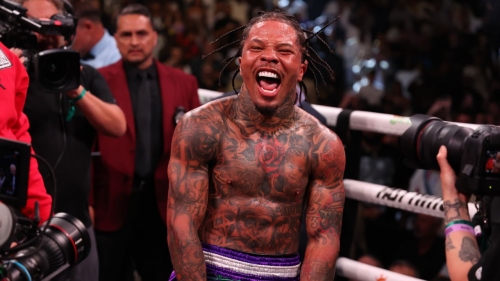 Gervonta 'Tank' Davis remains undefeated in his career.
Al Bello/Getty Images

CNN
—
Gervonta 'Tank' Davis landed a vicious body shot to knock out Ryan Garcia in the seventh round of their non-title catchweight fight and settle one of boxing's fiercest rivalries.
It didn't seem like the knockout blow when it landed. Garcia continued for a moment as if it was like all the other punches he had soaked up that night. But Davis' power then made itself known a moment later and Garcia fell to one knee, his nose bloodied, and shook his head as the referee counted down.
It was the second time that Davis had forced Garcia to the mat following a left hook in the second round. But this time, Garcia could not get back to his feet and it provided a conclusive ending to one of the most hotly anticipated match-ups in recent years.
"I didn't think that body shot would end it, but I saw his facial expression and that's what made me take it to him," Davis said afterwards, according to Sky Sports.
"It was a good shot, for sure. I thought he was going to get up, but I like to play mind games, so when he was looking at me, I was looking at him trying to tell him, 'Get up!' He just shook his head no."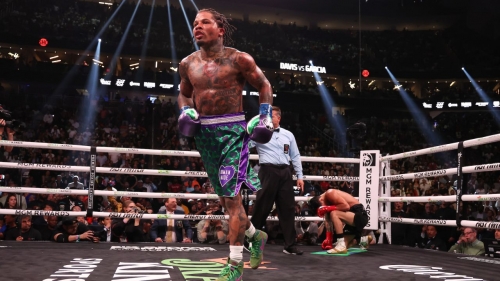 'Tank' Davis defeated Ryan Garcia by knockout in the seventh round.
Al Bello/Getty Images
The pair – who both began the night as unbeaten fighters with impressive knockout résumés – have verbally sparred for years and finally met on a non-title catchweight fight at 136 pounds after they finally were able to agree on a weight after long negotiations.
In front of a sold-out crowd of 20,842 in Las Vegas, the fight largely lived up to its hype even if it became a more one-sided affair as the night wore on with Davis winning five out of six rounds on the scorecard before the decisive seventh.
After a cagey opening round, the fight exploded in the second, with Garcia unleashing a flurry of punches before Davis countered with a perfectly timed left hook that knocked down his opponent.
And again in the sixth round Garcia seemed to make inroads, landing two right-handed blows to Davis' face, before the decisive moment in the seventh round.
"He just caught me with a good shot and I couldn't recover," Garcia said, according to PBC. "I don't want to make any excuses in here. He caught me with a good shot and I just couldn't recover and that's it. He caught me with a good body shot, snuck under me and caught me good. I couldn't breathe. I was going to get back up, but I just couldn't get up."
Davis ended the night with his career record moving to 29-0, including 27 knockouts, while Garcia suffered the first defeat of his career and is now 23-1.