close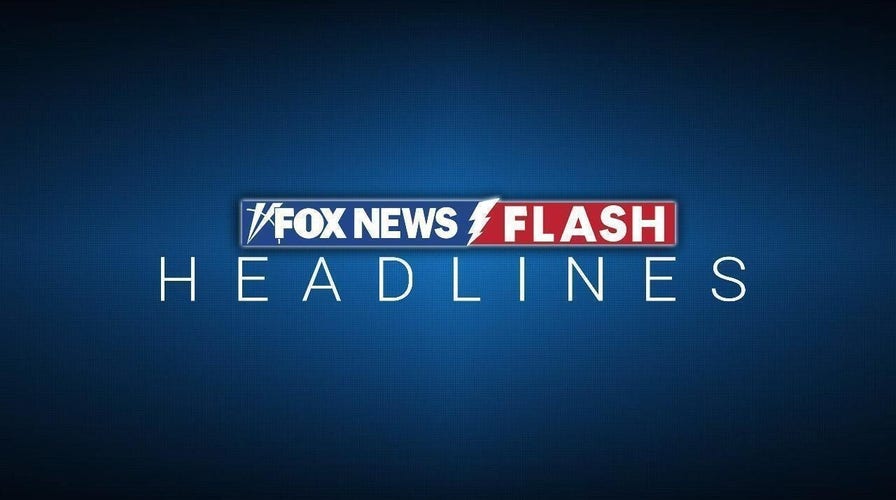 Video
Fox News Flash top headlines for August 15
Fox News Flash top headlines are here. Check out what's clicking on Foxnews.com.
Germany's foreign minister has abandoned a trip to Australia, New Zealand and Fiji after a problem with her government plane twice forced it to return to Abu Dhabi, delaying her by more than a day.
Annalena Baerbock set off from Berlin Sunday on what was supposed to be a nearly weeklong trip, and was scheduled to arrive in Canberra on Monday night. But a mechanical problem with her aging German air force Airbus A340's landing flaps meant that it had to turn back to Abu Dhabi after a refueling stop there.
The aircraft took off again for Australia on Monday night after a test flight was conducted without problems. But the technical problem resurfaced shortly after takeoff and the plane had to return to the Emirati capital again.
On Tuesday morning, Baerbock called off the trip.
AIRCRAFT PROBLEM LEAVES GERMAN MINISTER STUCK IN ABU DHABI, LATEST IN SERIES OF GOVERNMENT PLANE ISSUES
"We tried everything — unfortunately it is not logistically possible to continue my Indo-Pacific trip without the defective plane," the minister wrote on X, formerly known as Twitter. "This is more than annoying."
"We do not just have close friends and partners in the Indo-Pacific," she added. "The region will mark the world order of the 21st century decisively."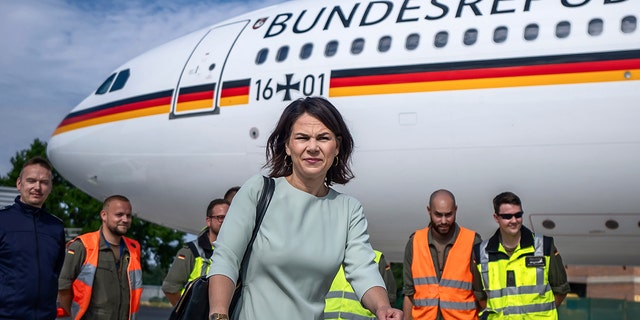 Minister for Foreign Affairs Annalena Baerbock walks through the airport of the airbase after her arrival from New York, in Bonn, Germany, on July 18, 2023. (Michael Kappeler/dpa via AP)
Baerbock planned to return to Berlin on a commercial flight on Tuesday, German news agency dpa reported. The air force said it planned to move up the planned retirement of the A340 and a sister aircraft.
The fiasco was the latest in a string of embarrassing problems with Germany's government planes that have affected various senior officials, and the second in a few months for Baerbock. In May, she had to extend a trip to the Persian Gulf region by a day because of a damaged tire on an aircraft when she was in Qatar.
FRUSTRATED LUFTHANSA PILOT FLIES PLANE IN 15-MILE LONG PENIS PATTERN AFTER BEING DIVERTED TO DIFFERENT AIRPORT
The plane Baerbock was using for her flight to Australia — one of two A340s that joined the government fleet in 2011 and was previously used by Lufthansa — was involved in a 2018 incident that resulted in then-Chancellor Angela Merkel making a delayed departure to a Group of 20 summit in Argentina on a commercial flight.
The government has since ordered three new A350 jets, two of which are already in service. The third is still being fitted out and is expected to be ready next year.
The Defense Ministry said on Monday that the two government A340s were due to be taken out of service by the end of next year. But it said the plane had been chosen according to what was available and needed, and defended the record of its fleet.
CLICK HERE TO GET THE FOX NEWS APP
On Tuesday, the air force said in an emailed statement that "we will take both A340s out of service early as quickly as possible, i.e. in the coming weeks." It said the original plan was for the aircraft now in Abu Dhabi to be retired at the end of 2024 and the other plane at the end of next month.
It said that the government fleet has "robust and modern aircraft for long-haul flights" in the new A350s. The fleet also includes several Airbus A319s and A321s, as well as smaller aircraft.