close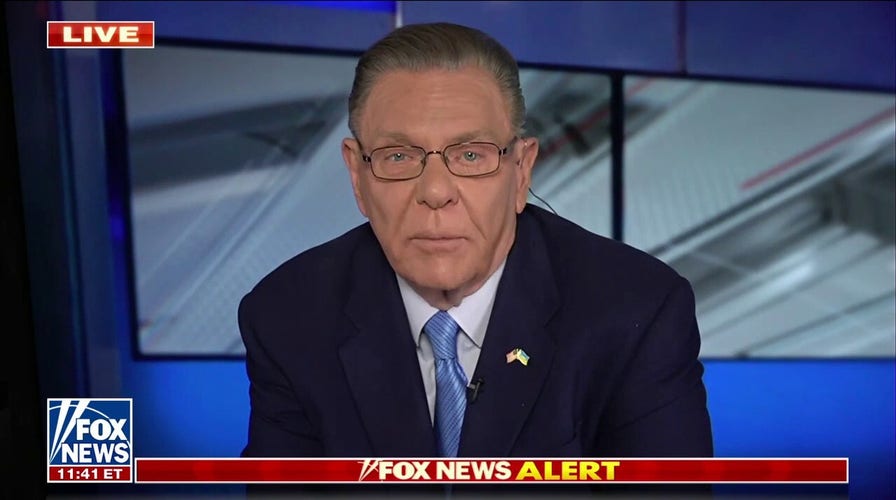 Video
Germans pushing US to send their own tanks to Ukraine is for 'political cover': Gen. Jack Keane
Retired Four-Star General Jack Keane discusses the U.S. and its allies' recent failure to reach a deal on sending tanks to Ukraine on 'Cavuto Live.'
Germany will not stop Poland from delivering Leopard 2 tanks to Ukraine, Germany's foreign minister announced Sunday.
Poland's Prime Minister Mateusz Morawiecki announced plans to send the tanks Monday. Germany has bickered for weeks with the U.S. over who should deliver main battle tanks to Ukraine.
Morawiecki said Poland had been building a coalition of countries prepared to send Leopards to Ukraine even without approval from Germany.
"We will ask [Germany] for permission, but this is a secondary theme," Morawiecki said. "Even if, eventually, we do not get this permission, we — within this small coalition — even if Germany is not in this coalition, we will hand over our tanks, together with the others, to Ukraine."
LAWMAKERS CALL FOR SENDING ABRAMS TANKS TO UKRAINE AS RUSSIA WARNS OF 'GLOBAL CATASTROPHE'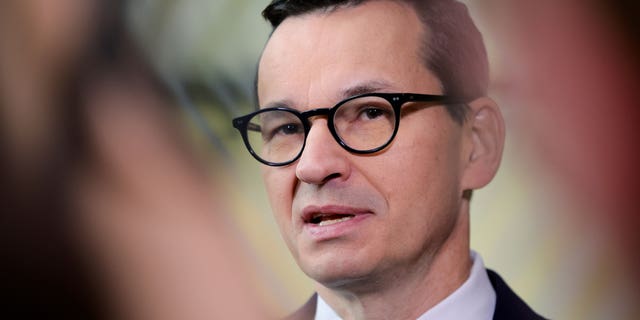 Poland's Prime Minister Mateusz Morawiecki said Monday his nation will seek Germany's permission to send Leopard tanks to Ukraine amid its ongoing war with Russia.
(AP Photo/Olivier Matthys, File)
The latest U.S. arms package for Ukraine notably lacked any M1 Abrams tanks. Ukraine has requested heavy battle tanks in anticipation of a renewed ground attack from Russia in the coming months.
The U.S. and other allies have pushed Germany to provide the vehicles, as its Leopard 2 tanks are considered to be the best suited for Ukraine's conflict.
Germany has already sold large numbers of Leopard tanks to other European countries that are in proximity to Ukraine, such as Poland. That proximity makes the tanks ideal from an aid standpoint as it allows delivery to be cheaper and faster.
US HOSTS ALLIED DEFENSE OFFICIALS AS RUSSIA PLANS FOR MASSIVE OFFENSIVE IN WEEKS AHEAD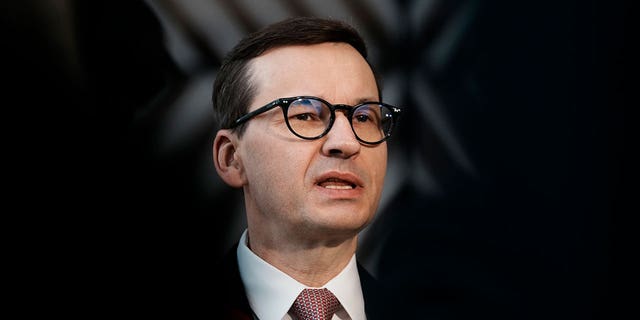 Morawiecki said Poland is building a coalition of countries prepared to send Leopards to Ukraine. Even without approval from Germany, he said Poland will make its own decisions.
(AP)
The Ukrainian government said tanks, particularly the German-made Leopards, are crucial in its attempt to fend off Russian forces.
The new rush for aid comes as Russia's invasion of Ukraine nears the one-year mark. Russia has also announced plans to expand the size of its military to 1.5 million troops in the coming years with a series of conscriptions.
US TRANSFERS MILITARY WEAPONS STOCKPILE FROM ISRAEL TO UKRAINE
Defense Minister Sergei Shoigu announced the troop increase last week, which is expected to be complete by 2026, according to Russian state news agency, TASS.
"Only by strengthening the key structural components of the Armed Forces is it possible to guarantee the military security of the state and protect new entities and critical facilities of the Russian Federation," Shoigu said, according to Reuters.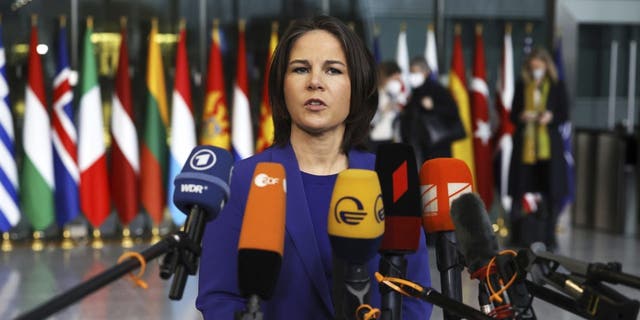 German Foreign Minister Annalena Baerbock told French television channel LCI on Sunday that Poland has not formally requested approval to share some of its German-made Leopards.
(AP Photo/Olivier Matthys)
CLICK HERE TO GET THE FOX NEWS APP
Hesitancy from Germany has sparked criticism, particularly from Poland and the Baltic States, countries on NATO's eastern flank, that feel especially threatened by Russia's invasion of Ukraine.
But Moscow responded to the pledges of sophisticated Western weapons for Ukraine by highlighting its warnings that escalation risks catastrophe. Russian Deputy Foreign Minister Sergei Ryabkov on Monday reaffirmed the Kremlin's statement that the West supporting Ukraine with supplies could lead to "unpredictable" consequences.
"We have said on numerous occasions that escalation is the most dangerous path, and the consequences may be unpredictable," Ryabkov said. "Our signals are not listened to, and Russia's adversaries keep raising the stakes."
The Associated Press contributed to this report.