close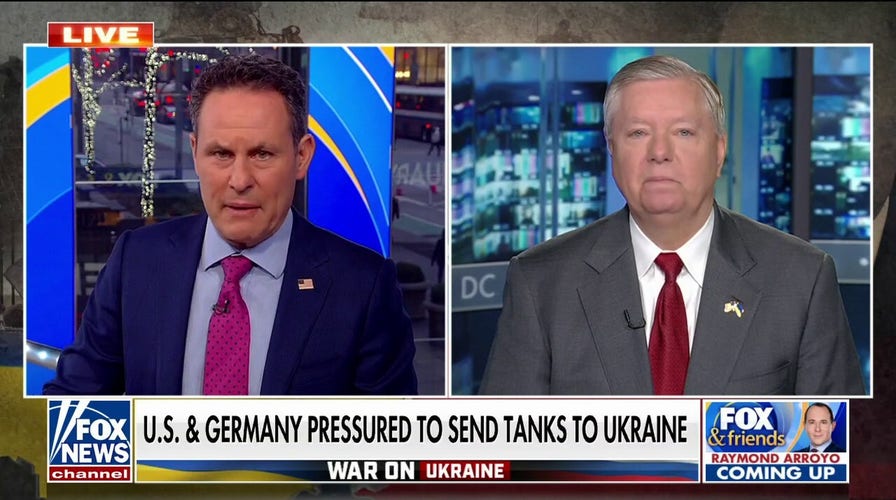 Video
Lindsey Graham urging US to increase military support for Ukraine
Sen. Lindsey Graham, R-S.C., on the need for Germany and U.S. to send tanks to Ukraine and the latest in Biden's classified document scandal
Germany on Tuesday said it would agree to send Leopard 2 tanks to Ukraine after weeks of stalling and negotiations with Kyiv and its international partners.
"I think the Germans are now appreciating the moment," South Carolina Sen. Lindsey Graham told reporters. "It's now a realization by the United States and Germany that the goal is to help Ukraine evict Russia.
"There is no offramp," he added.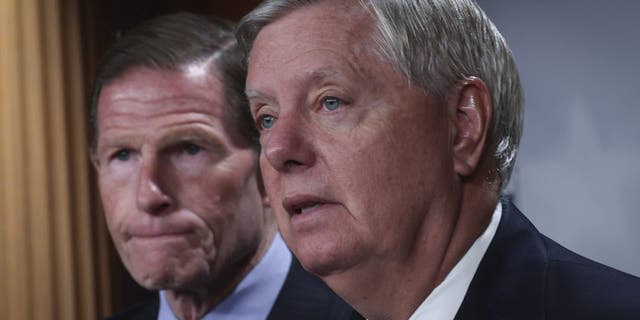 Sen. Richard Blumenthal, D-Conn., listens as Sen. Lindsey Graham speaks during a press conference at the U.S. Capitol May 10, 2022, in Washington, D.C. 
(Win McNamee/Getty Images)
US MAY DELIVER 'SIGNIFICANT NUMBER' OF ABRAMS TANKS TO UKRAINE DESPITE PENTAGON MISGIVINGS
Berlin's decision was reportedly announced just as Graham and Sen. Richard Blumenthal, D-Conn., were wrapping up a press conference in a direct appeal to the White House to send Abrams tanks to you Ukraine in a move to motivate Germany after it suggested it would only send tanks if the U.S. did.
The U.S. may also announce a shipment of tanks to Ukraine this week sources told Fox News, though defense officials have warned that these tanks will likely not suit Ukrainian needs in the war due to costs, maintenance and the level of training needed.
Instead, the U.S. has pushed Germany to not only send tanks, but to sign off on the release of tanks for Kyiv with the 15 other nations in Europe that also possess German-supplied Leopard 2 tanks in their stockpiles.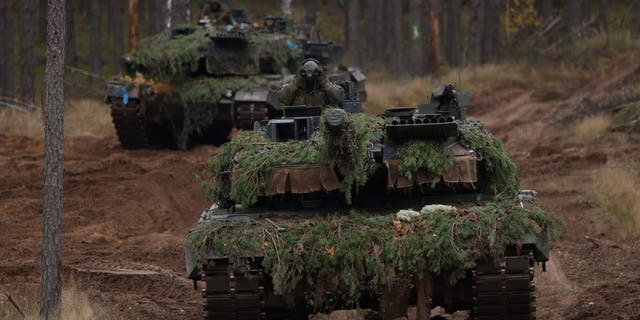 Two Leopard 2A6 main battle tanks of the Bundeswehr, the German armed forces, participate in the NATO Iron Wolf military exercises on Oct. 27, 2022, in Pabrade, Lithuania.
( Sean Gallup/Getty Images)
UKRAINE'S ZELENSKYY FIRES TOP-LEVEL OFFICIALS IN ANTICORRUPTION PURGE, WITH MORE TO COME, HE WARNS
"The Russians are coming," Blumenthal, who just returned from Ukraine with Graham, said. "And their onslaught will begin in weeks, not months.
"Ukrainians know it, our intelligence and military know it, the world now knows it – there is no secret here. The Russians are about to begin a major counter-offensive," he added.
Both lawmakers were adamant that Ukraine could win the war against Russia that began 11 months ago to the day Tuesday, so long as they "have the tools that are necessary."
"Beginning with tanks," Blumenthal confirmed.
Graham said the goal in supplying Ukraine with the aid it needs is not to start World War III, but to kick Russia out of Ukraine.
"If he gets away with this, world order as we know it becomes a joke. Boundaries mean nothing," Graham said in reference to Russian President Vladimir Putin. "If he's not prosecuted or those under his command are not prosecuted for blatant war crimes, everything we said after World War II just becomes hollow rhetoric."
Graham also addressed criticism at home for mass support to Ukraine and encouraged his fellow GOP lawmakers to visit Ukraine for themselves if they want to understand the significance of U.S. funding and aid for Kyiv.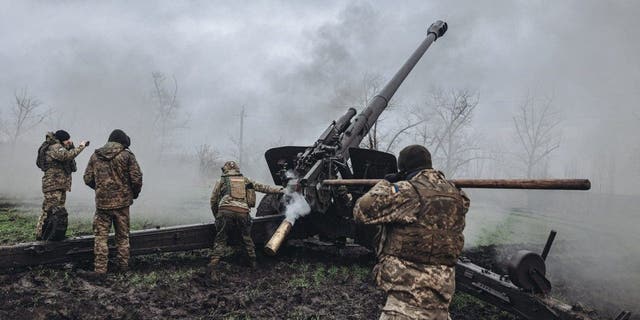 Ukrainian soldiers fire artillery on the Pisky frontline in Donetsk oblast, Ukraine on Jan. 6, 2023. 
(Diego Herrera Carcedo/Anadolu Agency via Getty Images)
CLICK HERE TO GET THE FOX NEWS APP
"And to the American people, if you believe Putin winning in Ukraine doesn't affect you – you're wrong. I know we're tired of being involved in conflicts outside of our country," he continued. "Boundaries no longer matter and if you can rewrite boundaries by the force of arms Putin will not stop, and China is watching very closely.
"If Putin is successful in his effort to break the rule of the West and usurper Ukraine – there goes Taiwan," he added.
Caitlin McFall is a Reporter at Fox News Digital covering Politics, U.S. and World news.