close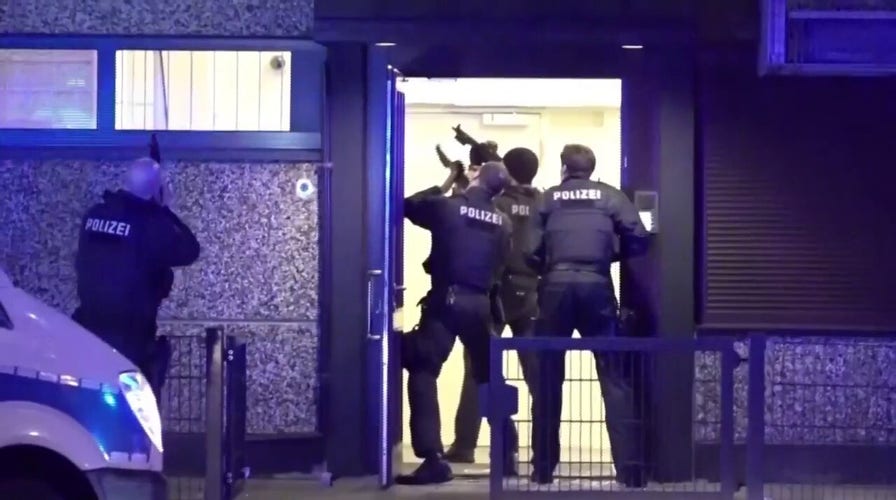 Video
Armed police arrive on scene at Hamburg shooting in Germany
Seven dead, including an unborn child, in latest shooting in Hamburg, Germany. (Reuters)
Seven people were killed, including an unborn child, after a gunman opened fire during a Jehovah's Witness hall meeting in Hamburg, Germany reports said Friday.
The gunman, identified only as Philipp F. due to German privacy laws, fired over 100 rounds in what is believed to have been a solo attack Thursday night before taking his own life.
His motive remains unconfirmed, though he was reported to have been a former member of the religious group who posed "ill-feelings" toward the community, according to the BBC.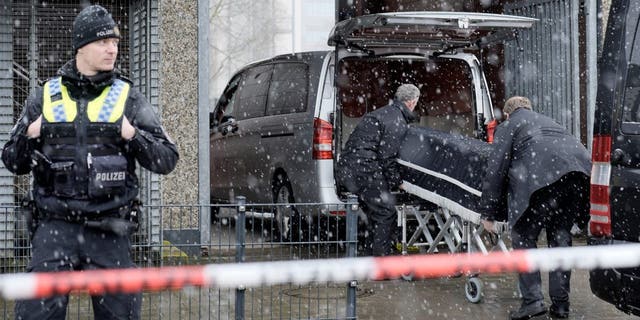 Corpses are carried out of a Jehovah's Witness building and loaded into hearses in Hamburg, Germany Friday, March 10, 2023.  (AP Photo/Markus Schreiber)
GERMAN AUTHORITIES: SHOTS FIRED INSIDE CHURCH RESULTING IN SEVERAL FATALITIES
Chancellor Olaf Scholz, a former mayor of Hamburg, described the attack as "a brutal act of violence."
Footage has since emerged of the Thursday attack taken from a resident near the hall that showed the gunman firing through a window into the meeting.
Two women and four men were killed during the attack along with a seven-month-old unborn child. The mother of the child survived the attack after being hit in the womb, the BBC reported Friday.
Another eight people were injured in the attack, including four others who were seriously injured.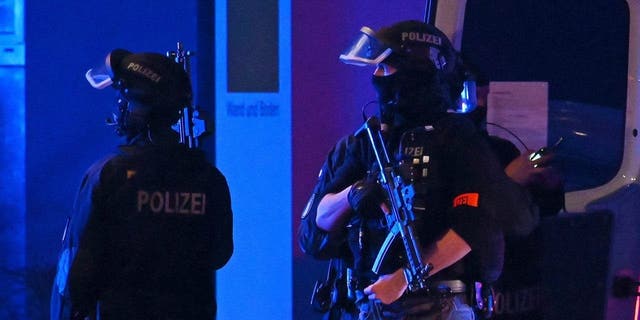 Armed police officers near the scene of a shooting in Hamburg, Germany on Thursday, March 9, 2023 after one or more people opened fire in a church. The Hamburg city government said the shooting took place in the Gross Borstel district. (Jonas Walzberg/dpa via AP)
GERMAN AUTHORITIES RESPOND TO SHOOTING INSIDE JEHOVAH'S WITNESS HALL THAT KILLED MULTIPLE PEOPLE
A call was made to emergency authorities at 9:04 p.m. after gun shots rang out in Germany's second-largest city. By 9:09, a special operations unit had arrived on the scene.
"We can assume that they saved many people's lives," Hamburg's State Interior Minister Andy Grote told reporters, calling the shooting "the worst crime that our city has experienced recently."
Hamburg Police Chief Ralf Martin Meyer said the guns were legally owned and that the gunman had a weapons license.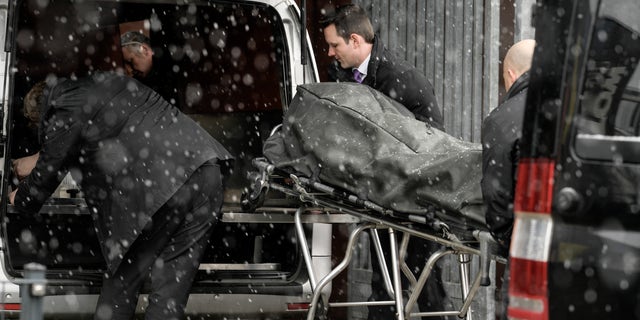 Shots were fired inside the building used by Jehovah's Witnesses in the northern German city of Hamburg on Thursday evening, with multiple people killed and wounded, police said.  (AP Photo/Markus Schreiber)
CLICK HERE TO GET THE FOX NEWS APP
Meyer also said that the 35-year-old had been flagged as possibly being unsuitable to own a weapon, but that authorities could not find that any regulations had been broken to remove said weapons.
German authorities did not need to fire a single shot after arriving at the scene.
It is unclear when exactly the gunman took his own life.
The Associated Press contributed to this report.
Caitlin McFall is a Reporter at Fox News Digital covering Politics, U.S. and World news.