close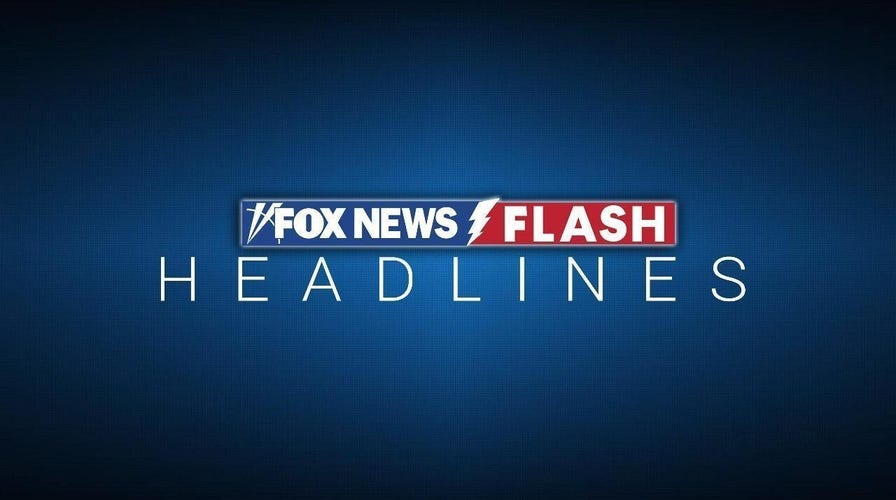 Video
Fox News Flash top headlines for April 12
Fox News Flash top headlines are here. Check out what's clicking on Foxnews.com.
The German government dismissed calls Wednesday for a last-minute delay in shutting down the country's last three nuclear power plants this weekend.
Opposition politicians and even some members of the Free Democrats, a libertarian party that's part of Chancellor Olaf Scholz's governing alliance, have demanded a reprieve for the remaining reactors, which were already operating without requisite safety checks.
"The nuclear phase-out by April 15, that's this Saturday, is a done deal," Scholz spokesperson Christiane Hoffmann said.
Successive German governments planned a phase-out of nuclear power. The last three plants originally were scheduled to shut down on Dec. 31, 2022. Scholz ordered a postponement last year amid concerns that Germany might face an energy shortage due to the war in Ukraine.
Lawmakers approved the extension on the condition the plants, which began operation more than 30 years ago, would cease operating by mid-April of this year.
GERMANY WILL KEEP 2 OF THEIR 3 NUCLEAR POWER PLANTS RUNNING AHEAD OF POSSIBLE ENERGY CRISIS
Critics argue that switching off the nuclear plants now deprives Germany of a source of low-emission power and requires the country to keep operating fossil fuel plants that contribute to climate change.
Wolfgang Kubicki, deputy leader of the Free Democrats, said in an interview with the Funke Media Group that Germany has the safest nuclear power plants worldwide and switching them off would be "a dramatic mistake" with painful economic and ecological consequences.
Other members of his party have called for the nuclear plants at least to be maintained as a fallback in case they are needed at a later date.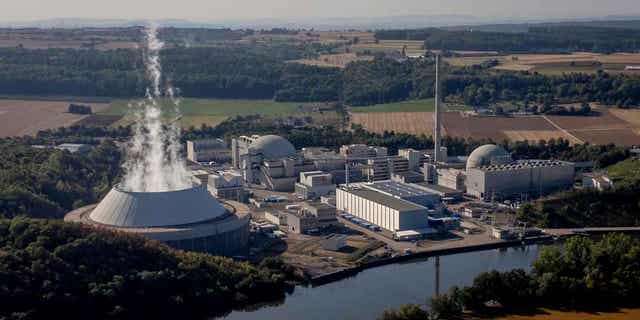 Water vapor rises from the cooling tower of a nuclear power plant in Neckarwestheim, Germany, on Aug. 22, 2022. The German government has dismissed calls on April 12, 2023, for a last-minute delay of the shutdown of the country's last three nuclear power plants. The shutdown is scheduled for April 15, 2023. (AP Photo/Michael Probst,file)
But doing that would be both illegal and costly, according to Environment Ministry spokesperson Bastian Zimmermann. The ministry oversees nuclear safety in Germany.
EUROPEAN GOVERNMENTS, CITIZENS GEAR UP FOR WORSENING ENERGY CRISIS
Zimmermann said the three reactors — Emsland, Neckarwestheim and Isar II — last underwent safety checks in 2009 and such inspections normally need to occur every 10 years. The requirement was only suspended due to the shutdown planned for the end of 2022, he said.
Any further lifetime extension for the plants would require comprehensive and lengthy security checks again, Zimmermann said.
The country is still searching for a location to permanently store almost 2,000 containers of highly radioactive waste for thousands of generations.
The Economy Ministry dismissed concerns that Germany won't be able to meet its energy needs without the nuclear power plants, which currently produce about 5% of the country's electricity.
CLICK HERE TO GET THE FOX NEWS APP
Ministry spokesperson Beate Baron said recent studies showed Germany would be able to maintain its power supply with coal and gas-fired power plants and renewables such as wind and solar, while remaining a net exporter of electricity.
Baron said the government wants to phase in the use of hydrogen that can be produced without greenhouse gas emissions and fired up quickly on days when there's little sun or wind for renewables.