Fulton County District Attorney Fani Willis reportedly asked a judge on Tuesday to keep the report by a special grand jury investigating whether then-President Donald Trump and his allies broke Georgia state law by seeking to overturn the 2020 election results sealed, citing concerns for "future defendants."
Willis said disclosure of the report could violate the rights of potential defendants and could negatively affect the ability to prosecute those who may be charged with crimes.
"We want to make sure that everyone is treated fairly, and we think for future defendants to be treated fairly, it is not appropriate at this time for this report to be released," Willis said, according to the Associated Press.
Fulton County Superior Court Judge Robert McBurney was hearing arguments from the district attorney's office, news outlets and potentially other parties before deciding whether to release the report, which is expected to include recommendations for Willis on possible criminal prosecution.
MARK MEADOWS CALLED TO TESTIFY IN GEORGIA DA'S ESCALATING TRUMP CRIMINAL PROBE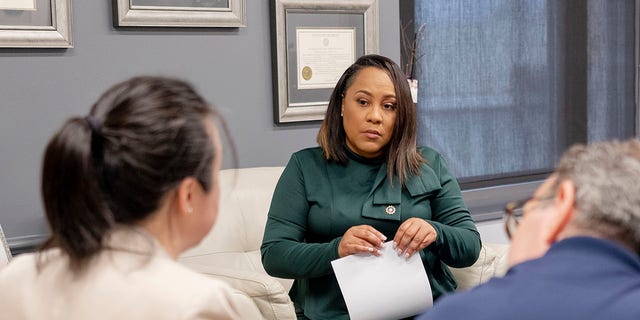 Fani Willis, the District Attorney of Fulton County, Georgia, meets with Sau Chan, left, assistant district attorney in the anti-corruption division, and Saul Alter, assistant chief investigator of the civil rights division, inside her office chambers in the Fulton County Justice Center Tower in Atlanta on September 20, 2022.
(David Walter Banks)
It's unclear just how specific those recommendations will be. The special grand jury did not have the power to issue indictments, and it will ultimately be up to Willis to decide whether to seek indictments from a regular grand jury.
David Weinberg, a former Jan. 6 committee staffer, tweeted Tuesday that Willis disclosed that the special grand jury heard from 75 witnesses.
Over a period of roughly seven months, the AP reports that the special grand jury heard from dozens of witnesses, including high-profile Trump allies, such as attorney Rudy Giuliani and Sen. Lindsey Graham of South Carolina, and high-ranking Georgia officials, such as Secretary of State Brad Raffensperger and Gov. Brian Kemp.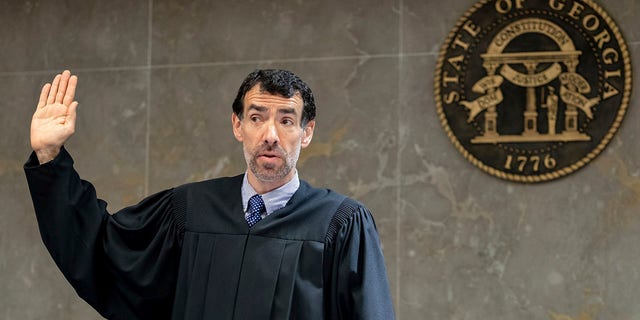 Fulton County Superior Court Judge Robert McBurney swears in potential jurors during proceedings to seat a special purpose grand jury in Atlanta, on May 2, 2022. 
(AP Photo/Ben Gray, File)
Willis began investigating shortly after a recording of a January 2021 phone call between Trump and Raffensperger became public. In that call, the president suggested that the state's top elections official, a fellow Republican, could "find" the votes needed to overturn his loss to Democrat Joe Biden.
"I just want to find 11,780 votes, which is one more than we have," Trump had said. "Because we won the state."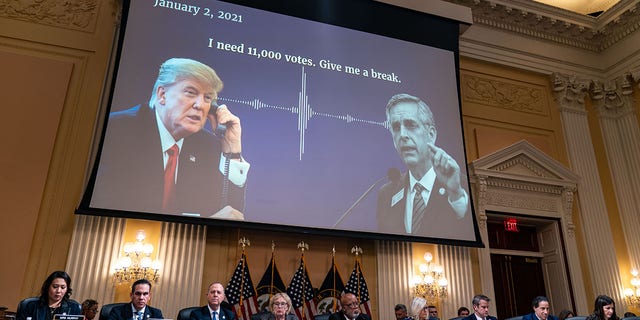 A digital presentation of President Donald Trump speaking with Georgia Secretary of State Brad Raffensperger is displayed on a screen as the House Select Committee to Investigate the January 6th Attack on the United States Capitol conducts its final hearing in the Cannon House Office Building on Monday, Dec. 19, 2022 in Washington, DC. 
(Kent Nishimura / Los Angeles Times via Getty Images)
If McBurney decides to disseminate the report, he must also determine whether any parts of it should be redacted and whether the report should be made public now or later. He assured an assistant district attorney arguing against the release of the report that it would not be released Tuesday.
CLICK HERE TO GET THE FOX NEWS APP
The investigation is one of several that threaten potential legal consequences for the Republican former president as he seeks reelection in 2024.
The Associated Press contributed to this report.