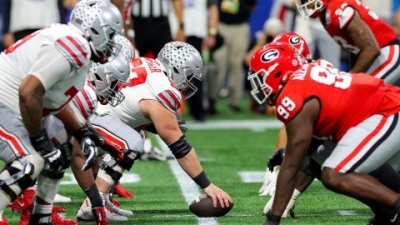 The Ohio State Buckeyes offense lines up against the Georgia Bulldogs defense during the third quarter Saturday in Atlanta.
Kevin C. Cox/Getty Images

CNN
—
The Georgia Bulldogs have advanced to the College Football Playoff Championship after defeating the Ohio State Buckeyes 42-41 in the second semifinal College Football Playoff game Saturday.
Trailing by six points late in the 4th quarter, defending national champion Georgia mounted a 72-yard drive capped by quarterback Stetson Bennett's third touchdown pass of the game to take the lead with 54 seconds remaining.
Ohio State used that time to drive the ball into field goal range, setting up a 50-yard attempt for kicker Noah Ruggles. But Ruggles hooked the kick left, and the Bulldogs escaped with the 1-point win.
Georgia is the first team to come back from a 14-point fourth-quarter deficit in College Football Playoff history, according to the NCAA.
Earlier Saturday, No. 3 Texas Christian University's Horned Frogs came into the first semifinal game as underdogs and pulled off a major upset, delivering a thrilling 51-45 win against No. 2 Michigan Wolverines.
The Horned Frogs, who began the season outside the Top 25, defeated the previously unbeaten Michigan Wolverines 51-45 in the highest scoring Fiesta Bowl ever. The Big Ten champions entered the game favored by more than a touchdown, but TCU never trailed in the game en route to a shot at the national championship.
Heisman runner-up Max Duggan threw for 225 yards and four total touchdowns, while running back Emari Demarcado added 150 yards on the ground at the Fiesta Bowl in Glendale, Arizona.
The Bulldogs will face the Horned Frogs Monday, January 9, at SoFi Stadium in Inglewood, California, for the Championship game.
TCU will be seeking its first national championship since 1938 and the first for a Big 12 team since 2005, while Georgia will be aiming to be the first back-to-back national champion since Alabama in 2011 and 2012 and the first repeat champion in the College Football Playoff era.