Embattled Rep.-elect George Santos, R-N.Y., cast his first vote in Congress Tuesday in support of Republican leader Kevin McCarthy to be the next speaker of the House.
Santos, who is under fire for telling numerous lies while campaigning for New York's 3rd Congressional District, rose for a brief moment on the House floor and cast his voice vote for McCarthy. A jeer was heard shortly after he cast his vote, apparently from the Democratic side. It is not clear who yelled or what was shouted.
House Democrats have called on Santos to resign after a New York Times investigation revealed he had fabricated his education and work history. Subsequent reporting revealed that he falsely claimed a Jewish heritage, that there's no evidence his grandparents fled the Holocaust, as he had claimed, and that he even lied about his own mother perishing in the 9/11 terrorist attacks on the Twin Towers in New York.
Republicans have largely distanced themselves from their mendacious colleague, though some New York lawmakers have spoken out against him. Rep.-elect Nick LaLota, R-N.Y., said last week that Santos should undergo an ethics investigation, or potentially criminal probes, for his lies.
THE VOTE FOR HOUSE SPEAKER: LIVE UPDATES
On top of the controversy, Santos faces a fraud investigation from Brazilian authorities. Prosecutors say Santos, the son of Brazilian immigrants, faces charges relating to allegations of a stolen checkbook, according to the New York Times. Authorities had dropped the case nearly a decade ago after they were unable to locate Santos.
Brazilian prosecutors are reportedly working with the U.S. Justice Department to inform Santos of the charges.
Santos may also face criminal probes at home, where Nassau County District Attorney Anne Donnelly, a Republican, opened an investigation into Santos last week. During his congressional campaign, he falsely claimed he graduated from college with degrees in finance and worked for Goldman Sachs and Citibank.
"The numerous fabrications and inconsistencies associated with Congressman-Elect Santos are nothing short of stunning," Donnelly said in a statement. "The residents of Nassau County and other parts of the third district must have an honest and accountable representative in Congress. No one is above the law and if a crime was committed in this county, we will prosecute it."
Before the controversy, Santos had come out strongly in favor of electing McCarthy to be House speaker.
"The people of the 3rd Congressional District indeed did not vote me to go there and be part of this nest fight," Santos told Fox News host Trey Gowdy on Dec. 4. "The reality is Kevin McCarthy worked hard, he delivered the majority. That was his promise and he did it."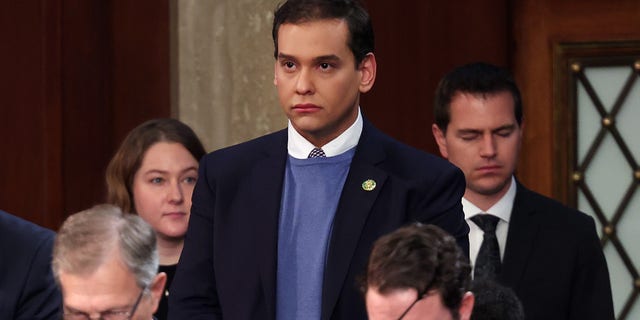 Rep.-elect George Santos waits for the start of the 118th Congress in the House Chamber of the U.S. Capitol on Jan. 3, 2023.
(Win McNamee/Getty Images)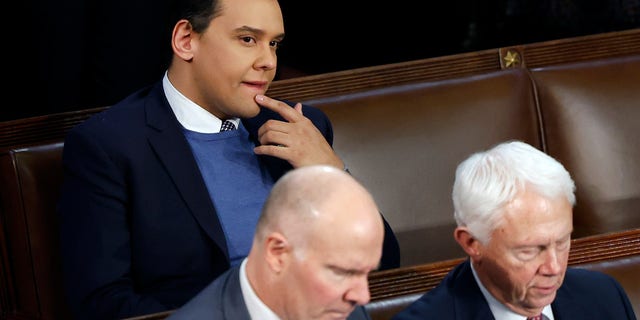 Rep.-elect George Santos cast his first vote in Congress Tuesday in support of Kevin McCarthy to be the next speaker of the House.
(Anna Moneymaker/Getty Images)
GOP ANGER AT HOLDOUTS GROWS: ANY VOTE AGAINST MCCARTHY 'DAMAGES THE CONFERENCE AND OUR ABILITY TO GOVERN'
The House of Representatives began the speakership election at noon on Tuesday. McCarthy failed to win enough votes to become speaker in the first round, where 19 GOP lawmakers voted against him. Hardline conservatives oppose his candidacy because, they say, he would not do enough to shake up the status quo in D.C. and has refused to support certain reforms to House rules.
Rep. Jim Jordan, R-Ohio, nominated McCarthy for speaker at the beginning of the second round of voting Tuesday afternoon.
Fox News' Anders Hagstrom contributed to this report.