close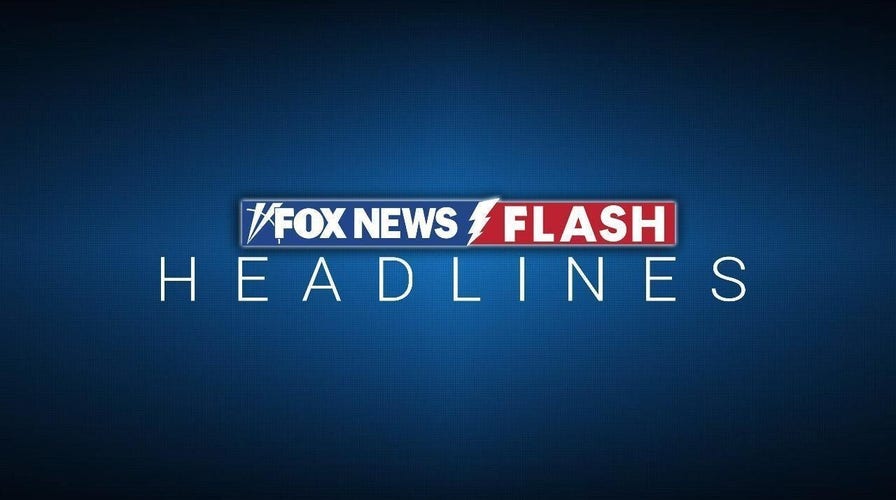 Video
Fox News Flash top headlines for April 6
Fox News Flash top headlines are here. Check out what's clicking on Foxnews.com.
Militants in Gaza fired seven rockets into Israel early Thursday morning as the nation's Jewish population began celebrating Passover.
The Israeli military says all seven rockets exploded in midair. Tensions remain high in the country as the Muslim holy month of Ramadan continues, while the Jewish Passover began Wednesday. Israeli forces have tracked rocket barrages from Gaza throughout the week, though few have escaped the country's air defenses.
Tense protests have taken place at the Al-Aqsa Mosque, where Muslims flock throughout Ramadan. The mosque resides on the foundations of the Jewish temple mount, the holiest site in Judaism.
While Israeli authorities allow free access to the mosque, many Muslim visitors have attempted to stay overnight, something only allowed for in the final week of Ramadan.
ISRAEL CALLS UP ARMY BATTALIONS AS SERIOUS VIOLENCE HITS WEST BANK FOLLOWING MURDER OF ISRAELI BROTHERS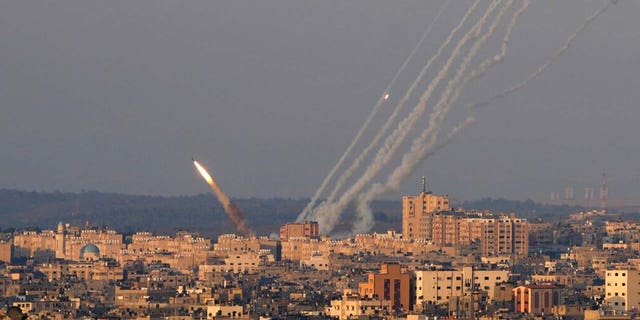 Militants in Gaza frequently fire barrages of missiles indiscriminately into Israel. Unknown groups launched seven rockets as Passover began this week. (AP Photo/Hatem Moussa)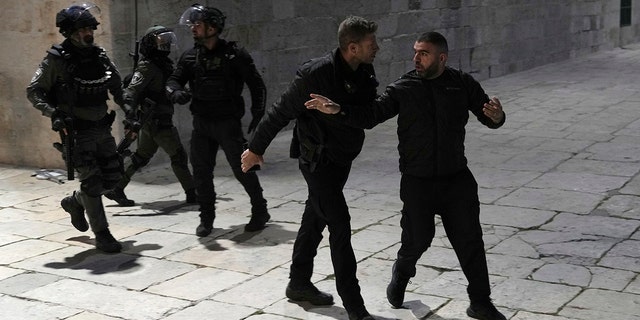 Israeli police lead a Palestinian away from the Al-Aqsa Mosque as many Muslims attempt to stay overnight during Ramadan. (AP Photo/Mahmoud Illean)
Muslims at the mosque responded with rocks and fireworks when Israeli authorities clear out the area each night, leading to hundreds of arrests and some violent interactions.
ISRAEL'S NETANYAHU AGREES TO HALT JUDICIAL REFORM FOR NOW AS MASS PROTESTS CONTINUE
The Israeli air force struck a Hamas weapons facility on Wednesday after a particularly violent night at the mosque saw some 350 people arrested. Israeli police said they had moved in after "several law-breaking youths and masked agitators" barricaded themselves into the mosque and began chanting violent slogans.
"After many and prolonged attempts to get them out by talking to no avail, police forces were forced to enter the compound in order to get them out," police said.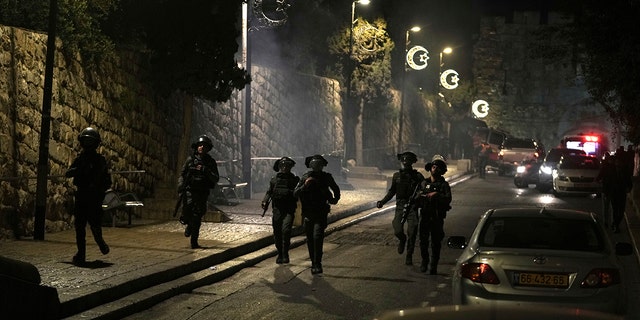 Israeli police patrolled Jerusalem as protesters attempted to barricade themselves into the Al-Aqsa Mosque overnight. (AP Photo/Mahmoud Illean)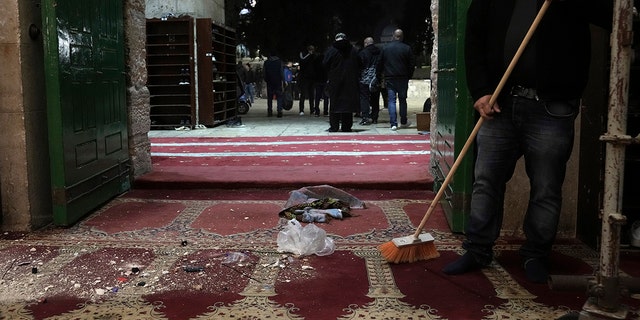 Israeli police stormed alleged Muslim agitators as tensions flared amid the Muslim holy month of Ramadan and the beginning of the Jewish Passover. (AP Photo/Mahmoud Illean)
CLICK HERE TO GET THE FOX NEWS APP
Last year, the same combination of tensions amid Ramadan and the Passover resulted in an 11-day war between Israel and Hamas in Gaza.
Fox News' Lawrence Richard contributed to this report.
Anders Hagstrom is a reporter with Fox News Digital covering national politics and major breaking news events. Send tips to [email protected], or on Twitter: @Hagstrom_Anders.