close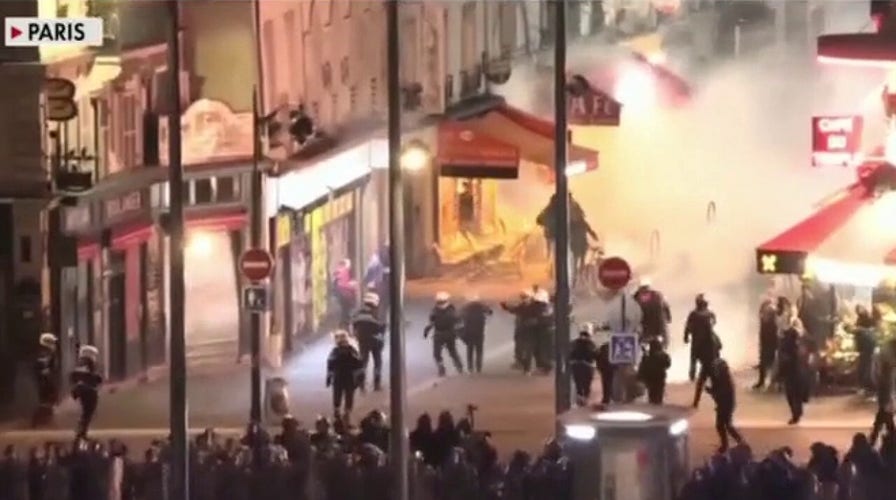 Video
France protests: King Charles' visit postponed amid protests
Former OMB director Mick Mulvaney weighs in on the revolt over retirement age hike and how it puts U.S. debt in focus on 'Your World.' 
French prosecutors said the offices of five Paris banks were raided Tuesday as part of widening tax fraud investigation spanning four continents.
The raid targeted some of France's biggest banks, including Société Générale and BNP Paribas and the Paris offices of HSBC Holdings, Natixis and BNP's Exane unit, The New York Times reported. More than 150 financial investigators and 16 local magistrates descended on the headquarters in the early morning hours in search of evidence in connection to an alleged "cum-cum trading" scheme — Latin for "with-with" — in which suspects are accused of misappropriating hundreds of millions of euros by bilking the payment of French dividend taxes.
In a statement, the French National Financial Prosecutor's Office said the raids come as part of five preliminary investigations opened in December 2021 into allegations of money laundering and tax fraud linked to dividend payments. According to the Times, the strategy involved shareholders transferring stock for a short time to investors abroad to avoid paying the tax on the dividends. In some cases, shareholders were able to get a tax refund. Investors then sold the shares back to the original owner, and both parties pocketed the savings.
FRANCE'S EMMANUEL MACRON EXCORIATED AFTER REMOVING LUXURY WATCH DURING TV INTERVIEW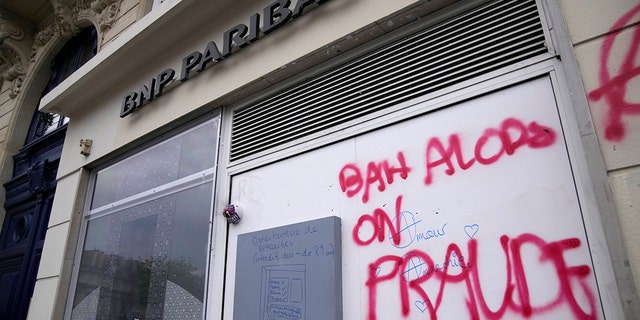 Graffiti says "So, you fraud" during a demonstration against a pension reform Tuesday, March 28, 2023, in Paris. Authorities raided the Paris offices of five banks Tuesday on suspicion of tax fraud, French prosecutors said. (AP Photo/Christophe Ena)
The French government is reportedly looking to take back at least 1 billion euros.
The investigation reportedly stretches to four continents and targets dozens of banks and as many as 1,500 suspects.
Tuesday's raids in Paris also involved six German prosecutors from Cologne in the framework of European judicial cooperation.
That suggests foreign shareholders in question included Germans or German entities.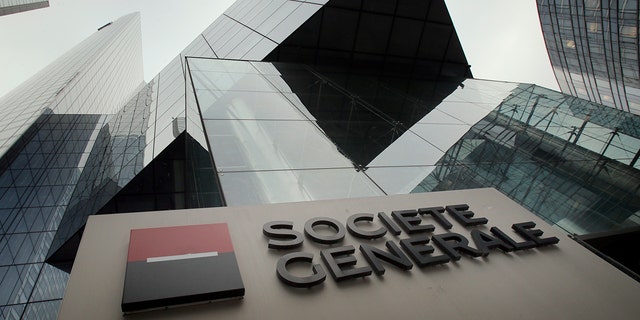 A view of the Société Générale bank headquarters in La Defense, west of Paris. France's National Financial Prosecutor's Office conducted a raid there Tuesday. (AP Photo/Christophe Ena, FILE)
A similar wide-ranging tax evasion investigation in neighboring Germany in recent years led to searches of banks, other companies and the homes of businesspeople, leading to convictions against some bankers. Hundreds of bankers allegedly were involved in that fraud involving "cum-ex" transactions in which participants swap shares to collect reimbursement for taxes they had not paid. The scam reportedly defrauded taxpayers of billions of euros.
MACRON UNDER FIRE AS FRENCH PROTESTS TURN VIOLENT OVER RETIREMENT AGE
After first reporting about the French scheme in 2018, French daily Le Monde has described the scandal as "the robbery of the century."
In total, an estimated $55 billion was allegedly drained from the state coffers of European countries by hundreds of bankers, lawyers and investors, the Times reported. Germany accrued the most in losses, about $30 billion. France was drained of an estimated $17 million, while Spain, Italy, Belgium, Austria, Norway, Finland, Poland and others suffered smaller hits.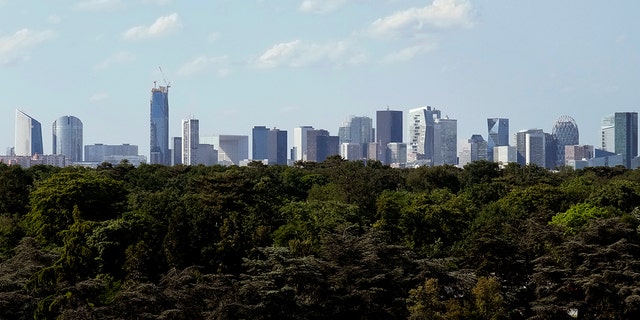 The business district of La Defense is pictured May 17, 2022, in Paris. French authorities raided the Paris offices of five top French banks Tuesday. (AP Photo/Christophe Ena, File)
CLICK HERE TO GET THE FOX NEWS APP
The raids in Paris come amid global financial turmoil unleashed this month by the collapse of two U.S. banks and the government-orchestrated takeover of troubled Swiss lender Credit Suisse by its rival UBS.
The Associated Press contributed to this report.
Danielle Wallace is a reporter for Fox News Digital covering politics, crime, police and more. Story tips can be sent to [email protected] and on Twitter: @danimwallace.