close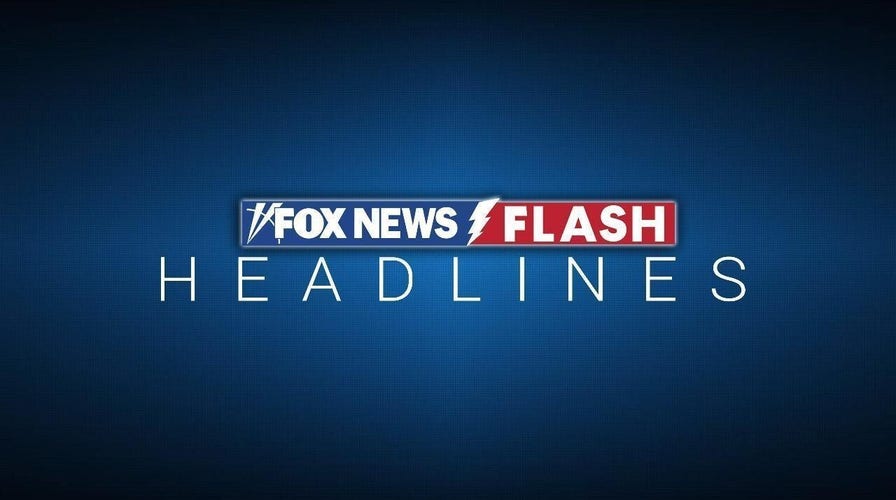 Video
Fox News Flash top headlines for March 22
Fox News Flash top headlines are here. Check out what's clicking on Foxnews.com.
French President Emmanuel Macron said Wednesday that the pension bill he pushed through without a vote in parliament needs to be implemented by the "end of the year," sticking to his decision to raise the retirement age from 62 to 64 despite mass protests.
Macron, who made the comments in an interview broadcast on national television, said the bill will "continue its democratic path."
The Constitutional Council needs to review the bill in the coming weeks, and it can only be turned into law after the body gives its approval.
It was the first time that Macron spoke publicly since his government forced the pension bill through parliament last week, prompting scattered protests in Paris and across the country, some degenerating into violence. His government survived two no-confidence votes at the lower chamber of parliament on Monday.
The 45-year-old president repeatedly said that he was convinced that France's retirement system had needed to be modified to keep it financed.
"That reform is not a luxury, it is not fun, it's a necessity for the country," he said.
FRENCH PRESIDENT EMMANUEL MACRON WELCOMES HOME JOURNALIST WHO WAS HELD HOSTAGE BY EXTREMISTS
Macron also condemned the violence at some protests.
He notably referred to rioters storming the U.S. Capitol in 2021 and Brazil's top government buildings earlier this year, as well as the yellow vest movement against social injustice in France in 2018 which led to violent clashes and vandalism in the Paris streets.
"When the United States of America lived what they lived at the Capitol, when Brazil lived what it lived, when you have seen extreme violence in Germany, The Netherlands, or sometimes here at home in the past … we must say that we do respect (peaceful protesters), we do listen, we're trying to move the country forward … but we cannot accept factious people nor factions," he said.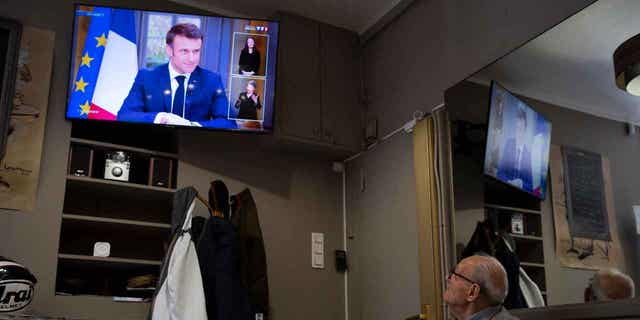 A man watches French President Emmanuel Macron speak during an interview with journalists on television in Marseille, France, on March 22, 2023. Macron said the controversial pension bill should be implemented by the "end of the year."  (AP Photo/Daniel Cole)
At the same time, Macron insisted that he respects unions and protests organized by opponents to show that they disagree with the pension plan, seeking to clarify that he considers they are legitimate — unlike troublemakers. "We must listen to them, listen to their anger and respond to it," he said.
OLIVIER DUBOIS, FRENCH JOURNALIST HELD BY ISLAMIC EXTREMISTS FOR NEARLY 2 YEARS, FREED
Unions have called for new nationwide protests and strikes on Thursday to demand that the government simply withdraws the retirement bill. High-speed and regional trains, Paris metro and other public transportation in major cities were expected to be disrupted.
Macron acknowledged that a majority of the French are opposed to the reform. "But between opinion polls and the general interest of the country, I'm choosing the general interest … And if it means bearing unpopularity afterwards, I will bear it."
He also said he "trusts" Prime Minister Elisabeth Borne to continue leading the government, suggesting he is not planning a government reshuffle.
Early on Wednesday, dock workers in Marseille blocked access to the city's commercial port — France's biggest — preventing trucks and cars from entering amid a heavy police presence.
CLICK HERE TO GET THE FOX NEWS APP
Garbage was still piling up on some Paris streets as sanitation workers entered their 17th day of strike. Authorities issued an order in recent days requiring some garbage employees to ensure a "minimum service" for health reasons.
Oil shipments in the country were partially disrupted amid strikes at several refineries in western and southern France. Gas stations in the country's southeast region are currently the most affected by shortages.