Rep. Ken Buck, R-Colo., on Thursday said former President Donald Trump should tell his supporters to "stand down" as his criminal cases proceed through court.
"I think he absolutely needs to tell all Americans to stand down and allow the judicial system to take its course," Buck said in an interview on MSNBC. "We trust judges, we trust juries, we trust appellate courts. This isn't over until it's over."
The lawmaker's warning against violence comes after Trump surrendered to authorities Tuesday in Fulton County, Georgia. He was booked in Fulton County Jail on felony charges brought by District Attorney Fani Willis related to his alleged attempt to overturn the 2020 election results in Georgia. The former president – the first to be indicted in U.S. history – also faces criminal charges in New York and federal charges in Washington, D.C., and the Southern District of Florida.
Buck, a member of the House Freedom Caucus and former prosecutor, said the fact that Trump was indicted "doesn't mean there's gonna be a conviction."
CONSERVATIVES UNLOAD AFTER TRUMP BOOKED INTO GEORGIA JAIL IN 4TH INDICTMENT: 'SICKENING'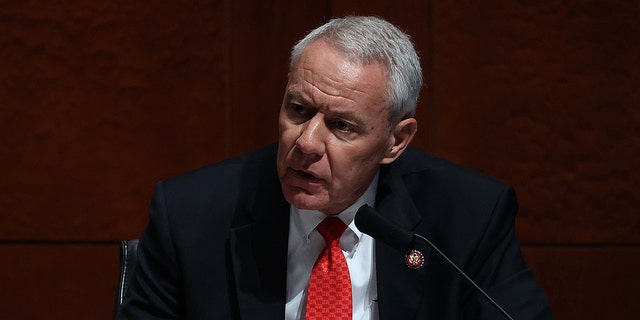 Rep. Ken Buck (R-CO) called on former President Donald Trump to tell his supporters to "stand down" as Trump's various criminal cases wind through court.  (Chip Somodevilla/Getty Images)
"It doesn't mean that everything in those charges are going to come out at trial the way it's been charged," Buck said, adding that Trump's supporters should refrain from calls to violence as well.
"I think that setting a very clear message and also having surrogates send a very clear message that violence will not be tolerated is appropriate," Buck said.
Trump was charged with one count of violation of the Georgia RICO Act, three counts of criminal solicitation, six counts of criminal conspiracy, one count of filing false documents and two counts of making false statements in the Georgia case.
GEORGIA INDICTMENT: 2 TRUMP CO-DEFENDANTS BOOKED IN FULTON COUNTY JAIL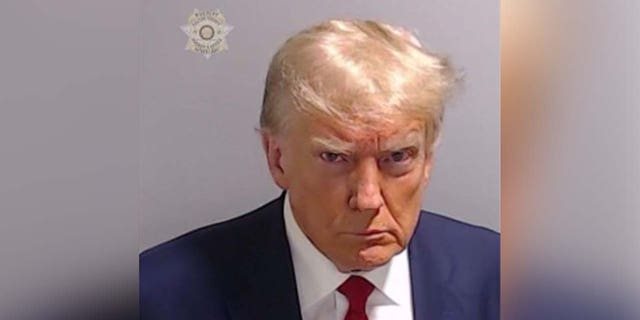 Donald Trump's mugshot. (Fulton County Sheriff's Office)
He was quickly processed at Fulton County Jail and released on $200,000 bail Thursday. His formal arraignment in Georgia, where he is expected to plead not guilty, will take place sometime next month, sources told Fox News Digital.
Trump and more than a dozen others were charged out of the Fulton County probe, including his former White House chief of staff Mark Meadows, his former attorneys Rudy Giuliani, Sidney Powell, Jenna Ellis, Kenneth Chesebro, Jeff Clark and John Eastman among others.
Trump, speaking to reporters from the tarmac in Atlanta, Georgia. Thursday evening, after being processed at the Fulton County Jail, said it was "a very sad day for America." He called the case in Georgia "a travesty of justice."
WITH THE CHARGES IN GEORGIA, TRUMP NOW FACES 4 CRIMINAL INDICTMENTS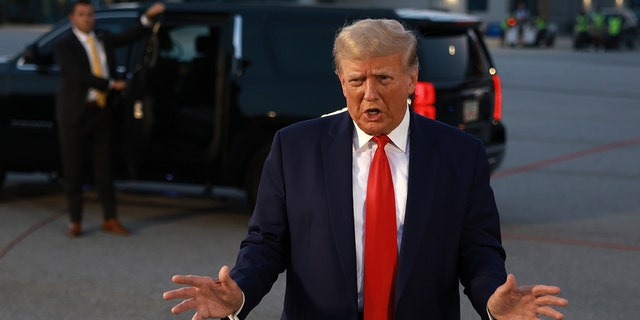 Former U.S. President Donald Trump speaks to the media at Atlanta Hartsfield-Jackson International Airport after being booked at the Fulton County jail on August 24, 2023, in Atlanta, Georgia. Trump was booked on multiple charges related to an alleged plan to overturn the results of the 2020 presidential election in Georgia. (Joe Raedle/Getty Images)
Several of his conservative supporters were outraged and rallied around him after Trump's mugshot was released by the Fulton County Sheriff's Office.
"Sickening," former Trump official Stephen Miller posted on X, formerly Twitter. "Authoritarian. They're flaunting their crackdown on democracy."
CLICK HERE TO GET THE FOX NEWS APP
Another Freedom Caucus lawmaker, Rep. Byron Donalds, R-Fla., called it a "dark day in U.S. history." Rep. Andy Biggs, R-Ariz., said, "I stand with President Donald J. Trump."
Fox News' Brooke Singman and Andrew Mark Miller contributed to this report.