close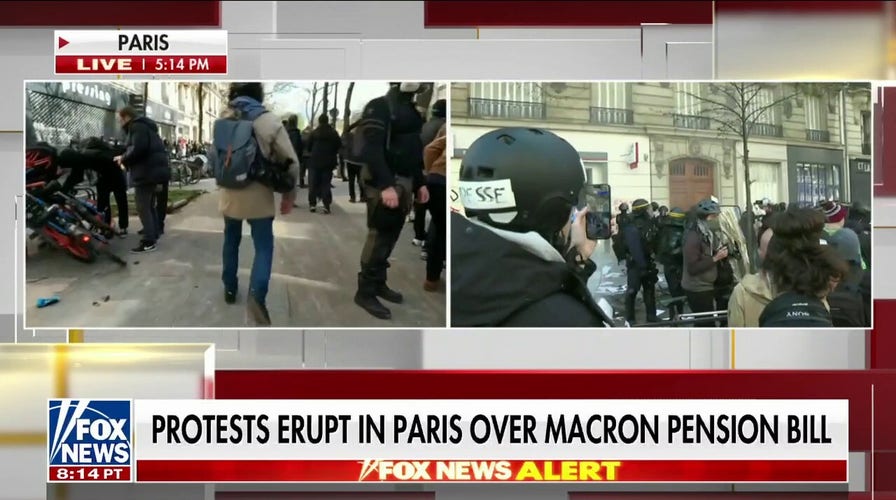 Video
French President Macron visits China's Xi while Paris erupts in protests
Greg Palkot reports on continuing protests in Paris over Macron's pension bill.
French President Emmanuel Macron saw another day of ire Tuesday as protesters interrupted him during a speech at The Hague amid his two-day trip to the Netherlands.
Macron was only briefly interrupted before the protesters were quickly removed, but the demonstration showed that the French president continues to face strong opposition to his controversial pension reforms.
Protests have swept France for weeks after Macron and his government pushed through a hugely unpopular pension reform that raised the retirement age from 62 to 64, citing concerns over a collapsing social security system.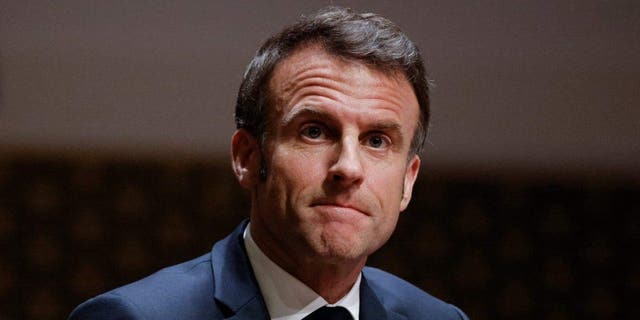 French President Emmanuel Macron looks on after delivering a speech at The Hague on April 11, 2023, as part of a state visit to the Netherlands.
FRENCH PRESIDENT MACRON REJECTS 'AMERICAN RHYTHM' ON TAIWAN, NODS TO CHINA'S 'UNITY' AFTER MEETING WITH XI
Demonstrators again Tuesday called Macron's reform undemocratic and claimed it was an abuse of constitutional powers – though the measure passed through the Senate and Macron's prime minister, Elisabeth Borne, survived a vote of no-confidence in the Parliament.
One group of protestors at The Hague held a banner that accused Macron of being a "president of violence and hypocrisy."
Macron responded to the demonstrators and said, "I can answer these questions if you give me some time."
"[It's] very important to have this type of discussion," Macron said, pointing to other undemocratic practices that sparked out of control, like the Jan. 6, 2021, riots at the U.S. Capital and the election riots in Brazil earlier this year. "The day you consider that 'When I disagree … I'm the one to decide' … you put democracy at risk," he added.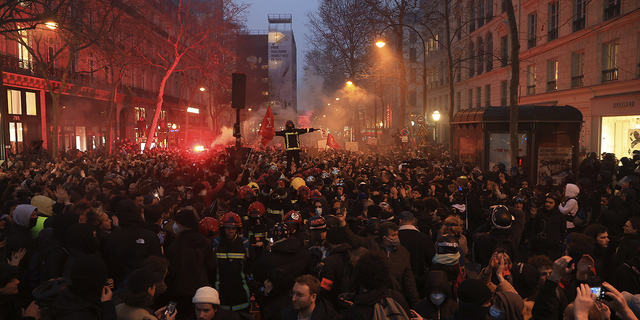 Protesters march during a recent rally in Paris. (AP / Aurelien Morissard / File)
DISORDERLY PROTESTS HIT FRANCE FOR THE 11TH DAY, BUT NUMBER OF STRIKERS FALLS
The ire directed at Macron on Tuesday may have been about politics at home, but it came just one day after he received international pushback for comments he made during a trip to China.
The French president was quoted Monday as saying, "The question we need to answer, as Europeans, is the following: Is it in our interest to accelerate [a crisis] on Taiwan? No."
"The worst thing would be to think that we Europeans must become followers on this topic and take our cue from the U.S. agenda and a Chinese overreaction," he added in an interview that was apparently conducted Friday.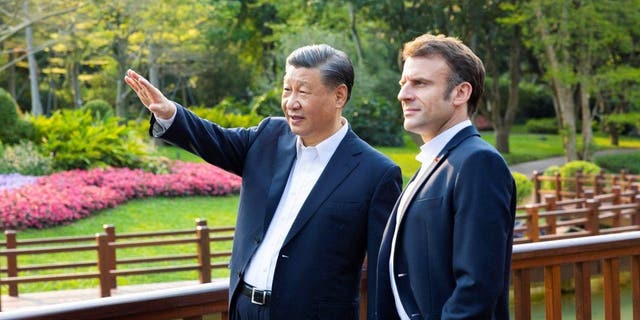 Chinese President Xi Jinping, left, and French President Emmanuel Macron enjoy the scenery of a Chinese garden in Guangzhou, China, on April 7, 2023. (Huang Jingwen / Xinhua via Getty Images)
CLICK HERE TO GET THE FOX NEWS APP
The comments sparked condemnation in the U.S. and questions of whether Macron's position matched that of the European Union when it comes to escalating security concerns regarding China and Taiwan.
China over the weekend conducted large-scale military exercises that simulated sealing off the island in response to Taiwanese President Tsai Ing-wen's trip to the U.S. last week.
The Associated Press contributed to this report.