A former FBI assistant director is blasting the bureau for its "glaring disparity" in how the agency has approached the situations surrounding President Biden and former President Donald Trump's handling of classified materials.
The first batch of classified documents in Biden's possession was found at the Penn Biden Center on Nov. 2, just before the 2022 midterm elections, and not revealed until Monday. A search of Biden's garage at his Wilmington home was conducted on Dec. 20 and the remainder of the house, according to Biden's lawyers, was searched this week, when additional documents were discovered.
While Trump and Biden's cases have key differences, Chris Swecker, who served for 24 years in the FBI as a special agent and retired from the bureau as assistant director for the criminal investigative division, told Fox News Digital Saturday that the Justice Department is handling things with Biden in a "genteel" way.
Swecker, referring to the treatment received by Trump during the FBI's raid of Mar-a-Lago last year, said there is a "glaring disparity in how somewhat identical facts are treated when it comes to the Bidens."
5 MORE CLASSIFIED DOCUMENTS FOUND AT BIDEN'S DELAWARE HOME, WHITE HOUSE LAWYER SAYS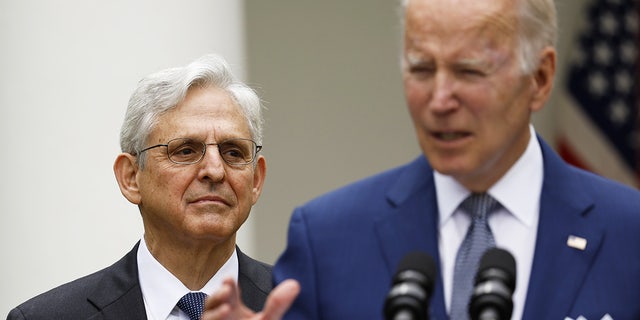 Attorney General Merrick Garland looks on as President Biden speaks during an event in the Rose Garden of the White House on May 13, 2022.
(Ting Shen/Bloomberg via Getty Images)
"You know, it's kid-gloves, it's going about it in a very nice way, very genteel," Swecker said, noting that the Justice Department is seemingly allowing Biden allies to decide what is looked through and what isn't, as well as what is taken from the properties and what isn't.
"This is yet another example, I think, of the genteel way the left and the right are handled," Swecker added.
Special Counsel to the president Richard Sauber disclosed in a statement Saturday that five additional pages of documents with classified markings were found at Biden's Delaware home Thursday evening, making a total of six classified documents retrieved from the house — in addition to the documents discovered in the garage.
Sauber explained that when Biden's personal attorneys identified one classified document at Biden's home on Wednesday, they stopped searching for additional documents because they lacked the security clearances necessary to view those materials — bringing into question the seriousness of the issue and why the DOJ appears to not be assisting with the search of Biden's residences or offices.
Under pressure from Republicans, Attorney General Merrick Garland appointed a special counsel Thursday to investigate the classified materials, which Biden claims were "inadvertently misplaced." Garland tapped Robert Hur, a former U.S. attorney, to handle the investigation.
BIDEN'S 'IRRESPONSIBLE' HANDLING OF CLASSIFIED DOCS BIGGER 'LEAKAGE' RISK THAN TRUMP'S, EXPERTS SAY
President Joe Biden is shown in the Oval Office at the White House on January 13, 2023.
(Kevin Dietsch/Getty Images)
Biden's cooperation with the DOJ as authorities investigate the classified documents has been praised by Democrats. Sauber stressed in his statement that Biden "takes classified information and materials seriously" and said the president's lawyers "will continue to cooperate" with the special counsel's investigation.
"We are confident that a thorough review will show that these documents were inadvertently misplaced, and the President and his lawyers acted promptly upon discovery of this mistake," Sauber said.
"Based on what we know now, Biden is unlikely ever to face charges, whereas Trump is at high risk because of his obstructive conduct and other factors absent from the Biden case," Norm Eisen, an ethics lawyer and counsel for House Democrats, wrote in a opinion column for CNN. "The cases have special counsels and classified documents in common — but little else."
Trump, Eisen argued, resisted turning over the materials after months of discussions and a subpoena and insisted he had a right to keep them, while Biden said he was unaware that classified documents — at least the first set — were in his possession, and his lawyers voluntarily turned them over to the DOJ.
WHO HAD ACCESS TO BIDEN CLASSIFIED DOCUMENTS? REPUBLICAN DEMANDS WHITE HOUSE RELEASE DELAWARE VISITOR LOGS
At the time of the FBI's raid of Mar-a-Lago, prior to public knowledge that he also had classified materials stashed away from his time as vice president, President Biden questioned how Trump could be so "irresponsible."
Asked why the FBI is leaving the search of Biden's Delaware residence for additional classified materials to White House aides, Swecker said there should have already "been an open investigation" and that it reminds him of how the FBI treated former Secretary of State Hillary Clinton, who was able to avoid charges for her use of a private email server during her tenure.
"This is a continuation of that kid-gloves, soft touch that they have with things to the left of the political aisle," he said. "On the right side, they come in with swat teams and search warrants and come hard. It shouldn't be that way."
"I think it's bad for the FBI to go using search warrants to do that sorta thing," he added. "They should subpoena and they should do this in a way that is short of conducting an outright raid. But that's not what they did with Trump – they just raided his Mar-a-Lago residence.… If it's good for Trump, it should have been good for Biden, as well. There is a disparity of how this very identical set of circumstances were handled."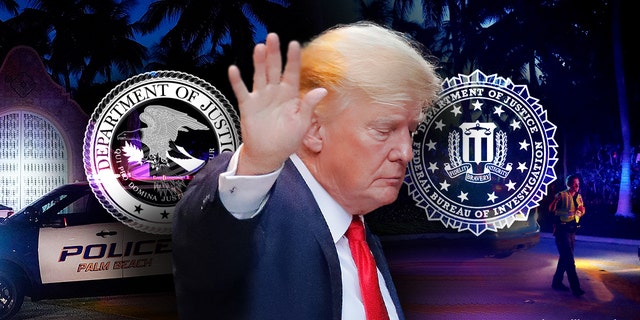 At the time of the FBI's raid of Mar-a-Lago, prior to public knowledge that he also had classified materials stashed away from his time as vice president, President Biden questioned how Trump could be so "irresponsible."
(Getty Images, photo illustration)
Swecker also said he believes the documents found at Mar-a-Lago were in a much safer spot than those found in Biden's Delaware home, which served as his residence for the time between his role as vice president and president.
"I think they were safer at Mar-a-Lago, I mean it took an FBI swat team to get in there," he said. "You can't get in the gate. I'm sure there was a log there because he was still under Secret Service protection. [They] were locked inside a closet, the hotel has got cameras and security, so it's buttoned down pretty doggone tight. They had made sure it was locked at the request of the archives and DOJ."
CLICK HERE TO GET THE FOX NEWS APP
"Now a garage door, you can go out to any one of these tech places and you can program any garage door opener to open up any garage door, practically," Swecker added. "[Biden] wasn't under Secret Service protection at the time, from my understanding, and the house was empty a lot of that time. That house was inherently insecure. It's much less secure than Mar-a-Lago."
Fox News Digital has reached out to the White House.