Vaughan is a former England captain who famously led the team to Ashes success in 2005.
Mark Kolbe/Getty Images AsiaPac/Getty Images

CNN
—
Former England cricket captain Michael Vaughan has been cleared of using racist language against former Yorkshire teammate Azeem Rafiq, the Cricket Discipline Commission (CDC) panel announced on Friday.
"The Panel is not satisfied on the balance of probabilities that these words were spoken by MV (Michael Vaughan) at the time and in the specific circumstances alleged," reads the panel's decision.
Vaughan, alongside Yorkshire County Cricket Club (YCCC), former coach Andrew Gale and five former Yorkshire players – Gary Ballance, Tim Bresnan, Matthew Hoggard, Richard Pyrah and John Blain – were accused by the England and Wales Cricket Board (ECB), following an investigation into allegations of racism and discrimination made by Rafiq in 2021.
Vaughan, once ranked the No.1 batsman in the world, released a statement on Twitter saying, "It has been both difficult and upsetting to hear about the painful experiences which Azeem has described over the past 3 years.
"The outcome of these CDC proceedings must not be allowed to detract from the core message that there can be no place for racism in the game of cricket, or in society generally."
Vaughan wrote that he has met with Rafiq and apologized for the negative experience he had with the club, but continues to deny making any racist comments.
"I have never wanted to do anything that runs contrary to genuine efforts to clean up the game of cricket. I truly hope people can understand why, on a personal level, I could not just accept, or apologise for, something which I know I did not do."
Vaughan, 48, was accused of making racist remarks and slurs to Rafiq, who is of Pakistani descent, and three other Asian players before a Yorkshire match in 2009.
The panel considered the evidence brought forward by the ECB, the sport's regulator in England and Wales, from March 1 to March 3, 2023, with closing submissions on March 7.
Most of the evidence heard by the panel concerned Vaughan, a Yorkshire player for 16 years before retiring in 2009, as he was the only defendant who participated in the hearing.
The panel added that its findings "do not in any way undermine the wider assertions" made by Rafiq, who detailed his experience of racial abuse at one of England's top clubs to UK lawmakers in November, 2021.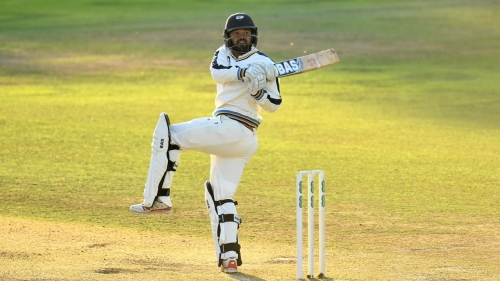 Azeem Rafiq pictured playing for Yorkshire in 2016.
Dan Mullan/Getty Images
Responding to the CDC ruling, Rafiq tweeted, "Charges against seven of the eight defendants, including the widespread use of the 'P' word, have been upheld by the CDC today. This comes in addition to the other reports, panels and inquiries that found I and others suffered racial harassment and bullying at Yorkshire.
"The issue has never been about individuals but the game as a whole. Cricket needs to understand the extent of its problems and address them. Hopefully the structures of the game can now be rebuilt, and institutionalised racism ended for good. It's time to reflect, learn and implement change."
The disciplinary panel said that Yorkshire and Ballance were not required to attend the hearing after accepting the allegations.
Blain, Hoggard, Gale and Pyrah all withdrew from the proceedings. The panel, chaired by Tim O'Gorman, found some of the accusations were not proven, but upheld others against Bresnan, Blain, Hoggard, Gale and Pyrah.
They were found in violation of cricket directives for making racist and discriminatory remarks.
"No such person may conduct himself in a manner or do any act or omission which may be prejudicial to the interests of cricket, or which may bring the game of cricket or any Cricketer or group of Cricketers into disrepute," states the directive.
At the time of this publication, neither Blain, Hoggard, Bresnan, Gale or Pyrah had issued statements publicly since the hearing.
On February 9, Pyrah issued a statement on Twitter explaining why he had withdrawn, saying he had "fully cooperated" with investigations conducted by Yorkshire and the ECB but added that the "processes involved have not been open, fair, or transparent" and that the allegations made by Rafiq had been "badly handled."
Last summer Gale issued a statement denying "each and every" allegation.
In an interview in English newspaper The Telegraph last week, former Scotland international Blain was said to have described the allegations as "perverse," adding that he was "never offered a face-to-face interview," to present his own evidence.
A joint statement by YCCC, interim chair Tanni Grey-Thompson and CEO Stephen Vaughan said, "Throughout the Cricket Discipline Commission (CDC) proceedings brought by the England and Wales Cricket Board, Yorkshire County Cricket Club has been driven by a determination to learn from the past. As a Club, we needed to accept and take accountability for the cultural issues which allowed racist and discriminatory behaviour to go unchallenged.
"In February, we accepted four amended charges relating to conduct which may be prejudicial to the interests of cricket and/or may bring the ECB and/or the game of cricket into disrepute, all occurring between 2004 and 2021. This resolved the Club's liability, and we did not attend the CDC hearings in early March.
"It is not for the Club to comment on the wider judgments made by the Panel. Our focus remains on achieving a reasonable sanction, and we will make representations in due course to the CDC Panel," they added.