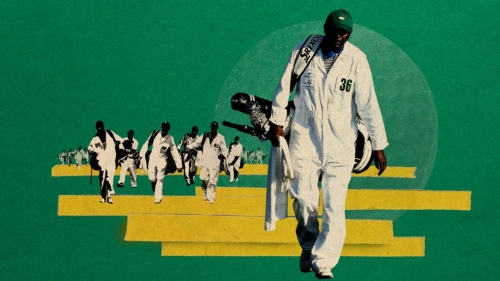 For decades, golfers at The Masters had to use one of Augusta National's club caddies, such as tournament legend Carl Jackson.
Alberto Mier/Getty/CNN

CNN
—
History never forgets a champion. When you win one of sport's biggest titles, you become immortal.
Win multiple times and your legacy is even greater. To think of The Masters is to think of Jack Nicklaus, the most successful champion in the major's history with six wins, and Arnold Palmer, who donned the winner's green jacket four times in just six years at Augusta National.
And yet for decades, two former champions with a combined nine wins lay buried in unmarked graves.
Willie Peterson caddied Nicklaus' first five victories, while Nathaniel "Iron Man" Avery was on the bag for all four of Palmer's triumphs. Avery's headstone was only installed at Augusta's Southview Cemetery, in Georgia, in 2017, 32 years after his death. Three years later, a 10-minute drive away at Cedar Grove Cemetery, Peterson – who died in 1999 – received his.
They were just two of Augusta National's original caddie core, all of them Black men who, from the inaugural edition of the tournament in 1934, guided golfers around the fabled course.
Every subsequent year for almost half a century, they would play substantial – sometimes pivotal – roles in the destination of the green jacket.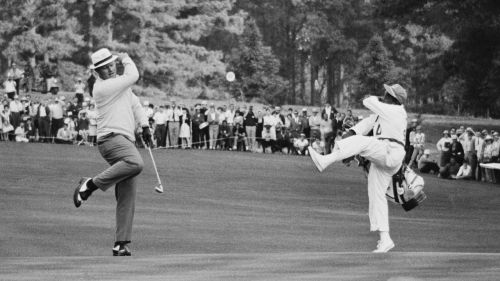 Nicklaus and Peterson celebrate a birdie at the 1966 Masters, a tournament they would go on to win.
Bettmann Archive/Getty Images
Kings of the Hills

The stories of the original group of Augusta caddies almost always began in the same place: Sand Hills.
Located just three miles from The Masters venue, the historically Black district lay adjacent to Augusta Country Club. There, local kids between 10 and 12 years old could earn a wage carrying the bag for members.
Around 90% of Augusta National's original caddie core grew up in the Sand Hill neighborhood, according to Leon Maben, vice president of the board of directors at Augusta's Lucy Craft Laney Museum of Black History.
Eventually, many would hop across Rae's Creek to begin work at Augusta National. Or as Ward Clayton, author of "Men on the Bag: The Caddies of Augusta National," terms it: they "graduated."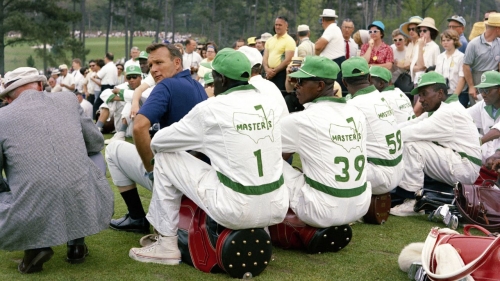 Palmer looks over his shoulder as he sits with a group of caddies during the 1965 Masters.
Augusta National/Getty Images
"They were just looking for a buck," Clayton told CNN. "They weren't aiming at the outset to become the greatest caddies in the world, but they did – that's what they became.
"It wasn't as much of an age thing as it was just your ability. You had to learn to how to act around adults, how to read greens, how to tell guys what clubs to hit, what their yardage was, and how to read people.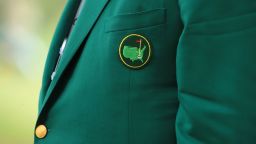 A detail of a green jacket during the third round of the Masters at Augusta National Golf Club on April 13, 2019 in Augusta, Georgia.
Andrew Redington/Getty Images
Why do Masters champions win a green jacket?
"You had to become a little bit of an amateur psychologist … you had to read them right away, from the first hole."
There was strong incentive for graduating. A "good bag" at Augusta National would pay up to $5, Maben said, offering $20 for a particularly lucrative day's labor.
For Jariah "Jerry" Beard, caddie for 1979 Masters champion Fuzzy Zoeller, it meant he could earn as much in a day as his parents could in a week working at the city's John P. King mill.
'The Godfather'

If caddying was an education, then Willie "Pappy" Stokes was its headmaster.
Having grown up on the very grounds Augusta National was built on, a 12-year-old Stokes was hired to provide water to workers constructing the club. During bad weather, the youngster closely studied how rain streamed across the terrain, always trickling towards the course's lowest point: Rae's Creek.
That realization formed the basis of Stokes' ability to read greens with near-perfect accuracy, a knowledge he imparted to budding students at Saturday morning "caddie school."
At just 17-years-old, Stokes helped Henry Picard to the 1938 Masters title. He would retire after helping four different players to five wins at Augusta and having sealed his status as "The Godfather" of caddies.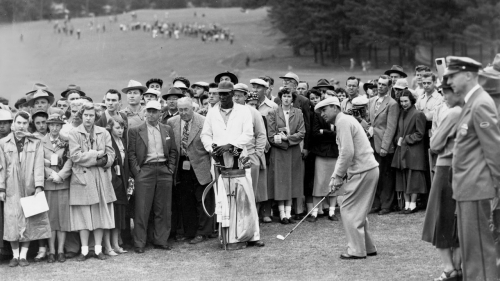 Stokes watches on as Ben Hogan edges closer to his first Masters title in 1951. Stokes would caddy again for Hogan when he won his second green jacket in 1953.
AP Photo
Stokes' knowledge trickled down to those that followed, epitomized by Beard in 1979. To this day, Zoeller remains the only golfer to win The Masters on his first attempt, as Beard steered the debutant around Augusta "like a blind man with a seeing-eye dog."
And they were Zoeller's words, not Beard's, relayed by the American in "Loopers: The Caddie's Long Walk," a 2019 film co-produced by Clayton.
Maben often joked with Beard, who died in March aged 82, that Zoeller ought to give him his green jacket.
"These guys were ahead of their time," Maben said. "They knew Augusta National like the back of their hand and were able to direct a golfer without any type of instrument like today's caddies (use).
"They didn't have no book to go by or no instrument to say how the wind was blowing that day, anything like that. They were the best at what they did."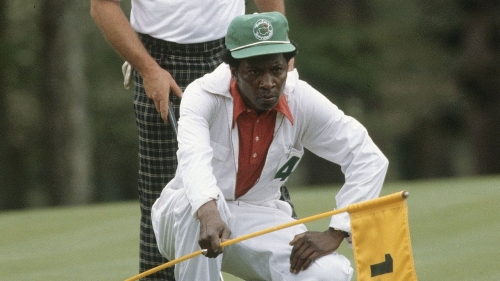 Beard helps Zoeller line up a putt at the 1979 Masters.
Heinz Kluetmeier/Sports Illustrated/Getty Images
Dead man walking

And as with "The Godfather," caddie nicknames were par for the course.
Tommy "Burnt Biscuits" Bennett, on the bag for Tiger Woods' first Masters in 1995, got his moniker after an attempt as a child to steal biscuits being baked on his Grandma's wooden stove ended with him badly scalding himself, according to ESPN.
Then there was John H. "Stovepipe" Gordon, Frank "Marble Eye" Stokes, and Matthew "Shorty Mac" Palmer. Avery's "Iron Man" title had multiple stories as to its origin, according to Clayton, one being that he inadvertently cut off a finger while playing golf with a hatchet and another that he injured a hand playing around with powerful firecrackers.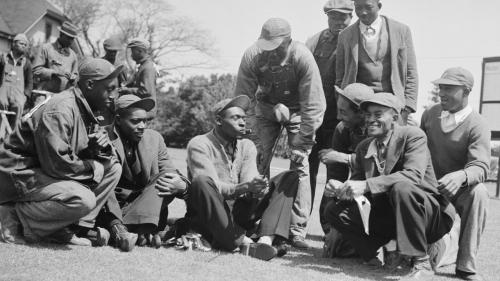 John H. "Stovepipe" Gordon (center), caddie for Gene Sarazen, shows fellow caddies the club Sarazen made a double eagle with at the 1935 Masters.
Bettmann Archive/Getty Images
But Clayton has a clear favorite in the nickname department: Willie "Cemetery" Perteet, former caddie for President Dwight D. Eisenhower. The story, as recounted by Clayton, goes as follows.
Caddie by day, jazz band drummer in downtown Augusta by night, Perteet was leaving a gig one evening when he was jumped by a gang brandishing knives. The group had been gathered by the caddie's ex-girlfriend, who was "terrifically hurt" after he had ended the relationship.
Hospitalized by his injuries, Perteet later returned to consciousness – but not in a hospital bed. Instead, he awoke in a refrigerated bay, staring into the horrified eyes of a mortician.
"The doctor evidently gave him too much medication and they thought he was dead," Clayton explained.
"So all the caddies give him the nickname 'Dead Man.' President Eisenhower, right at the outset, said, 'I don't really like that title. We're just going to call you Cemetery.'"
Washed away

Though those who worked the bag were often close with the golfers they paired with, there was an enduring divide – social, as caddies, and racial, as Black men in America.
Only allowed to play the course on the days Augusta National was closed to members, caddies were "considered a lower class," despite the respect for their craft, Clayton said. Maben, having spoken to many of the original caddies, agreed.
"That's during segregation, Jim Crow period, and Black men was downgraded in society, called boy, n***er and all that," Maben said.
"The way I analyze it, from a lot of the conversations I had, they knew their place at that time in society."
In 1990, TV executive Ron Townsend became the first Black member admitted to Augusta National, 15 years after Lee Elder had become the first Black golfer to compete at The Masters.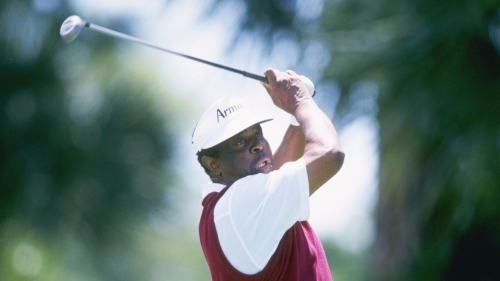 Elder won four times on the PGA Tour.
Andy Lyons / Getty Images
By the time Townsend arrived, most of Augusta's original caddie core had disappeared. For the first 48 years at The Masters, golfers had to employ the services of the club's caddies, but from 1983 onwards, they could bring their own.
Part of the reason lay in events at the previous year's tournament, when a miscommunication led to some caddies missing a morning tee time. Several golfers used the incident as leverage in their bid to persuade The Masters to allow players to bring the caddies they employed year-round on the PGA Tour.
Clayton believes the arrival of Tour caddies was a matter of when, not if. "There's no doubt that there was still a large, large group of excellent caddies at Augusta National. But the depth of those caddie ranks were not as great as what the players wanted," he said.
"It would just have been nice if it was done in a more seamless manner versus what occurred."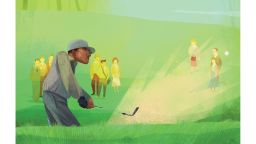 John Joven
Charlie Sifford: golf's first Black professional who paved the way for Tiger Woods
Regardless of the cause, the impact was profound. The 1983 Masters saw the first White caddies walk the greens at the major, with just 19 Black caddies on the bag, Clayton said.
Peterson was furious after entering the caddy facility to find his trusty No. 1 locker had been taken by an unknowing "Tour caddie." The matter was quickly resolved, but the outgoing caddies were distraught – a pain felt both emotionally and financially.
"They felt like their jobs were being taken from them," Clayton explained. "They didn't have a lot of time for these guys coming in from the outside."
Within a decade, less than 10 of the original caddie core remained, he added.
"It was not nice the way they went out," Carl Jackson, caddie for Ben Crenshaw, told CNN.
"It was a hard thing for all the guys because many of them were really good caddies and had experience about that golf course. At least 25-30 of those pros should not have let their caddies go."
Dream team

Yet Jackson's story at Augusta National would not end for another 40 years.
Like many others, Jackson had begun working at Augusta Country Club before graduating to Augusta National in 1958 to learn his trade under Stokes. He arrived with the nickname "Skillet" because he supposedly couldn't throw a baseball hard enough to break an egg.
In 1976, he paired with Crenshaw for the first time. For renowned putter "Gentle Ben" and the soft-spoken Jackson, green-reader extraordinaire, the partnership was a match made in heaven. After finishing runner-up on their first outing together, in 1984 Crenshaw clinched a two-shot victory over Watson to seal his maiden major title.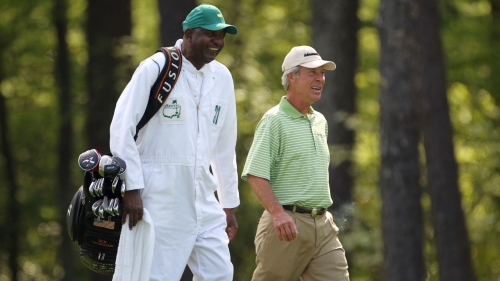 Jackson and Crenshaw formed a formidable partnership.
Jamie Squire / Getty Images
Crenshaw and Jackson would celebrate a second green jacket in 1995. It marked a hugely emotional victory for the Texan golfer, whose mentor Harvey Penick had died just before the tournament, leaving him in "shambles," Jackson said.
When Crenshaw tapped home his winning putt, the duo shared a long hug on the green. Almost 20 years later to the day, the pair would repeat the gesture when – after their 39th outing – they retired together at the 2015 Masters.
The pair's friendship lies at the heart of a forthcoming documentary on Jackson's life, "Rise Above."
"That's how America ought to be," Jackson says in the film. "The Black man taking care of the White man and the White man taking care of the Black man.'"
For Jackson, the core message of the documentary is about respect.
"If you're righteous, you're righteous. If you're unrighteous, you're gonna be a hater anyway."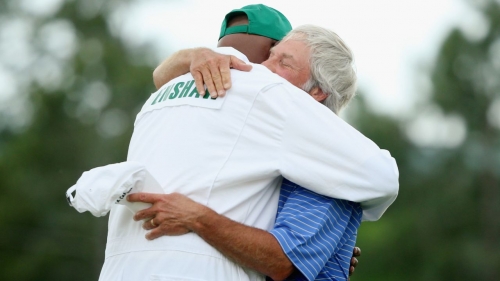 Jackson and Crenshaw embrace on the 18th green after their final hole together at The Masters.
Andrew Redington/Getty Images
Center stage

Clayton will be at Augusta National this week, overseeing content for Masters.com, keeping a close eye on the men in the white jumpsuits and green hats carrying the clubs of those vying for the 2023 green jacket.
He will do so with as comprehensive a knowledge of the history of the club's caddies as any in attendance. Yet prior to researching his 2004 book, mythic stories of "The Godfather," "Cemetery," and Augusta's original caddie core were just that to him – myths. And that troubled Clayton.
"That was my effort, to tell their stories," he said. "Because I thought they played a vital, vital role in making that club what it is and also helping golfers win … they deserved their attention.
"A lot of them aren't with us any longer. That number is diminishing every year and they should be honored or remembered in a way that tells the story of who they are."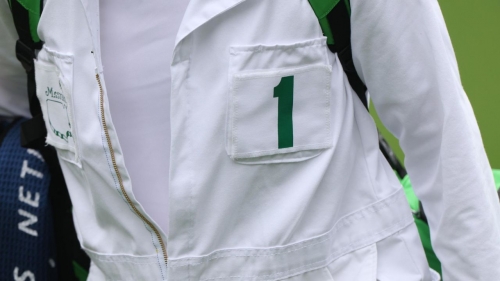 The legacy of The Masters' original caddies lives on at Augusta National.
Andrew Redington / Getty Images
Preserving and spreading those stories is an ongoing mission. Clayton helped get the headstones for Avery and Peterson, with Palmer and Nicklaus also involved for their respective caddies.
This year, the Lucy Craft Laney Museum will put the legacy of Augusta's Black caddies – quite literally – center stage.
Twice a month at the museum, supplementing its regular tours, the "Men on the Bag Experience" will see the stories of three original Augusta caddies – Stokes, Perteet, and Peterson – acted out in a play.
At the end each performance, at least two original caddies – or "living legends" as Maben refers to them – will emerge from the audience to host an on-stage Q&A. Each will be immortalized in a sports trading card, stylized with their picture, story, and stats, to be signed and distributed to patrons as they leave the show.
Maben rarely calls them caddies. It's almost always "living legends," "superstars" or, most commonly of all, "champions."
And history never forgets a champion.