close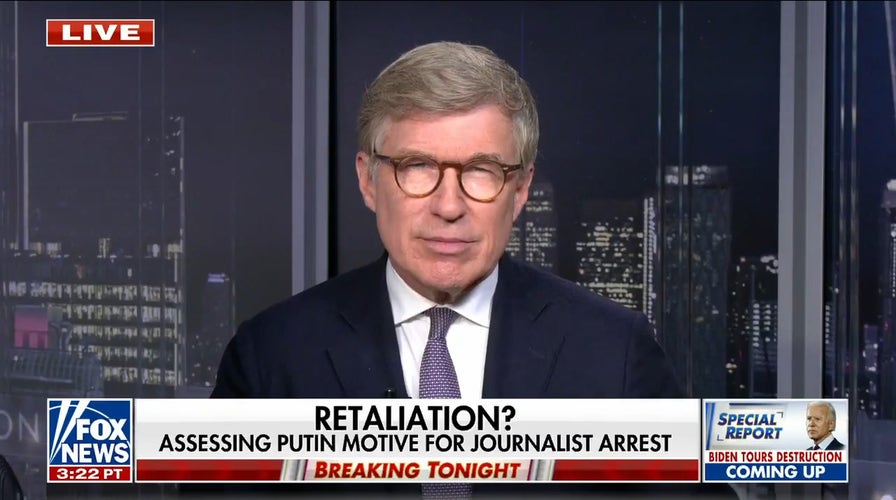 Video
American reporter arrested in Russia over espionage allegations
Senior foreign affairs correspondent Greg Palkot reports the latest on the detainment of Wall Street Journal reporter Evan Gershkovich.
Finland is set to become NATO's 31st member, doubling the military alliance's border along Russia in a strategic and political blow to President Vladimir Putin.
As will all NATO members, Finland will benefit from the collective security guarantee of Article 5: "an armed attack against one or more of them in Europe or North America shall be considered an attack against them all."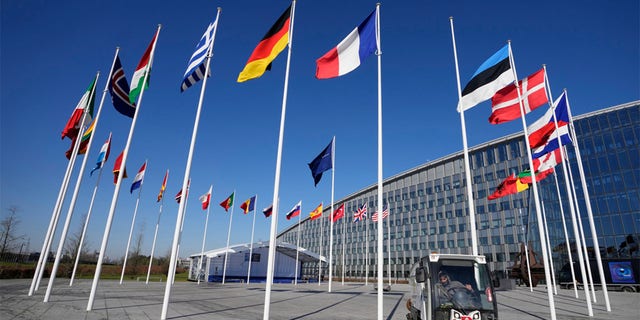 An empty flagpole stands between the national flags of France and Estonia outside NATO headquarters in Brussels, Monday, April 3, 2023.  (AP Photo/Virginia Mayo)
The Finnish flag will rise between the French and the Estonian flags in a ceremony afternoon ceremony, completing the fastest accession process in the organization's recent history.
NATO has said that it has no immediate intention to step up its presence in Finland. Some members have deployed troops there for war games over the last year.
SWEDEN BECOMES 'LEGITIMATE TARGET' BY JOINING NATO, RUSSIAN ENVOY SAYS
Such assurances will fall on deaf ears in Moscow. Putin has long howled against NATO's expansion eastward and partly used that as a justification for his country's war with Ukraine.
Russia's Deputy Foreign Minister Alexander Grushko warned that Moscow would bolster forces near Finland if NATO sends any additional troops or equipment to what will be its 31st member country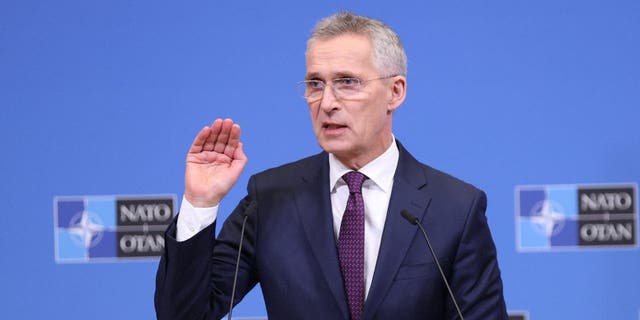 FILE: NATO Secretary General Jens Stoltenberg gives a press conference on Annual Report of 2022 at NATO Headquarters in Brussels, Belgium on March 21, 2023.  (Dursun Aydemir/Anadolu Agency via Getty Images)
NATO Secretary-General Jens Stoltenberg noted that Putin waged war against Russia with the aim of pushing back NATO but got "the exact opposite."
Finland has substantial, well-trained armed forces with elite troops capable of operating in the sub-zero temperatures of the high north. The Nordic country also has a large reserve army and is investing heavily in new equipment, including dozens of U.S.-made F-35 fighter jets.
FINLAND'S SANNA MARIN LOSES PM RACE FOLLOWING CONTROVERSIAL PARTYING VIDEO
Alarmed by Russia's invasion of Ukraine last year, Finland applied to join NATO in May 2022. Neighboring Sweden also applied, but its accession process will take longer.
The addition of Finland helps to complete NATO's geographical puzzle by filling in a major gap in the strategically important Baltic Sea region in Europe's north.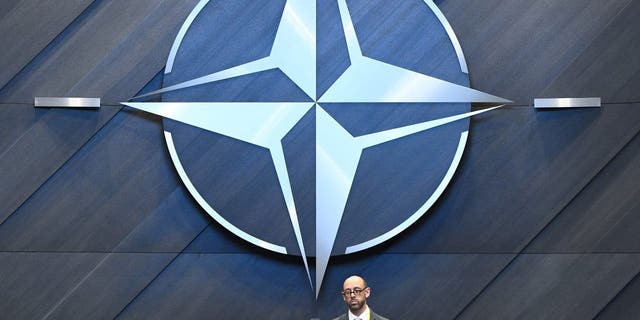 The NATO logo is pictured inside the new North Atlantic Council meeting room at the new NATO headquarters during a press tour of the facilities as the organization is moving from its old headquarters to the new building in Brussels on April 19, 2018.  (EMMANUEL DUNAND/AFP via Getty Images)
On Tuesday, Stoltenberg said, Turkey, the last country to have ratified Finland's membership, will hand the official document enshrining its approval to U.S. Secretary of State Antony Blinken.
NATO's top civilian official said he will then invite Finland to hand over its own signed documents, to complete the procedure.
All 30 allies signed Finland's and Sweden's accession protocols soon after they applied. Turkey and Hungary delayed the process for months but relented on Finland. Turkey has sought guarantees and assurances from the two, notably to crack down on Kurdish groups. Hungary's demands have never been explicit.
CLICK HERE TO GET THE FOX NEWS APP
NATO must agree unanimously for new members to join, and the vast majority of members are keen to bring Sweden within the fold before U.S. President Joe Biden and his alliance counterparts hold their next summit in the Lithuanian capital Vilnius on July 11-12.
The Associated Press contributed to this report.
Bradford Betz is a Fox News Digital breaking reporter covering crime, political issues, and much more.