The Justice Department has reportedly asked the Federal Elections Commission to not take action against Rep. George Santos, R-N.Y., amid a dual investigation by federal prosecutors into his campaign.
The Public Integrity Section also requested relevant documents from the FEC, suggesting the agency is investigating Santos' campaign finances, the Washington Post reported, citing anonymous sources.
Santos has admitted to "embellishing" his resume during his congressional campaign after lying about where he went to school, his family's Jewish ancestry and his employment history, and is also facing new scrutiny over his campaign finances.
GEORGE SANTOS DELIVERS SPEECH ON HOLOCAUST REMEMBRANCE AFTER LYING ABOUT JEWISH HERITAGE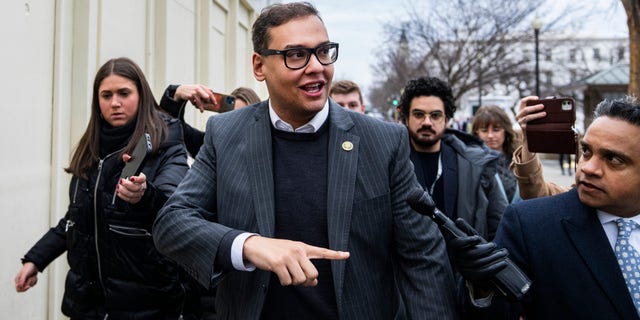 UNITED STATES – JANUARY 25: Rep. George Santos, R-N.Y., leaves a meeting of the House Republican Conference at the Capitol Hill Club on Wednesday, January 25, 2023. 
(Tom Williams/CQ-Roll Call, Inc via Getty Images)
This week, Thomas Datwyler, a campaign finance treasurer who was reportedly listed in new filings as Santos' campaign's new treasurer said he didn't work for the congressman and had turned down the job offer.
EMBATTLED REP. GEORGE SANTOS GOES TO KARAOKE AMID LOOMING ETHICS PROBE, CONSIDERED SINGING 'I WILL SURVIVE'
The FEC wrote in a letter to Datwyler and the campaign earlier this week, "knowingly and willfully making any materially false, fictitious, or fraudulent statement or representation to a federal government agency, including the Federal Election Commission, is punishable" under federal law," according to the New York Post.
Datwyler's lawyer said in a statement, "On Monday we informed the Santos campaign that Mr. Datwyler would not be serving as treasurer. It appears there's a disconnect between that conversation and the filings [Wednesday] which we did not authorize."
Another complaint from the Campaign Legal Center, calls into question the alleged true source of $700,000 Santos said he loaned his campaign last year, according to the Washington Post.
CLICK HERE TO GET THE FOX NEWS APP
David M. Mason, a former FEC commissioner, told the Washington Post, "Basically they don't want two sets of investigators tripping over each other and they don't want anything that the FEC, which is a civil agency, does to potentially complicate their criminal case."
Brett Kappel, a campaign finance lawyer, told the newspaper the request "indicates there's an active criminal investigation" on the part of the Justice Department.
The DOJ, FEC, and Santos' office did not immediately respond to Fox News Digital's requests for comment.