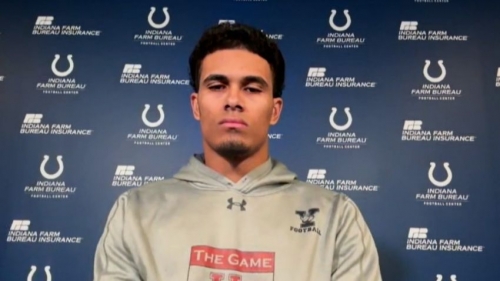 Video Ad Feedback
Hear from Colts player who visited Hamlin in the hospital

02:20

– Source:
CNN

New York
CNN
—
As the football world hopes for more good news about Buffalo Bills safety Damar Hamlin's recovery, some fans are wondering how to address a small elephant in the room: What to do about unfinished fantasy football leagues?
Monday was the final day for many leagues, and with the NFL deciding to not to replay Monday's Bengals-Bills game, an issue arises in how to declare a winner. Some leagues have decided to forgo determining champions and instead donate their pots to Hamlin's charity via GoFundMe.
"[A] lot of fantasy football leagues are donating their prize pots to the fundraiser. You can find at least a handful using the league name as the donor name," a GoFundMe spokesperson told CNN on Wednesday.
"Just scrolled through the top donors list as Damar Hamlin's GoFundMe has surpassed $7M and among the many celebrities to give, I noticed another group starting to show up… Fantasy football leagues," tweeted Jon Scott, a Buffalo Bills beat reporter for Spectrum News 1, on Thursday. "What an awesome way to handle a unique end to championships — unselfishly."
Hamlin's two-year-old GoFundMe page topped $7.7 million in donations as of Friday morning. Originally created by Hamlin to organize a toy drive in his McKees Rocks, Pennsylvania, hometown through his charity, The Chasing M's Foundation, representatives for the player have taken over the page that had an initial goal of $2,500.
"Because the situation is evolving, we'll continue to communicate any updates on the fundraiser. We will also work with GoFundMe to email all donors with more specifics regarding the use of funds as those details are available," wrote Hamlin's team on the page Wednesday. "We're hopeful about Damar's future involvement in disbursing the incredibly generous contributions."
Pot-splitting calculator

For other leagues still trying to declare a winner, author and programmer Nathan Braun came up with a pot-splitting calculator online.
"The unfortunate events surrounding BUF-CIN Monday night have left many Fantasy Football leagues in a bind," wrote Braun, himself a fantasy league commissioner, on the site. "I thought I'd use the Fantasy Math probability model to calculate a fair way of splitting payouts based on current scores and who's left to play."
The model considers factors, such as players' correlation, variance and favored odds to determine probability-based winners and losers. Released Wednesday, the calculator may help clear up some of the confusion fantasy leagues face as players struggle to determine winners without points from Monday night's game.
"At this point, it's pretty much set. Everything had already played except for the Monday night game, so it was just the players on Buffalo and Cincinnati, and there's some good players there," Braun told CNN. "So it wasn't really decision making, it's more of just 'what was your actual odds of winning?' and then piping that into a calculation on how much you get if you won and how much you get if you lost."
The calculator had 15,000 site visitors in its first day as fantasy league members across the country try to crown a winner after an abrupt, unexpected season end.