close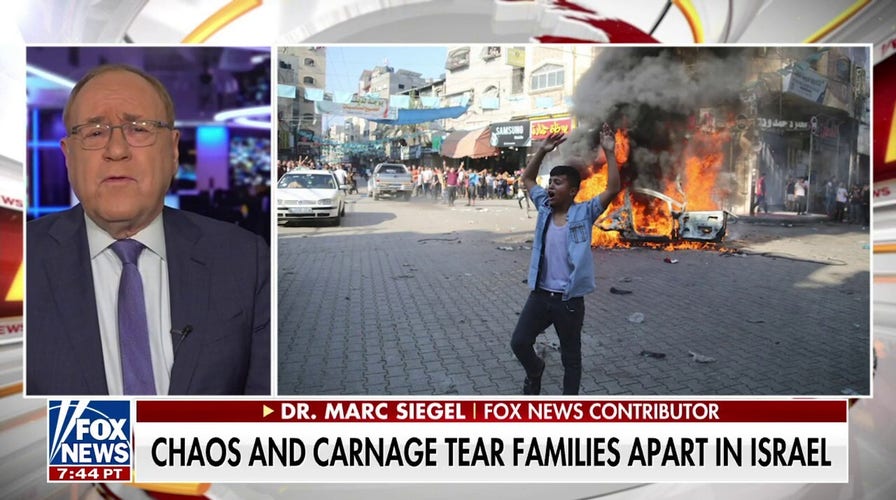 Video
Hamas is showing video, pictures of carnage for mental torment: Dr. Marc Siegel
FOX News medical contributor Dr. Marc Siegel joins 'FOX News Live' to discuss the mental toll on Israelis affected by the Hamas terror attacks.
FIRST ON FOX, JERUSALEM – Even as the death toll in Israel continued to rise past 700 people on Monday, hundreds of Israeli families were still desperately searching for loved ones who have been missing since the multipronged terrorist attack carried out Saturday along Israel's border with Gaza by Palestinian terrorists.
Most of those interviewed by Fox News Digital said they believed their relatives – mothers, fathers, children and cousins – were being held by the terrorist group Hamas inside the Gaza Strip. Many of them based their suspicions on photographs and videos uploaded to social media by the Islamist group and all of them said they had heard nothing from Israeli authorities or international groups about the whereabouts of their family members. They all appealed for the help from groups such as United Nations, the International Red Cross and others to offer them some information about their fate.
Israel's military spokesman Lt. Col. Richard Hecht told Fox News Digital that he could not give an exact number of Israelis who had been kidnapped or were being held hostage in the Palestinian enclave, saying only that there are "dozens." Israeli media reported that the number was anywhere between 70 and 100.
VIDEOS OF HAMAS BRUTALITY TOWARD ISRAELIS EERILY REMINISCENT OF ISIS TACTICS
Here are some of their stories [these interviews have been edited for clarity].
Mayan Zin – two daughters, ex-husband, his partner, and her son, believed to be in Gaza.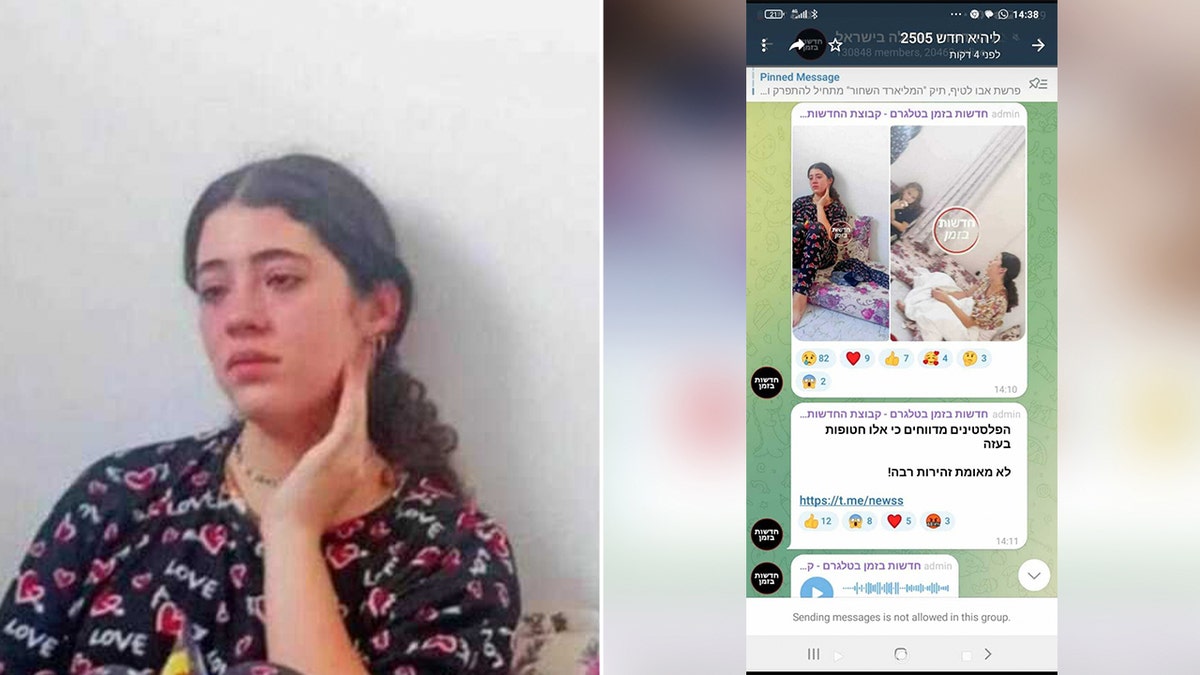 Mayan Zin's daughter Dafna seen here. Zin says there is video footage of her two daughters, ex-husband, his partner and her son being held by Hamas. (Mayan Zin)
There is video footage of my two daughters, my ex-husband, his partner and her son being held by Hamas terrorists in their home on Kibbutz Nahal Oz. In the video you can see that he has been shot in his leg, he is hurt and really bleeding, the terrorists help him stand up and lead him away. He can barely walk. The girls live on Nahal Oz with their father, I lived there until recently but moved to the center of Israel.
Then there are photos of my daughters, Dafna, 15, and Ela, 8, in Gaza and Dafna has on different clothes. On the photo, in Arabic, it says that they made her change her clothes and put on ones that were suitable for Muslim prayer.
I am going through hell right now. No one official in Israel has been in touch with me, and I have no more information about them other than the photos. I got in touch with the police and sent them the videos, but they have no information at all. I spoke to the teachers and the counselor at their school, but they could do nothing to help me other than tell me to stay strong.
But I don't think they are alive, it's just a feeling that I have in the pit of my stomach. I want to send a message to my daughters, I want to tell them and Noam, my ex-husband and Dikla, his partner, and Tomer, her son, that I love them all and the whole family is waiting here for them to come home. I want them to do everything that they are told to do by those who are keeping them.
I want the world to know what we are going through.
EYEWITNESS TO HAMAS TERROR INVASION: 'THIS IS WORSE THAN MY NIGHTMARE SCENARIO'
Yosi Shnaider, aunt and uncle, Margit and Yossi Silverman, cousins Shir and Yarden Bibes, their children, Ariel, 4 and Kfir, 9 months believe to be in Gaza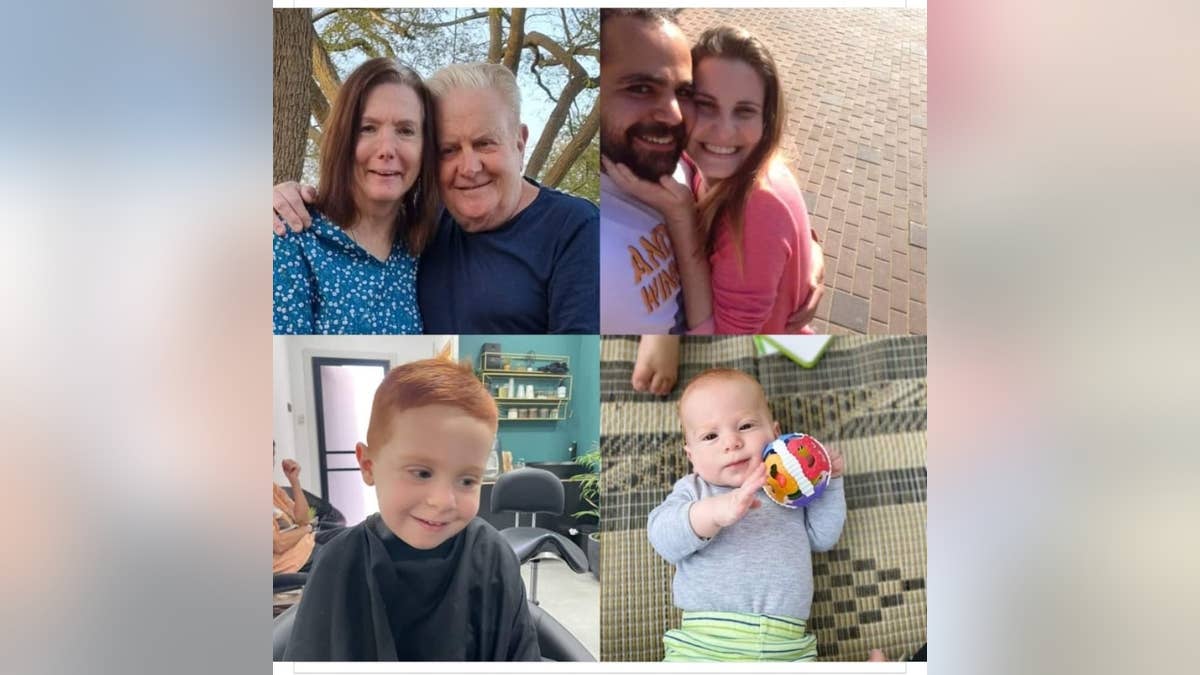 Yosi Shnaider's aunt and uncle, Margit and Yossi Silverman, cousins Shir and Yarden Bibes, their children, Ariel, 4 and Kfir, 9 months, are believed to be in Gaza. (Yosi Shnaider family)
We believe that all of them have been kidnapped to Gaza. We have a short video of Shir with the two children surrounded by Hamas terrorists, but we don't know what happened to Margit, Yossi and Yarden, we just know they are not on their kibbutz, Nir Oz. We are really worried about them, especially Margit who has Parkinsons Disease and without her medicine will die. The little children have nothing, no food and no diapers. The only one that is left is Shir's sister, who managed to leave the kibbutz after 30 hours.
When the rockets started on Saturday, I started looking on telegram to see if I could find some information about what was going on, and then I saw the photograph of Shir with the two babies and I could not believe it. I can't even describe what I felt when I saw the picture of them, then we started getting information from other people on the kibbutz.
We just can't comprehend the size of this thing right now. I am just sitting here going through photographs and videos that Hamas have uploaded hoping that I will find some information about them. My family is broken, we just don't know what happened to them.
I want to say that these people [Hamas] are animals, but even animals would not behave like this. Israel is not Syria, and this was not supposed to happen here. I have so many questions but I not asking them right now because I want to show support for the army and our brave soldiers.
It is Israel, it is not Syria, it was not supposed to happen. I have so many questions, but I am not asking right now because I want to stand with the army and our brave soldiers, but everyone we know is effected by this – we are getting information from friends who have lost family members, or who are missing or who have been called up to serve in the army.
ISRAELI WOMAN RECOUNTS DEFENDING FAMILY AGAINST HAMAS TERRORISTS TRYING TO BREAK INTO 'SAFE ROOM'
If I had a message for Hamas, I would say to them that they should keep these people safe and alive. It will be better for them if they look after them like we look after our prisoners. I also want to say to people in Europe and the U.S. who judge Israel for defending itself, there are radical movements in your countries too, and it is only a matter of time before they knock on your door, and then you will know what we are feeling right now.
Galit Dan – mother, daughter, nephew, niece, and sister-in-law disappeared
Galit Dan's mother, Carmela her daughter Noya, nephew Erez, niece Sachar brother-in-law, Ofir were all taken from their home on Kibbutz Nir Oz. (Galit Dan)
My mother, Carmela, 80, daughter, Noya, 13, my nephew, niece and my brother-in-law were all taken from their home on Kibbutz Nir Oz. I lived on the kibbutz until about two weeks ago and my daughter went back to spend the Sabbath with my mother.
I now live on Kibbutz Kissufim, which is nearby and was also under fire on Saturday. We were also hiding in our bomb shelters and my mother was texting me telling me that there were people inside her house and my daughter sent me a message saying that she heard loud voices outside the door of their shelter. The doors of the shelter do not lock and that is one of the problems. In my shelter, we managed to lock the door, and we stopped the terrorists from opening it, which saved our lives.
I don't know where they are, I have no information about them at all, I only know that they are missing. Once the fighting stopped, my sister, who lives on the kibbutz, went to my mothers house and found no one there.
I don't even want to think about what happened to them. I am fighting a psychological war in my mind because I do not want to think about it. All I can do right now is talk to the media and tell the whole world that this happened and ask for help.
ISRAELI AMBASSADOR CALLS HAMAS ATTACK ON ISRAEL 'TRULY UNPRECEDENTED': 'THIS IS OUR 9/11'
I want someone from the U.N. to go to Gaza and find out where they are. They took innocent people, elderly people, children, they have no weapons.
I have lived on this kibbutz all my life and I trusted that the army would watch out for us, but they did not watch out for us. It is just totally unbelievable. The only thing I can compare it to is Ukraine but maybe it's different, I don't know. I just hope someone is taking care of them, giving them food and blankets but only God knows.
Hamas was very, very organized with this attack. They were very professional, they knew exactly what they were doing and arrived very prepared and fully armed.
Ahuva Meisel – daughter Adi, 21, missing from the rave party near Kibbutz Re'im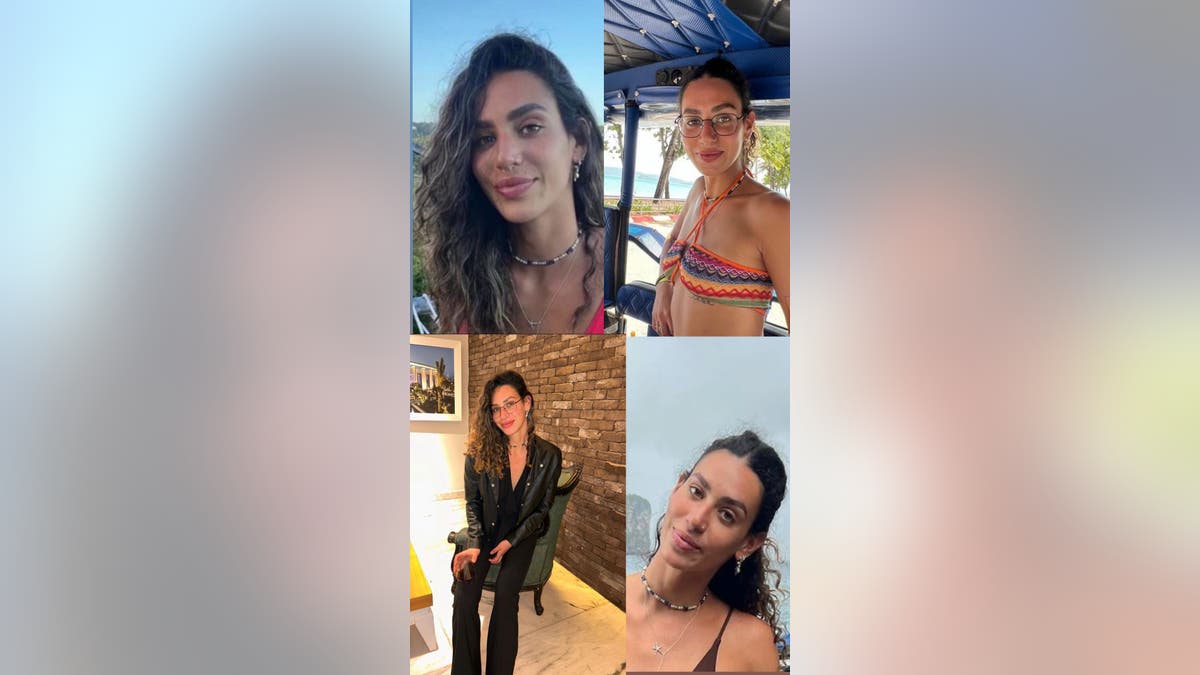 Adi Meisel's mother has not heard from her since Saturday morning. (Meisel family)
My daughter, Adi, 21, went to the party in Kibbutz Re'im with a good friend of hers and the last time we spoke to her was on Saturday morning at 7:40am. She called me hysterical, telling me it was chaos and there were people shooting. Then the line got disconnected, and we have no idea what happened to her.
We don't know if she is dead or alive, hurt or kidnapped. In one film we saw her car, and we saw her friend lying on the floor next to the car. We know that those who tried to escape from there were shot at zero range, but it's now almost three days, and we still don't know. The more time that passes, the less chance there is of finding her.
Adi is an amazing child. She is only 21 and already runs her own business. She is very responsible and independent, and I know that if she could contact us, she would. I am just trying to speak to as many people as possible to see if there is any information about her.
CLICK HERE TO GET THE FOX NEWS APP
I am now getting many calls on Whatsapp from Arabic speakers telling me that Hamas is holding her and I can hear screams in the background. I know they are calling other parents too, how can they be so inhumane? I am ashamed of the human race.
I am trying to deal with this situation, but my brain just can't register it. I don't understand why they [the terrorists] would do this to people who are not even involved in this war. It will not give them anything and now Israel will attack them and more mothers like me will end up losing their children.
Ruth Marks Eglash is a veteran journalist based in Jerusalem, Israel. She reports and covers the Middle East and Europe. Originally from the U.K, she has also freelanced for numerous news outlets. Ruth can be followed on Twitter @reglash