close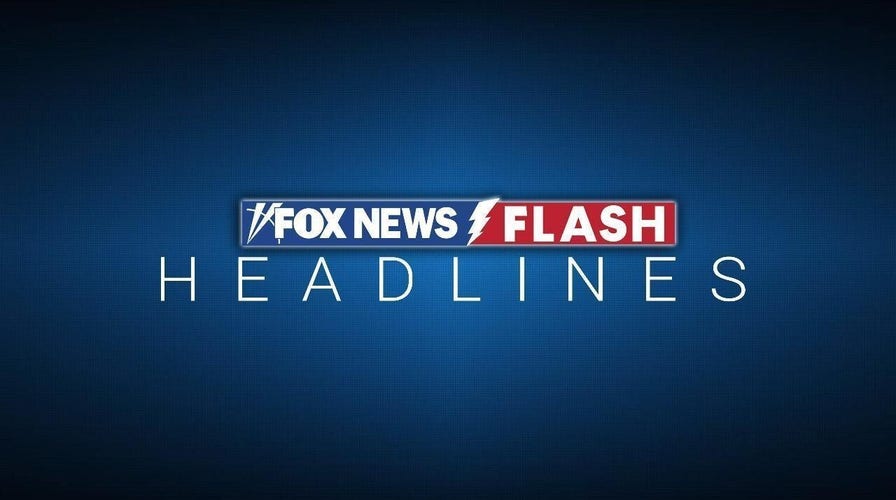 Video
Fox News Flash top headlines for March 30
Fox News Flash top headlines are here. Check out what's clicking on Foxnews.com.
Europe's anti-torture monitor said Thursday that police and border guards in some countries are using violence, dogs and the humiliation of stripping migrants of their clothing to drive them back across borders, and routinely deprive people of their right to apply for international protection.
In an annual report for 2022, the Council of Europe's Committee for the Prevention of Torture urged European governments to protect foreign nationals who are taken into custody on the basis of immigration laws. It believes that some abuses inflicted on migrants could amount to torture.
"We have come across persons who have been beaten at the time of their apprehension by police," CPT President Alan Mitchell told reporters in Brussels as he unveiled the report. The Council of Europe is the continent's main human rights watchdog. It is not part of the European Union.
"We have met with persons who have been stripped naked and made to walk across countries' borders. We have met with persons who have displayed evidence of recent dog bites; dogs having been let loose on them in order to encourage their expulsion across the border," he said.
UNITED NATIONS PANEL ATTACKS U.S. RECORD ON POLICE BRUTALITY, TORTURE
Mitchell declined to name any countries suspected of abuses, but CPT teams made planned trips last year to Croatia, Italy, Latvia, the Netherlands, Poland, Portugal and San Marino, and other visits to look into "specific issues" in Azerbaijan, Belgium, Britain, Cyprus, Greece, Montenegro, Moldova, Romania and Turkey.
The committee also urged the 46 Council of Europe member countries to put an end to pushbacks at land or sea borders, particularly at EU borders.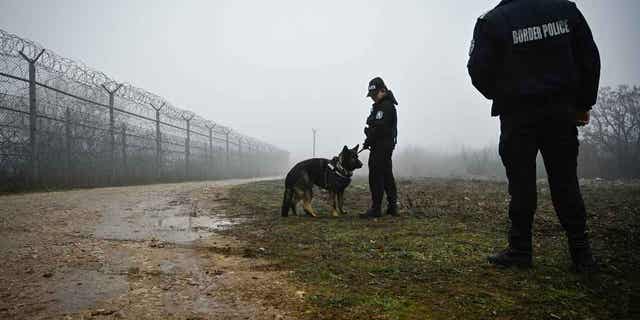 Bulgarian border police officers patrol with a dog in front of the border fence on the Bulgaria-Turkey border on Jan. 13, 2023. The anti-torture monitor in Europe decried border guards use of violence and dogs to humiliate migrants. (NIKOLAY DOYCHINOV/AFP via Getty Images)
Pushbacks are illegal under international refugee treaties. They involve the act of preventing people from exercising their right to apply for international protection — if they fear for their lives or that they may be persecuted — often by use of force or collective expulsions.
Greece and even the EU's border and coast guard agency Frontex are among those accused of pushbacks or complicity in them. They have denied using such methods.
TRUMP SAY ANTI-TORTURE LAWS PUT US AT DISADVANTAGE
"Pushbacks are a reality in Europe at the moment. Violent pushbacks are a reality, and as such, migrants in a number of instances are at real risk of violation of their fundamental rights," Mitchell said. Some abuses linked to their use "could be described as amounting to torture," he added.
Mitchell said the CPT is concerned that some people are "not being afforded the appropriate opportunities to apply for international protection or asylum, and in some cases, they are at a real risk of (pushback) to countries" they left or transited and where they could face persecution.
CLICK HERE TO GET THE FOX NEWS APP
Human rights group Amnesty International welcomed the report, with the head of its Europe office, Eve Geddie, saying that it "adds to the growing mountain of evidence of serious and systemic human rights violations perpetrated against people at borders by European states' authorities."
"It confirms the testimonies of thousands of people who have experienced violence at Europe's land and sea borders," Geddie said. She said that the findings dovetail with much of Amnesty's own research, including recently in Spain, Croatia, Poland, Lithuania, and Latvia.
Earlier this week, a U.N.-commissioned investigator raised concern about rights abuses and other crimes against migrants in Libya. The investigator accused the EU of aiding and abetting the commission of those crimes by providing funding, equipment and other support.