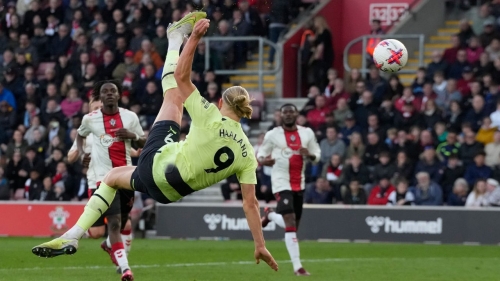 Erling Haaland has broken several goal-scoring records in his debut season in the Premier League.
Frank Augstein/AP

CNN
—
Each year, the English Premier League emerges like a complicated piece of music – filled with interdependent independent rhythms and melodies weaving in and out of each other.
And this season, Erling Haaland has provided a counterpoint to the traditional rhythms of the league, scoring goals with metronomic consistency, but like a metronome bent out of shape, setting a new pace for everyone else to follow.
His two goals on Saturday broke more scoring records and guided Manchester City to a 4-1 victory over Southampton to keep the pressure on league leader Arsenal in the title race.
Haaland's second goal, an outrageous bicycle kick after latching onto Jack Grealish's cross, took his total to 30 goals scored in the Premier League this season, a haul the 22-year-old has reached in just 27 games and faster than anyone else.
Already, the Norwegian has equaled the record of 44 goals scored by a Premier League player in all competitions in one season.
With a maximum of 16 games remaining – depending on City's fortunes in the knockout stages of the FA Cup and Champions League – it is surely a question of when and by how much Haaland will break this particular record.
As for the Premier League goal-scoring record itself, Haaland is just four shy of the outright record held jointly by Andy Cole and Alan Shearer, but which was set when there were 42 games in a season, in 1993-94 and 1994-95 respectively.
Mohamed Salah holds the record for the most goals scored in a 38-game season, with his 32 goals in 2017-18.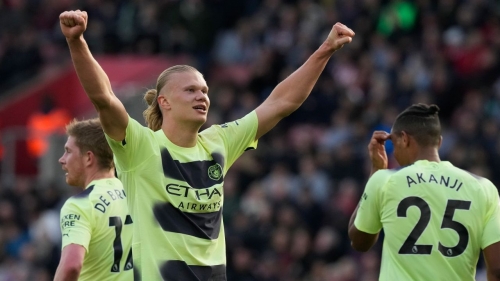 Haaland joined Manchester City in the summer from Borussia Dortmund.
Frank Augstein/AP
"We have lived two incredible decades with Cristiano Ronaldo and Lionel Messi, but he is on that level," City manager Pep Guardiola told BBC Sport.
"The second goal was amazing. It is not easy to pick the ball up in the sky and put it on the grass."
Guardiola added that Haaland, still at the beginning of his career, had some way to go before he could assume the same stature as Messi and Ronaldo.
"He is so competitive but to reach the Cristano and Messi levels is a lot of work," Guardiola said, according to Sky Sports.
"They don't get injured. Erling is tall, he's huge, he needs a lot of care, physios, not just one but a lot of people."
As one component of a City side stacked with creative talent, Haaland's prolific goal scoring is likely to continue.
As Shearer wrote in The Athletic: "He's a goal machine, someone who is quick and direct, who is physically strong and good in the air, who can score with both feet and whose positioning is fantastic."