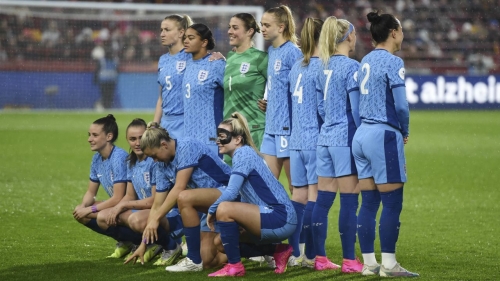 Some of England's players wore nameless shirts for Tuesday's match against Australia.
Harriet Lander/The FA/Getty Images

CNN
—
A third of players from the England and Australia teams took to the pitch for Tuesday's international friendly without names on the back of their shirts.
It was an unusual sight for a professional game but one that carried significance, as both teams sought to raise awareness for UK charity Alzheimer's Society.
The initiative was designed to show that one in three people born in the UK today will develop dementia, which the Alzheimer's Society describes as "a set of symptoms that over time can affect memory, problem-solving, language and behaviour," with Alzheimer's disease being the most common type of dementia.
Different players wore the nameless shirts in the second half, which was designed to emphasize "the confusion and memory loss often experienced by those living with dementia," England's national team said.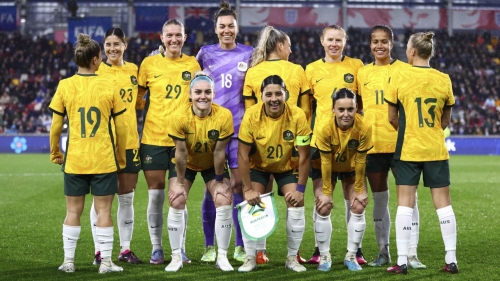 Australia's players joined England in raising awareness of the Alzheimer's Society.
Clive Rose/Getty Images
The shirts will be auctioned to raise money for the Alzheimer's Society.
"We hope by making this simple alternation with this gesture and getting both teams to show a sign of solidarity, we can put an important spotlight on just how much dementia can devastate lives," Kate Lee, Alzheimer's Society CEO, said.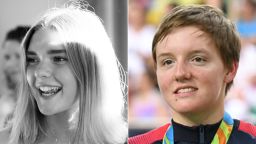 These young female athletes died by suicide. They all had head injuries in common
"I hope it makes a massive impact from the stands to screens, inspiring people to donate so we can reach even more people with our life-changing support, which helps people through some of the hardest and most frightening times."
A recent Swedish study found that male professional footballers are 50% more likely to develop dementia than the rest of the population, adding to a landmark Scottish study in 2019 that showed former male players were around a three and a half times more likely to die from neurodegenerative disease.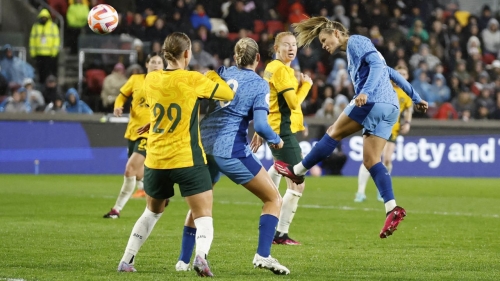 Australia secured an impressive 2-0 win over England.
Peter Cziborra/Action Images/Reuters
The topic has become increasingly prevalent in the UK in recent years, with five of the 11 players that started that 1966 World Cup final for England going on to develop some form of dementia or Alzheimer's disease.
Australia beat England 2-0 in London on Tuesday, ending the Lionesses' 30-game unbeaten run in what was the final match before head coach Sarina Wiegman picks her squad for the Women's World Cup later this year.
Goals from superstar Sam Kerr and Charlotte Grant secured an impressive victory for Australia, which is the co-host for the upcoming World Cup alongside New Zealand.