close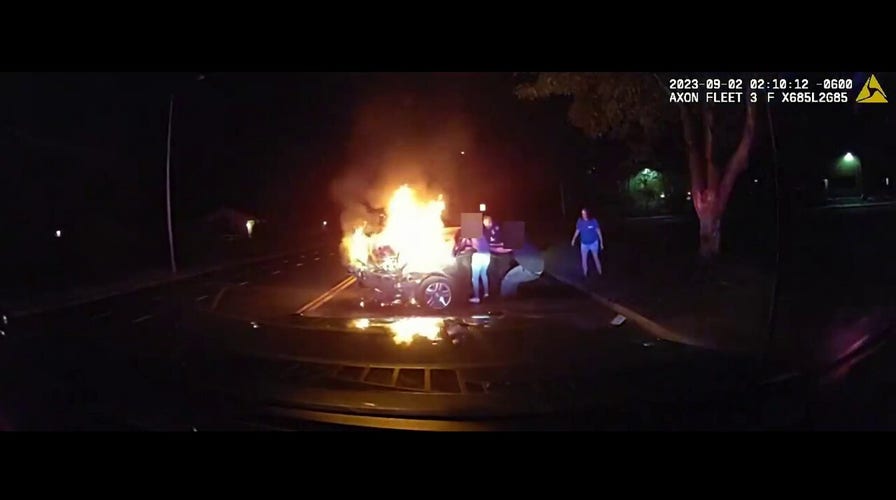 Video
Colorado police officer helps save passenger from burning vehicle
Longmont Police Officer Justin Hill springs to action to save the life of a man following single-vehicle crash. (Credit: Longmont Public Safety/BODY CAMS+/TMX)
Police in Colorado have released video showing the moment an officer helped save the life of a passenger trapped inside a burning vehicle before it was consumed by flames.
Longmont Police Officer Justin Hill responded to the single-vehicle crash scene Sept. 1, in which alcohol was suspected as a contributing factor, according to Longmont Public Safety.
"When Officer Hill arrived, the car was on fire, with one of the parties still trapped inside," it said in a statement. "Officer Hill, a citizen, and a passenger bent the car's window frame off the vehicle and freed the male.
"The male was released from the vehicle moments before the entire vehicle was fully engulfed in flames.
COLORADO SOLO CLIMBER, 29, FOUND DEAD AT OFFICERS GULCH IN SUMMIT COUNTY: OFFICIALS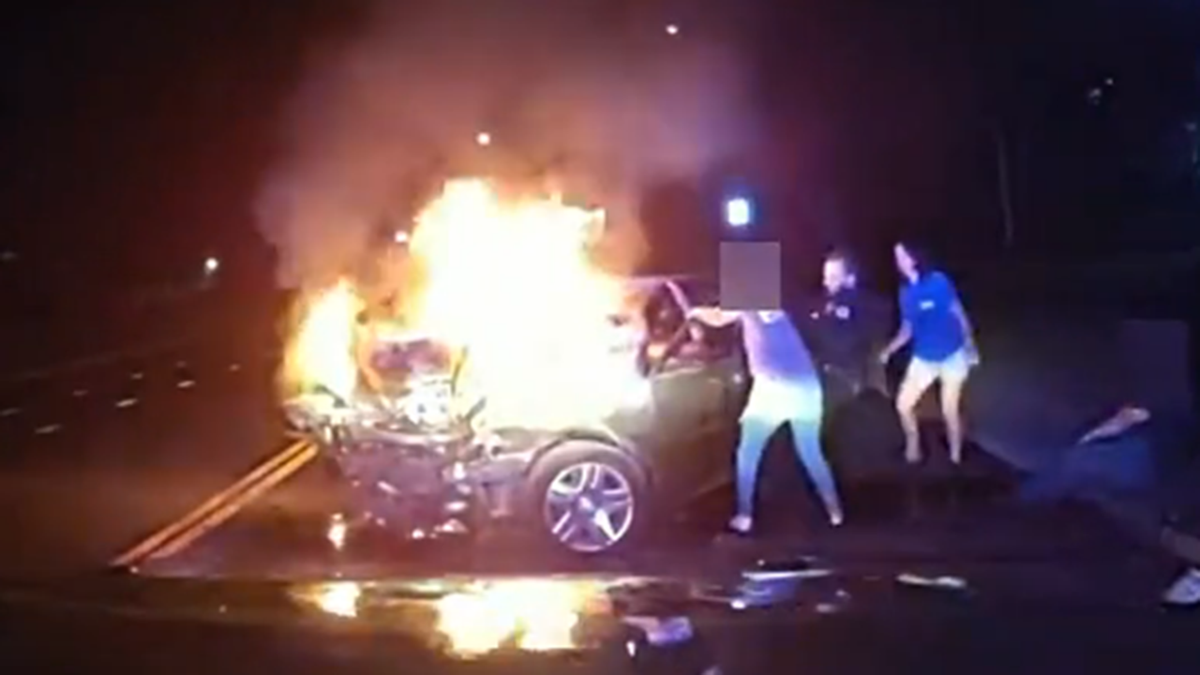 Longmont Police Officer Justin Hill pulls on the door frame of the vehicle during the rescue of the trapped man. (Longmont Public Safety/BODY CAMS+/TMX)
"Longmont Fire arrived immediately after the male was removed to extinguish the fire, and Longmont Fire and AMR provided medical support to victims who were transported by ambulance to local hospitals."
Dashcam video released by authorities begins with Hill pulling up to the wreck.
As he passes by the car, which is engulfed in flames, a scream can be heard.
COLORADO POLICE OFFICER SAVES LIFE OF CHOKING INFANT
Hill then turns his cruiser around, saying, "Someone is trapped inside" on his police radio.
"Help! Help!" a voice is then heard screaming from the driver's side area of the car as Hill uses a fire extinguisher in an attempt to put out the blaze.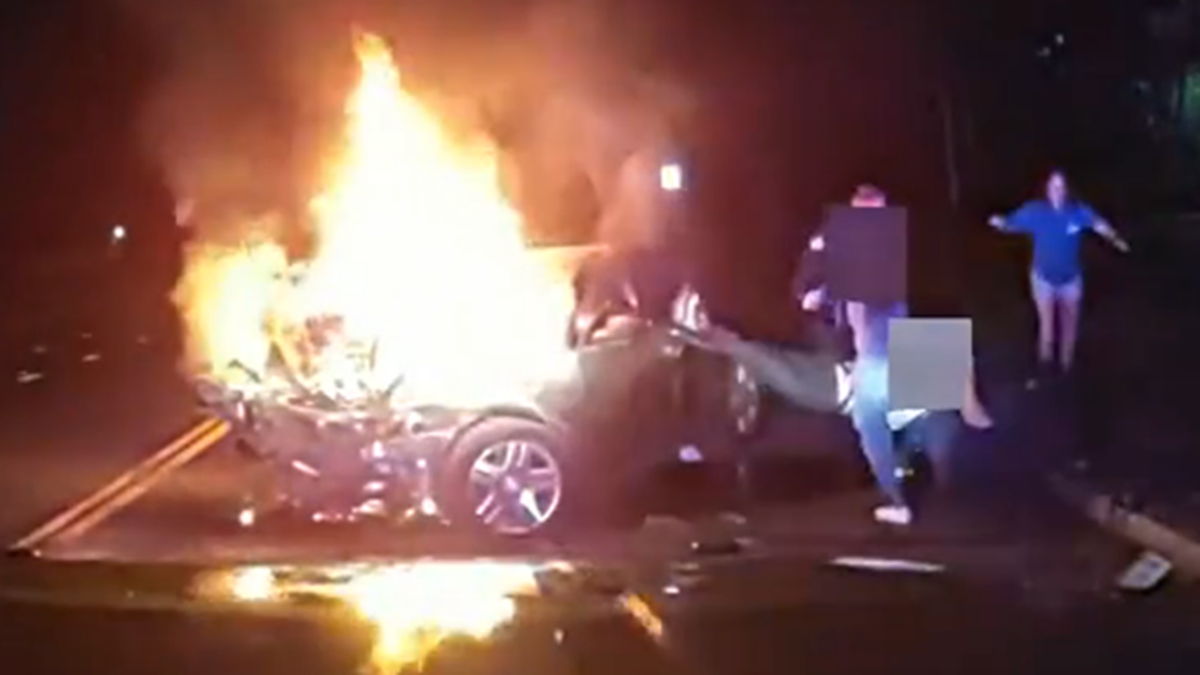 The person is eventually pulled out from the burning vehicle in Longmont, Colo. (Longmont Public Safety/BODY CAMS+/TMX)
Hill pulls on the frame of the driver's side door, which appears to be stuck.
The frame of the vehicle then bends before Hill and others pull the trapped man out of the flaming car.
"We got the male out," a voice says over police radio.
After the man was removed, the flames rage further and eventually consumed the front of the vehicle.
Authorities say there were three occupants inside the car at the time of the accident.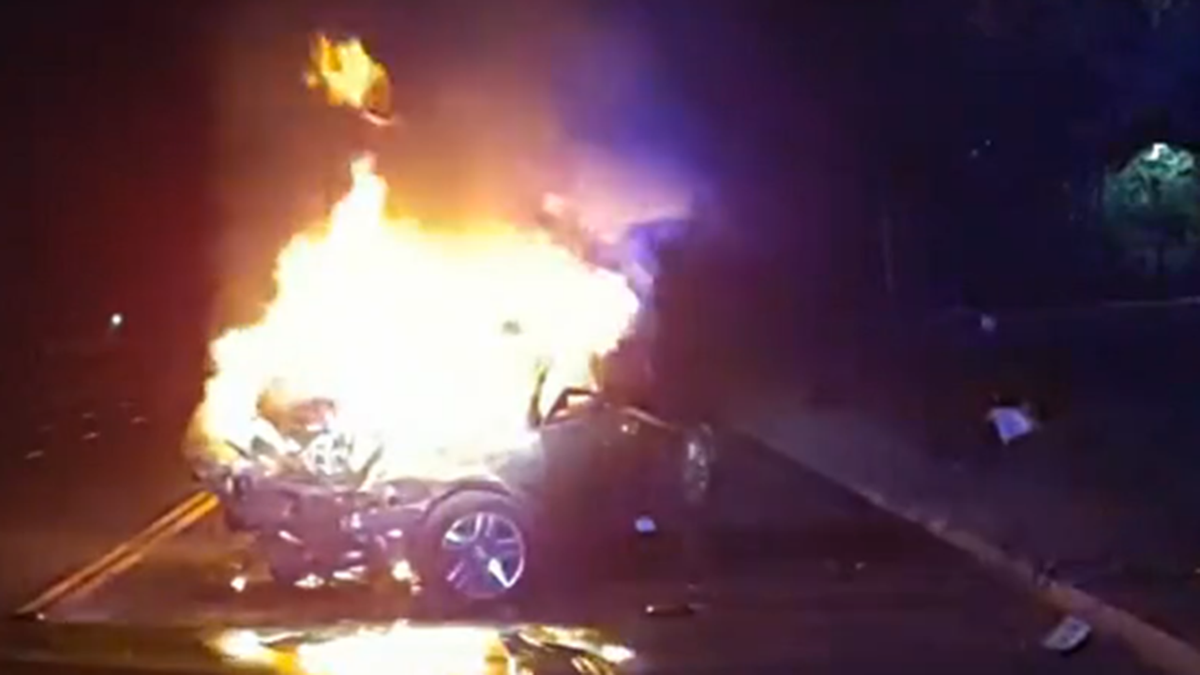 Officer Justin Hill stands next to the rescued passenger as the flames consume the car in Longmont, Colo. (Longmont Public Safety/BODY CAMS+/TMX)
CLICK HERE TO GET THE FOX NEWS APP
Longmont is located near Boulder, north of Denver.
Greg Norman is a reporter at Fox News Digital.