close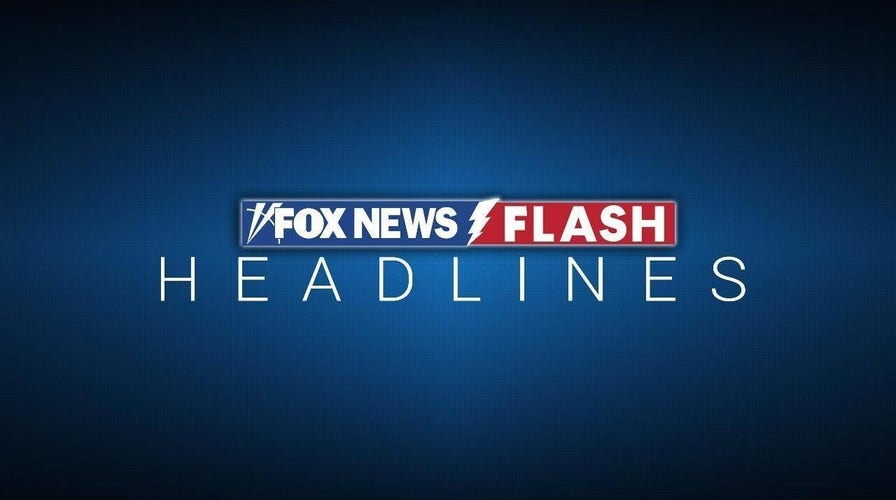 Video
Fox News Flash top headlines for May 16
Fox News Flash top headlines are here. Check out what's clicking on Foxnews.com.
Dozens of anti-nuclear activists protested Tuesday to demand Japan scrap its plan to release treated but still radioactive water from a tsunami-damaged nuclear power plant into the sea, which may begin this summer.
"Don't dump contaminated water into sea!" protesters chanted outside the Tokyo Electric Power Company Holding's headquarters in Tokyo, holding banners with their demands such as "Don't nuke the Pacific," and "Stop contaminated water."
The utility that operates the plant wrecked in the 2011 disaster has almost finished building the needed facilities to release the massive amounts of water, which has been speculated to begin sometime after June.
UN NUCLEAR CHIEF DISCUSSES UKRAINE NUCLEAR PLANT WITH RUSSIAN OFFICIALS
"Even after treatment, some radiation stays in the water," said Harumichi Saito, an activist from Iwaki, a city south of the wrecked plant. "It's a decades-long, multi-generational project that must get public consensus."
The tsunami and earthquake on March 11, 2011, damaged the Fukushima Daiichi plant's cooling systems, damaging three nuclear reactors, causing their cooling water to become highly radioactive and leak into the basements of the buildings. The water is collected, treated and stored in tanks that cover much of the plant.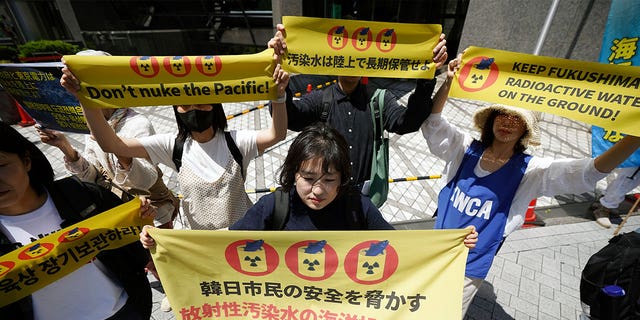 Protesters, including people from South Korea, gather for a rally outside Tokyo Electric Power Company Holdings headquarters building on May 16, 2023, to object Japan's plan to start releasing treated, but still radioactive, water into the sea.  (AP Photo/Eugene Hoshiko)
The government and TEPCO say the tanks must be removed to make room for the plant's decommissioning and to minimize the risk of leaks in case of another disaster.
The plan has faced fierce protests from local fishing communities concerned about safety and reputational damage. Neighboring countries, including South Korea, China and the Pacific Island nations, have protested.
RUSSIA VOWS ON VICTORIA DAY TO CRUSH 'NEONAZISM' IN UKRAINE AS ZELENSKYY MARKS WORLD WAR II HOLIDAY
Japanese officials say the water will be filtered to far below international releasable levels and further diluted by large amounts of seawater before release, making it harmless. However, some scientists say the impact of long-term, low-dose exposure to tritium and other radionuclides on the environment and people is still unknown and the release should be delayed.
Several activists from South Korea joined Tuesday's rally.
CLICK HERE TO GET THE FOX NEWS APP
"The Pacific Ocean does not belong to Japan. It belongs to all living things in the ocean and everyone who depends on it for their livelihoods," said Kyoungsook Choi, a Korea Radiation Watch coordinator. "We are here today to send the message that Japan does not have the right to dump the radioactive water."
Tokyo and Seoul agreed recently for a South Korean delegation to visit the plant in late May to observe preparations for the release, as the two sides worked to improve ties strained by historical disputes.