Dozens of freshman Republican lawmakers snubbed an invitation to the White House to visit with President Biden and Vice President Kamala Harris on Tuesday night.
Just 11 of the 45 new Republicans elected to Congress in November accepted Biden's invitation to the welcome party. Among the dozens who rejected the invite was Rep. George Santos, R-N.Y., as well as several Republicans who initially sought to block Rep. Kevin McCarthy's speakership bid in early January.
"Everyone is invited who is part of the new Congress," White House press secretary Karine Jean-Pierre told reporters Monday.
The Republicans who made an appearance included Sen. Katie Britt of Alabama; Rep. John James of Michigan; Rep. Mark Alford of Missouri; Rep. John Duarte of California; Rep. Tom Kean of New Jersey; Rep. Kevin Kiley of California; Reps. Nick Langworthy and Mike Lawler of New York; Rep. Nathaniel Moran of Texas; Rep. Dale Strong of Alabama, and Rep. Rudy Yakym of Indiana.
DOJ STIFF-ARMS HOUSE REPUBLICANS IN FIRST RESPONSE TO HOUSE JUDICIARY COMMITTEE REQUESTS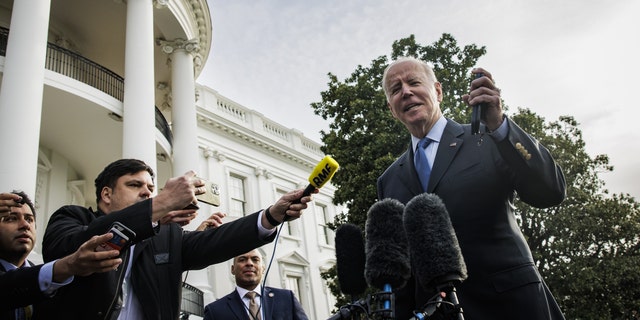 U.S. President Joe Biden speaks to members of the media on the South Lawn of the White House before boarding Marine One in Washington, D.C., U.S., on Wednesday, March 23, 2022. Biden and allies meeting Thursday in Brussels are expected to announce both new sanctions against Russia over its invasion of Ukraine the White House said yesterday. Photographer: Samuel Corum/Bloomberg via Getty Images
(Samuel Corum/Bloomberg via Getty Images)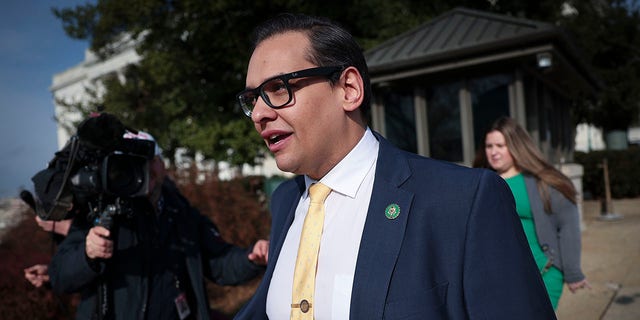 WASHINGTON, DC – JANUARY 12: Rep. George Santos (R-NY) leaves the U.S. Capitol on January 12, 2023 in Washington, DC. The Nassau County party chairman, Joseph G. Cairo Jr. and other New York Republican officials called on Santos to resign as investigations grow into his finances, campaign spending and false statements on the campaign trail. Santos announced in a tweet that he would not resign.  
(Win McNamee/Getty Images)
The slim showing of freshman Republicans at the party doesn't bode well for Biden's prospects of getting his priorities passed through the House.
Rep. Josh Brecheen, R-Okla., did not immediately respond to a request for comment as to why he decided to skip the party. Santos also did not respond to a request for comment.
EXCLUSIVE: WHITE HOUSE SLAMS HOUSE GOP'S 'HYPOCRITICAL' INVESTIGATIONS INTO BIDEN'S RETENTION OF CLASSIFIED RECORDS
The bipartisan party comes as Biden is soon expected to announce his candidacy for the 2024 presidential race. He is also facing more scrutiny than ever amid a special counsel investigation into his alleged mishandling of classified documents.
House Oversight Committee Chairman James Comer, R-Ky., is leading the charge for Republicans looking into the matter, seeking testimony and documents from the Justice Department and the National Archives.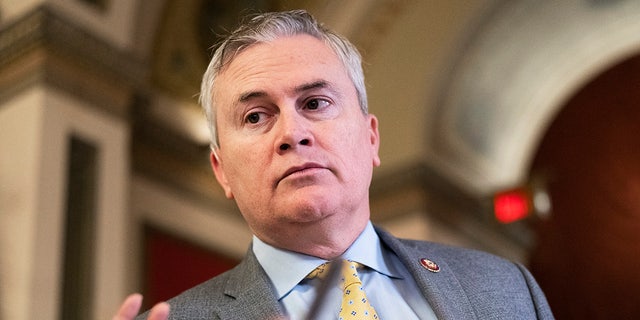 UNITED STATES – JANUARY 12: Rep. James Comer, R-Ky., prepares for a television interview in the U.S. Capitol on Thursday, January 12, 2023. (Tom Williams/CQ-Roll Call, Inc via Getty Images)
(Tom Williams/CQ-Roll Call, Inc via Getty Images)
CLICK HERE TO GET THE FOX NEWS APP
There have yet to be congressional hearings regarding the Biden documents, however as the DOJ's special counsel investigation into the matter has only just begun.