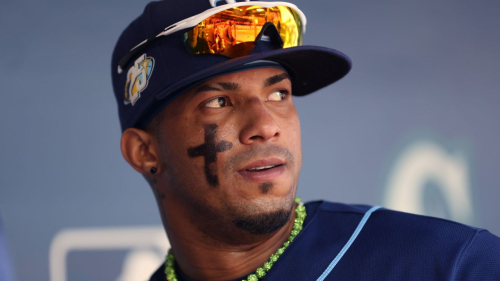 Wander Franco of the Tampa Bay Rays looks on against the Seattle Mariners. Steph Chambers/Getty Images CNN —
The attorney general of the Dominican Republic is investigating Tampa Bay Rays All-Star shortstop Wander Franco for an alleged relationship with a minor, the attorney general's office told CNN on Tuesday.
The office said it is in the middle of the investigation but did not reveal any further details.
CNN has reached out to Franco's representative for comment on the investigation in his native country.
In remarks in an Instagram live video Sunday, Franco appeared to deflect the accusations and instead said he was focused on bettering himself.
On Monday, the 22-year-old Dominican stepped away from the Rays' current west coast road trip due to the situation surrounding social media posts involving Franco, the Rays said.
A Major League Baseball official told CNN Monday that MLB is investigating the posts. Neither MLB nor the Rays gave any details on the posts.
It is not clear if the social media posts MLB is looking at are related to the probe in the Dominican Republic.
Tampa Bay and Franco mutually agreed Monday that he'll be placed on the Restricted List, administrative leave that allows Franco to not count against the 26-man roster.
"We support any steps taken by the league to better understand the situation," the Rays said in a statement. "Out of respect for all parties involved, we have no further comments at this time."