"I had a lot of people telling me university was the way to go," says Travis Williams, "but with my learning style, working with technology helps me to understand it better."
Mr Williams is an apprentice at Virgin O2, one of around 740,400 apprentices across England.
For school leavers who don't want to – or can't – go to university, apprenticeships offer an alternative route into many tech companies.
Mr Williams joined Virgin Media O2 as a cyber security apprentice, a year and a half ago. Before that, he got A levels in IT and cyber security at college, and then went on to work at a different college in IT, primarily offering helpdesk support.
Now, Mr Williams is responsible for setting up, maintaining and monitoring security systems at Virgin Media O2, for both network and data centre infrastructure.
He's become a go-to-person if there is an problem in the Intrusion Prevention System, which monitors the network for unauthorised activities.
"If there's an issue with that, they'll come to me or one of my colleagues," he says. "It's a lot of responsibility, but it's very exciting to have that experience."
What was the company looking for in him? "Not so much someone who has all the answers, but someone who shows an interest and a willingness to learn as much as possible," says Mr Williams. "Mentioning that I played around with [network analysis] tools at home helped to show that."
"The best thing about an apprenticeship is being able to learn the skills you need and then also sometimes being able to apply them the very same day," he says. "I think university is great but it will never give you that working experience."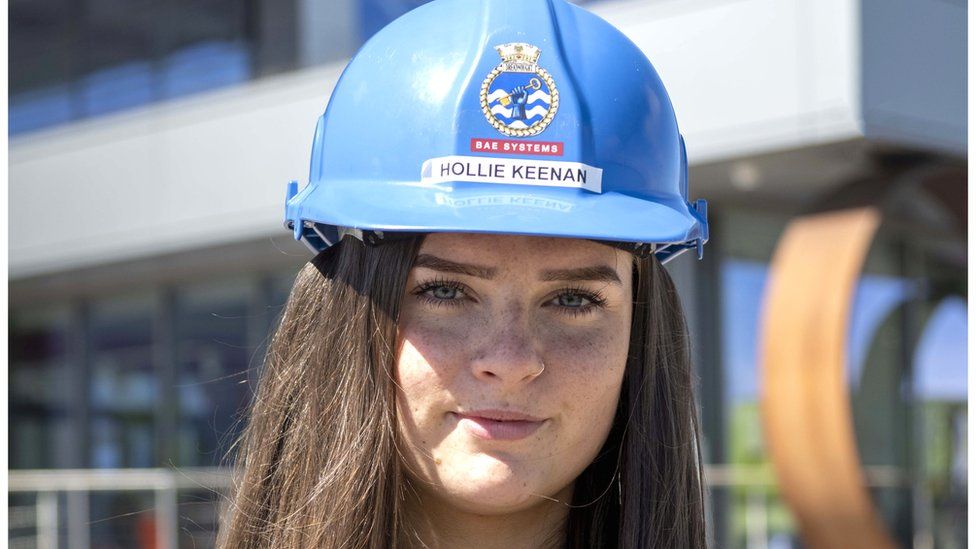 Image source, BAE SystemsImage caption, Hollie Keenan joined BAE as an apprentice after her GCSEs
Elsewhere, BAE Systems plans to recruit 1,400 apprentices this year. Hollie Keenan left school after her GCSEs and joined BAE Systems' advanced apprenticeship in 2019.
She works at the submarine shipyard in Barrow-in-Furness. As an associate manufacturing engineer, she uses a virtual reality headset to check the submarine for potential problems before it goes into production.
She never considered going to university. "Where I live, all that was talked about was apprenticeships," she says. "All my family came [to BAE] through the apprenticeship scheme and have gone on to do other things in the business."
The apprenticeship is a three-and-a-half year programme. Ms Keenan's first year was spent mostly in college, learning tool skills in the electrical, mechanical and pipes workshops. In the second year, she spent one day a week at college, studying topics such as materials and health and safety.
Although she's begun her career, she's considering starting a degree in a couple of years. "It opens doors if I wanted to go somewhere else," she says.
IBM is hiring people without degrees to help it recruit a more diverse workforce. "There are brilliant people everywhere, but opportunity is not the same for everyone," says Jenny Taylor MBE, who leads the company's early professional programmes.
"Our clients are diverse. Why wouldn't you want to seek talent from every avenue that you can?"
In a survey of employers, by skills development organisation Generation, 52% of respondents said they struggle to fill entry-level tech positions.
Whether people join IBM as apprentices or graduates, the company is looking for the same transferable skills. "If you've worked in a bar, you'll have teamwork, client focus and communication skills," says Ms Taylor. "You'll have dealt with difficult people. We're much more interested in the person than the academic qualifications."
As well as having entry-level programmes, IBM has removed degree requirements from many other job listings, so people aren't disadvantaged later in their careers.

More technology of business:
Lean times hit the vertical farming business
The quest to grow the perfect strawberry
Can Amsterdam make the circular economy work?

Research by The Burning Glass Institute found that only 29% of IBM's listings for a Software Quality Assurance (QA) Engineer in the US required a degree. By comparison, it was between 90% and 100% at four other big-name tech companies.
"They're behind the curve," says Robin MacDonald, director at tech recruitment company Harvey Nash. "They just haven't changed their ways. They'll have to. There's no reason a QA needs to have a degree to do that job. We can train those people in months."
He adds: "If you're hiring for programmers at entry level and only looking at people with computer science degrees, you're not going to have a gender split because 90% of the courses are filled with males."
Bootcamps offer short and intensive in-person courses to rapidly skill up in tech, and lots of self-guided courses are available online.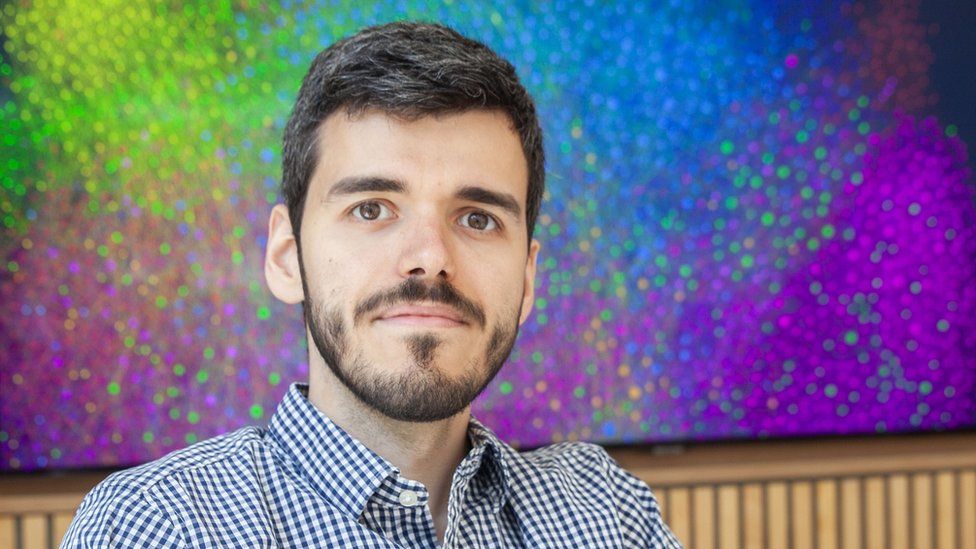 Image source, Rebecca NoonanImage caption, Vesko Trakiyski dropped out of school and taught himself to code
"I was pretty surprised when I found out that Harvard's introduction to computer science (CS50) is available for free online for anyone to learn," says Vesko Trakiyski, technology director at digital marketing agency Fifty.io.
He dropped out of school at the age of 15 and taught himself web design and tech skills for the next two years, including through the Harvard course. At 17, he got his first job as an entry-level web developer.
Two years later, he joined start-up Fifty.io as a junior developer. Eight years on, the company is 10 times bigger and he is technology director. "I don't think I'd be at this level in my career development if I'd first started looking for a job after graduating uni."
"Tech is one of those industries where you genuinely don't need a degree to find a job and have a career," he says. "It's quite unconventional, risky and weird to not go down the established path, but if you know you want to do a certain role, in some cases, there is a different path that's open."
Like Mr Trakiyski, Daniele Servadei taught himself to code. He is studying for a degree in computer science, though, despite already having set up an online business. He co-founded Sellix in 2021, which enables people to get paid for digital products. It's now processed around $80m (£61m) in payments for 280,000 merchants.
"When you have an idea, you should immediately get going with it," he says. "Don't wait to perfect the idea. When we initially launched Sellix, it only had a couple of features."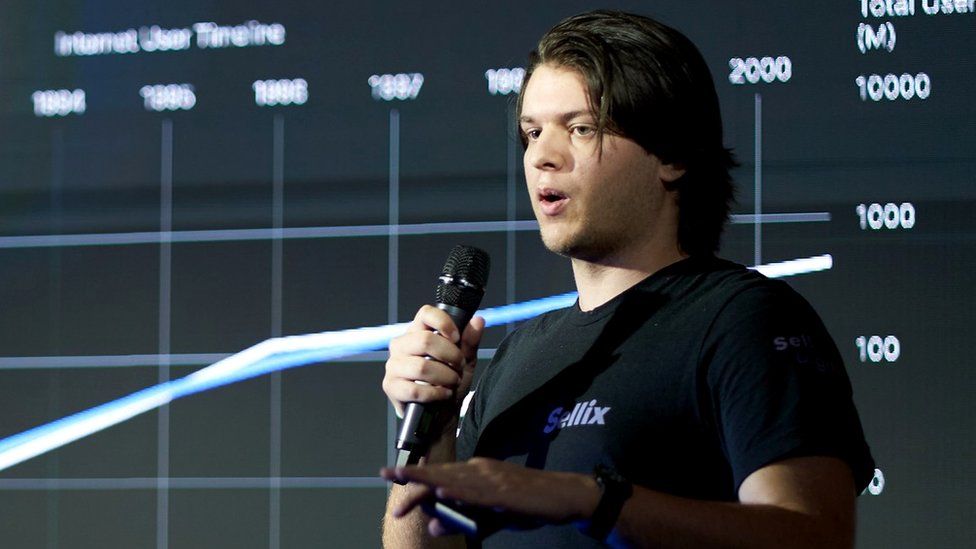 Image source, SellixImage caption, Daniele Servadei set up an online business but has gone to university to learn more
He recognises that there are important aspects of computer science he has yet to learn, but his main motivation for going to university was to build contacts. "There are many people [at university] that want to learn and have the same ideas as you," he says. "The best thing is the university atmosphere."
There are advantages to tuition over self-guided learning. When you're teaching yourself, you can make programs that work but that might not use the best approach, Mr Servadei says. A teacher will spot that and help you. He's also found that university courses are structured to guide your learning in a logical order, whereas online documentation often isn't.
He recommends students complement their studies with their own learning. His course teaches the C programming language, but JavaScript and Python are the languages needed for many jobs today. "You need to see what the market needs you to know and study that as well," he says. "Don't just trust that the teacher knows everything about everything in the computer science world."