A Democratic National Committee surrogate in Milwaukee ahead of the GOP debate was blasted on social media after disputing the notion that America is in "decline" under President Biden by pointing to the success of Democrat-run cities.
"I would suggest that anybody who thinks that this country is in decline — come to cities!" Satya Rhodes-Conway, Madison, Wisconsin's Democratic mayor, said during a press conference before the GOP debate on Wednesday.
"Because Democrat mayors all across the nation are creating great places where people want to be. Where growth is happening, and where our economy is growing. This is not a nation in decline. This is a great nation, and it's made up of cities and people all across America again, that the president and the vice president are fighting for every day."
Rhodes-Conway touted the success of her town of Madison that she said is "driving the growth" of the state of Wisconsin.
FIRST REPUBLICAN PRESIDENTIAL DEBATE AN 'AWESOME OPPORTUNITY' FOR CANDIDATES TO SCORE BREAKOUT MOMENTS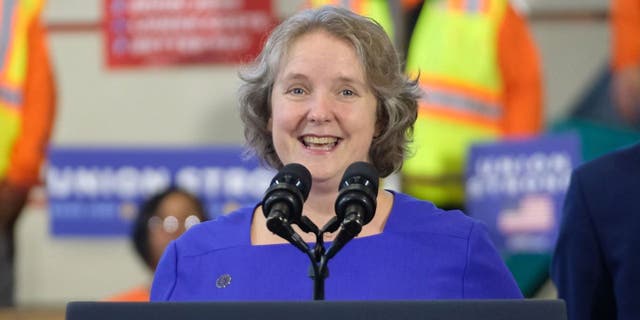 Satya Rhodes-Conway, mayor of Madison, speaks at LiUNA Training Center ahead of a visit from President Joe Biden in DeForest, Wisconsin, on Wednesday, February 8, 2023.  (Photographer: Alex Wroblewski/Bloomberg via Getty Images)
The clip was widely criticized by Republicans on social media, with many pointing to the crime surge across the country that has occurred largely in cities run by Democrats.
"This was Milwaukee last weekend," Townhall Senior Writer Julio Rosas posted along with a news article detailing 27 people being shot there recently.
"A Democrat run city literally ran out of water last year," Author Ryan Girdusky posted.
REPUBLICAN CANDIDATES DESCEND ON MILWAUKEE FOR FIRST 2024 DEBATE ON FOX NEWS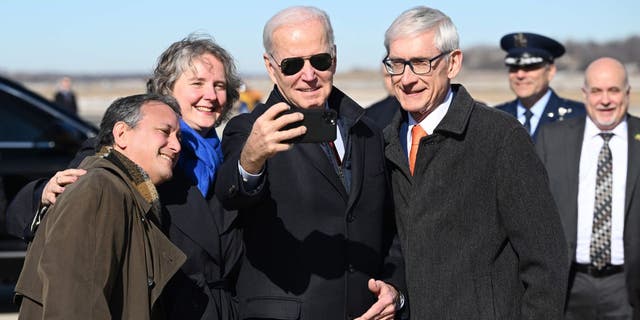 President Joe Biden takes a photo with (L-R) Patrick Miles, Chair of Dane County Board of Supervisors, Mayor of Madison Satya Rhodes-Conway, and Wisconsin Governor Tony Evers upon arrival at Dane County Regional Airport ((Photo by Mandel NGAN / AFP) (Photo by MANDEL NGAN/AFP via Getty Images))
"Right…" A social media account for the Florida Republican Party posted with photos of news headlines showing people fleeing Democrat cities.
CLICK HERE TO GET THE FOX NEWS APP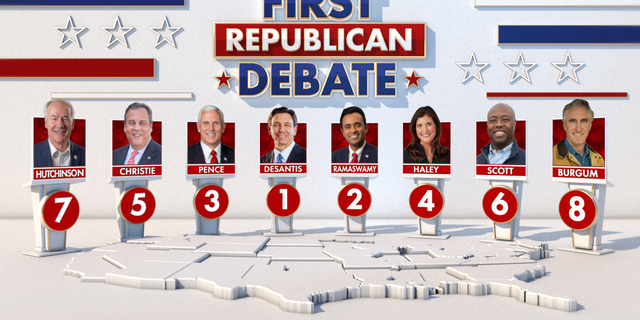 Republican presidential candidates will stand in this order at the GOP debate Wednesday night. (Fox News)
Rhodes-Conway's comments came hours before eight Republican presidential hopefuls were set to square off in Milwaukee in the first GOP debate of the primary season.
The debate will air on Fox News at 9 p.m. ET.