MILWAUKEE, WISCONSIN—When Florida Gov. Ron DeSantis takes the debate stage Wednesday night, he'll remind voters of his "proven conservative record" and pitch his "vision to reverse America's decline."
DeSantis, who will stand center stage at Wednesday night's Fox News-hosted debate in Milwaukee, is the highest-polling candidate participating in the showdown.
DESANTIS, RAMASWAMY TO STAND CENTER STAGE AT FIRST GOP PRESIDENTIAL DEBATE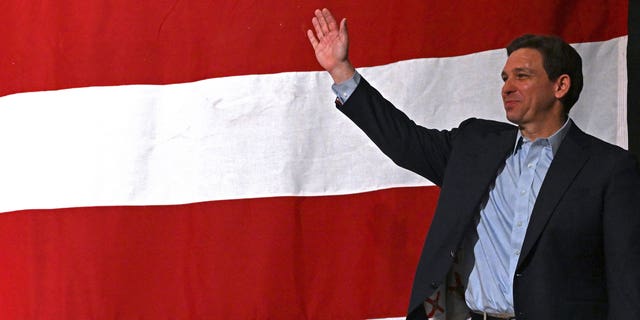 Florida Governor and 2024 Presidential hopeful Ron DeSantis waves as he arrives for his campaign kickoff event at Eternity Church in Clive, Iowa, on May 30, 2023. (ANDREW CABALLERO-REYNOLDS/AFP via Getty Images)
And his campaign is prepared for attacks from the Republican candidates standing alongside him.
"Gov. DeSantis will be the number one target on the stage," DeSantis' Deputy Campaign Manager David Polyansky told Fox News Digital.
The Republican National Committee stated that "qualified candidates will be placed on stage according to polling, with the highest polling candidate in the center."
In the center of the stage, alongside DeSantis, will stand biotech entrepreneur Vivek Ramaswamy. On either side of DeSantis and Ramaswamy will be former Vice President Mike Pence and former South Carolina Gov. Nikki Haley.
ALL EYES ON THE GOP PRESIDENTIAL PRIMARY DEBATE! SIGN UP NOW TO STREAM LIVE
Former New Jersey Gov. Chris Christie and Sen. Tim Scott of South Carolina will stand in the number five and six positions, with former Arkansas Gov. Asa Hutchinson and North Dakota Gov. Doug Burgum standing on the wings of the debate stage.
Polyansky added that DeSantis will "receive the most incoming from many, if not all, of the candidates on the stage—and off—because they recognize it is a two-person race."
Former President Donald Trump is currently the leading the 2024 GOP presidential primary field but has chosen not to attend the debate Wednesday night, pointing to his large lead, with DeSantis standing in second place in most polls.
DESANTIS, SCOTT, HALEY, PENCE, RAMASWAMY, OTHERS AIM FOR 'VIRAL BREAKTHROUGH' AT FIRST DEBATE
But DeSantis will use Wednesday's debate as an opportunity to share his vision for the future of America with the Republican electorate.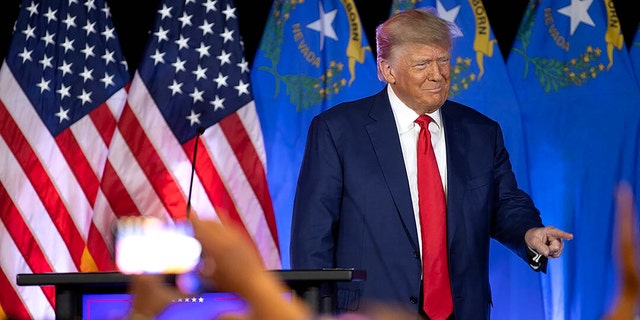 Former President Donald Trump takes the stage during an organizing event at Fervent Calvary Chapel on July 8, 2023, in Las Vegas.  ((Ellen Schmidt/Las Vegas Review-Journal/Tribune News Service via Getty Images))
"DeSantis in particular has a chance to explain to GOP voters why he deserves to be their nominee based on his proven conservative record and vision to reverse America's decline," Polyansky told Fox News Digital. "And also why he feels that nobody is going to be handed this nomination."
DESANTIS VOWS TO PUSH BACK IF HE COMES UNDER ATTACK AT FIRST GOP PRESIDENTIAL DEBATE
"You are going to have to show up on the debate stage and make your pitch to Republican voters," he said. "Through all of the noise, this remains a two-person race."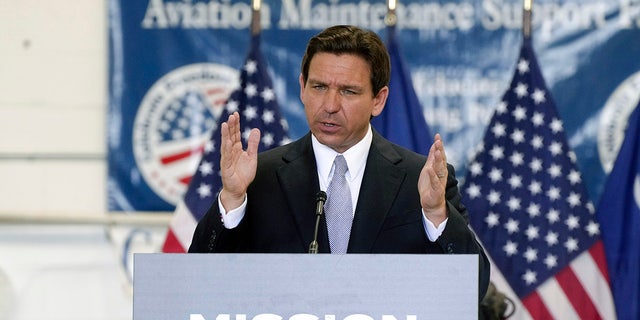 Florida Gov. Ron DeSantis rolls out his military policy proposal during an event for his 2024 presidential campaign on Tuesday, July 18, 2023, in West Columbia, S.C.  (AP Photo/Meg Kinnard)
DeSantis, during an interview with Fox News Digital over the weekend, said his debate strategy includes "defending" himself, but "more importantly showing why we are the leader to get this country turned around."
CLICK HERE TO GET THE FOX NEWS APP
Fox News is hosting the first GOP presidential primary debate on Aug. 23 in Milwaukee. The debate begins at 9 p.m. ET. Rumble is the online live-streaming partner and Young America's Foundation is also a partner in the first debate.
Fox News' Paul Steinhauser contributed to this report.