Florida Gov. Ron DeSantis suspended State Attorney Monique Worrell for "dereliction of duty" on crime via an executive order on Wednesday.
DeSantis' office says that Worrell has routinely allowed murderers and other violent offenders to "escape the full consequences of their criminal conduct."
This is the second time DeSantis has taken drastic action against a Florida prosecutor who he says failed to do their jobs.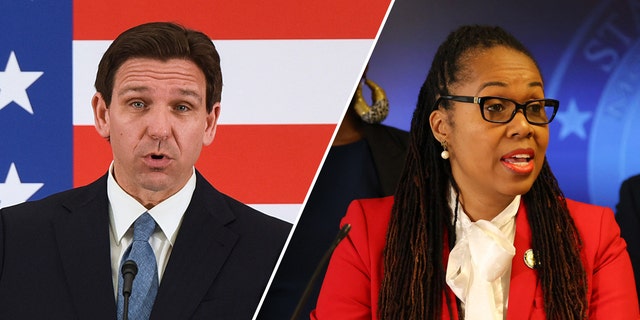 Florida Gov. Ron DeSantis speaks at a press conference at the American Police Hall of Fame & Museum in Titusville, Florida, May 1, 2023. At right, State Attorney Monique H. Worrell holds a press conference, on March 9, 2023.  (SOPA Images/Contributor/Getty Images | Orlando Sentinel/Contributor/Getty Images)
This is a developing story. Check back soon for updates.