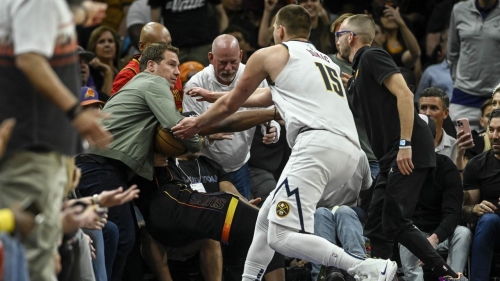 Nikola Jokić wrestled with Phoenix Suns owner Mat Ishbia in Game 4 of the Western Conference semifinal.
AAron Ontiveroz/Denver Post/Getty Images

CNN
—
After scoring an NBA playoff career high, you would be correct in thinking Nikola Jokić would be the major talking point from Game 4 of the Denver Nuggets vs. Phoenix Suns second round match-up – but not for the reasons you might have expected.
The Nuggets center scored a remarkable 53 points to go along with 11 assists as Denver fell to a 129-124 loss against Phoenix, but this is all secondary to the main incident from the game.
Late in the second quarter, the ball bounced towards the courtside seats with Suns wing Josh Okogie and Nuggets guard Jamal Murray looking to track it down.
The pair were unsuccessful in their attempts with Okogie flying into the front row; Jokić then trotted over to get the ball back in play for his team.
A fan appeared to hold on to the ball thwarting Jokić's plans – but this was not just any supporter – it was Phoenix Suns owner Mat Ishbia.
Jokić wrestled the ball out of Ishbia's hands, sending it further into the crowd. The Suns owner then appeared to put his hand on Jokić who pushed back – resulting in the 43-year-old flailing back into his seat.
The two-time MVP received a technical foul for his part in the kerfuffle and could now face a suspension from Game 5 of the tightly contested series.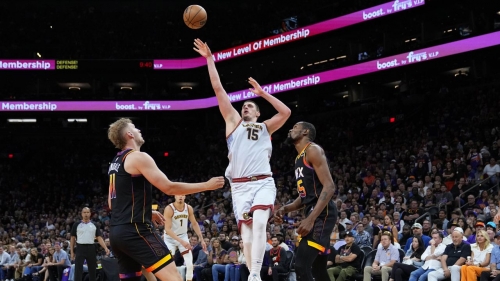 Jokić scored 53 points but the incident with Ishbia overshadowed his display.
Matt York/AP
Jokić spoke on the incident postgame, saying Ishbia initiated the contact.
"He (crew chief Tony Brothers) told me I was elbowing the fan, but the fan put his hands on me first," Jokić argued. "I thought the league is supposed to protect us – but, maybe, I'm wrong."
The two-time MVP was then asked if he knew who it was on holding on to the ball and retorted: "He's a fan, isn't he? He cannot influence the game by holding the ball."
Nuggets coach Michael Malone was equally as nonplussed by whether it was a fan or an owner.
"I think it's crazy that Nikola got a technical foul in that situation," Malone added. "He is going to get the ball, and some fan is holding on to the ball like he wants to be a part of the game. Just give the ball up, man."
Malone was then told who the fan was and replied: "I don't give a sh*t. I really don't care."
This incident has added fuel to the fire in an incredibly tightly contested series and Denver fans will be sweating over Jokić's availability in what will be a crucial Game 5 clash.
The two teams head back to Colorado to play again Tuesday looking to take an important 3-2 advantage into Game 6.