Democratic Rep. Hank Johnson, D-Ga., said he isn't ruling out foul play in the discovery of classified documents found in President Joe Biden's possession, suggesting they could have been planted.
"Alleged classified documents showing up allegedly in the possession of Joseph Biden… I'm suspicious of the timing of it," Johnson told Fox News' Hilary Vaughn on Thursday after a second batch of documents was found in the president's garage in Wilmington, Delaware. "I'm also aware of the fact that things can be planted on people… things can be planted in places and then discovered conveniently. That may be what has occurred here. I'm not ruling that out. But I'm open in terms of the investigation needs to be investigated."
Despite Johnson speculating the documents could have been planted, Biden admitted to Fox News' White House correspondent Peter Doocy that he knew they were in his garage and car. "So the documents were in a locked garage?" Doocy asked.
"Yes, as well as my Corvette," Biden answered.
AG GARLAND APPOINTS SPECIAL COUNSEL TO INVESTIGATE BIDEN CLASSIFIED DOCUMENTS
Just hours after Johnson told Fox about his suspicions around the discovery, Attorney General Merrick Garland appointed Robert Hur as the special counsel to investigate the classified documents.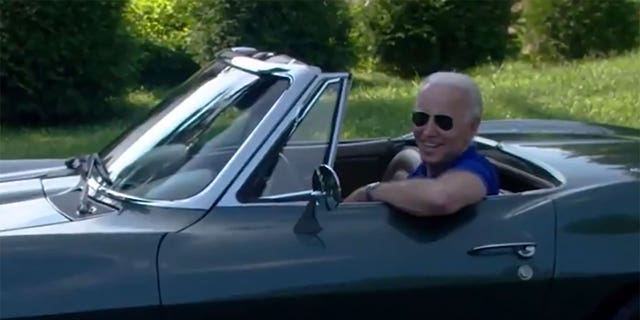 Classified documents were found in President Biden's Corvette Stingray, the car he drove in a 2020 campaign video push to revitalize the American auto industry.
(Joe Biden 2020)
"It is refreshing to see the Department of Justice restored from its politicization during the Trump years, and I applaud Attorney General Garland for acting swiftly in appointing a special counsel to investigate the Biden document discoveries," Johnson told Fox News Digital.
"Based on what we know, there is a big difference between the Trump and Biden document cases," Johnson said, adding that the situation surrounding Biden's possession of documents does not compare to the classified materials found in former President Donald Trump's Mar-a-Lago residence. "There remains much we don't know about the Biden document discoveries, and it's too early to reach any conclusions. I am confident, however, that the process has begun to ensure that we get to the truth, and that justice will be done."
Like Johnson, other Democratic representatives are supportive of an investigation – but did not speculate on how the documents got to the unsecured locations.
MORE CLASSIFIED DOCUMENTS FOUND IN BIDEN'S DELAWARE GARAGE, WHITE HOUSE REVEALS
"It's irresponsible to not disclose when you have documents," Rep. Pramila Jayapal, D-Wash., told Fox on Thursday. "[Biden] has certainly done that. And he's been working cooperatively to make sure that everything is disclosed. That is what should happen. And, yes, we certainly need to start understanding why these documents are making their way out of the White House."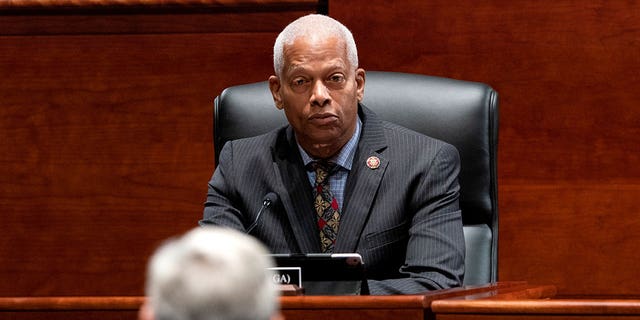 Rep. Hank Johnson questions Attorney General Merrick Garland during a House Judiciary Committee oversight hearing on Capitol Hill on Oct. 21, 2021.
(Reuters)
Fox also pressed Democratic Rep. Adam Schiff, D-Calif., on why Biden decided to wait two months before sharing the matter with the American people.
Schiff said he sees no evidence of wrongdoing with Biden's handling of classified information saying, "Was this inadvertent? It certainly appears that it was. Was there any evidence of obstruction? There certainly appears to be no evidence of that. Was there any evidence of a breach of the security of the documents? I've seen no evidence of that either."
"I would just say that I think whenever classified documents are in a place they shouldn't be, it's a deep concern for those of us on the Intelligence Committee," the California Democrat said.
Schiff also said, like Johnson, that the situation does not compare to when Trump, whose Mar-a-Lago home was raided by the FBI last summer, was alleged to have classified documents in his possession.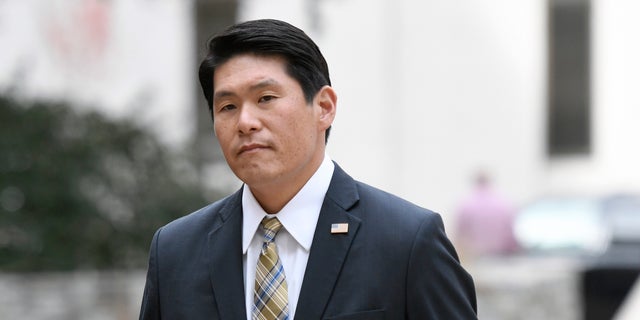 Attorney General Merrick Garland appointed Robert Hur as a special counsel to investigate the presence of documents with classified markings found at President Joe Biden's home in Wilmington, Delaware, and at an office in Washington.
(Steve Ruark)
"There are, as far as I can see, enormous differences between the situation with President Biden and the former president," he continued, "Let's not lose sight of the seriousness and the contrasting factors that we see with the case of the former president."
CLICK HERE TO GET THE FOX NEWS APP
The White House Counsel's Office reportedly found another set of documents in the Biden's garage Thursday, after initiating a search of Biden's homes in Rehoboth Beach and Wilmington following the initial news this week of the documents containing classified material at the Penn Biden Center in Washington, D.C.
Fox News' Anders Hagstrom contributed to this report.