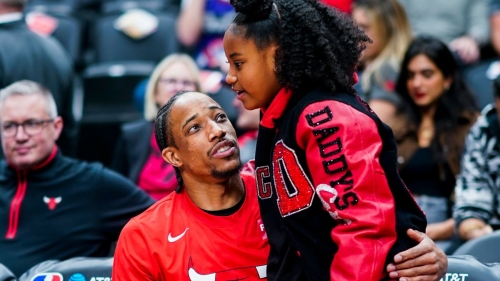 DeMar DeRozan embraces his daughter Diar before the game against the Toronto Raptors
Mark Blinch/NBAE/Getty Images

CNN
—
Diar DeRozan became a sensation over the course of a 48-minute NBA game on Wednesday – and she never touched the ball.
Diar, the daughter of Chicago star DeMar, could be heard screaming her loudest during the Bulls' game against the Toronto Raptors in an attempt to put off Toronto players during their free throw attempts.
And the nine-year-old's efforts seem to have paid off, with the Raptors players shooting 18-for-36 (50%) at the free throw line – their worst free throw percentage performance of the season – in the Bulls' impressive comeback victory.
nobody has ever been more effective at making someone miss a free throw than demar derozan's daughter she is a master at work

— Shea Serrano (@SheaSerrano) April 13, 2023
The win saw Chicago reach the next stage of the Play-In tournament, where it will face the Miami Heat for a spot in the playoffs to face the No. 1-seeded Milwaukee Bucks.
Despite her seeming impact and instant popularity, dad DeRozan was keen to stress that while Diar got a day off school to travel to Toronto – the city she was born in and spent the first few years of her life in – she wouldn't be traveling down to Miami for the team's next game.
"She's got to go back to school," he told reporters afterwards.
But after her impact, the clamors for Diar to be at Friday's game only grew.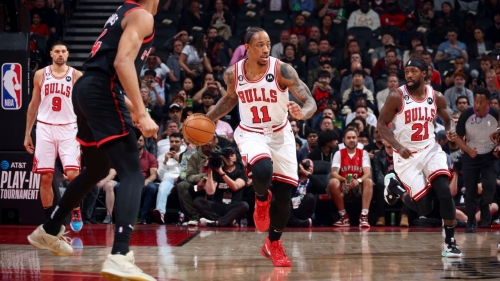 DeRozan dribbles the ball during the game against the Raptors.
Vaughn Ridley/NBAE/Getty Images
United Airlines, which is headquartered in Chicago and owns the naming rights to the Bulls' United Center home, offered to pay for the flights down to Miami so she could work her magic.
"The flight's on us. What do you say, DeMar DeRozan?" United Airlines tweeted. "We'd love to take Diar's talents to South Beach."
Fellow Bulls star Zach LaVine told ESPN that they were figuring how to get Diar to Miami "in the background."
He added: "I think the teachers are gonna give her a hall pass for the day."
Even the official Bulls Twitter account weighed in: "To Diar DeRozan's teacher: may we kindly request Diar be excused from school on Friday."
However, despite everyone's best efforts, DeRozan stuck true to his word and confirmed on Friday that Diar will not be at the Kaseya Center on Friday night after he told reporters she was back in Chicago.
"She has school today, I just spoke to her this morning on the way to school," DeRozan said, per NBC Sports. "No, she will not be here. She's ruled out."
An already tough proposition just got a little tougher for Chicago.