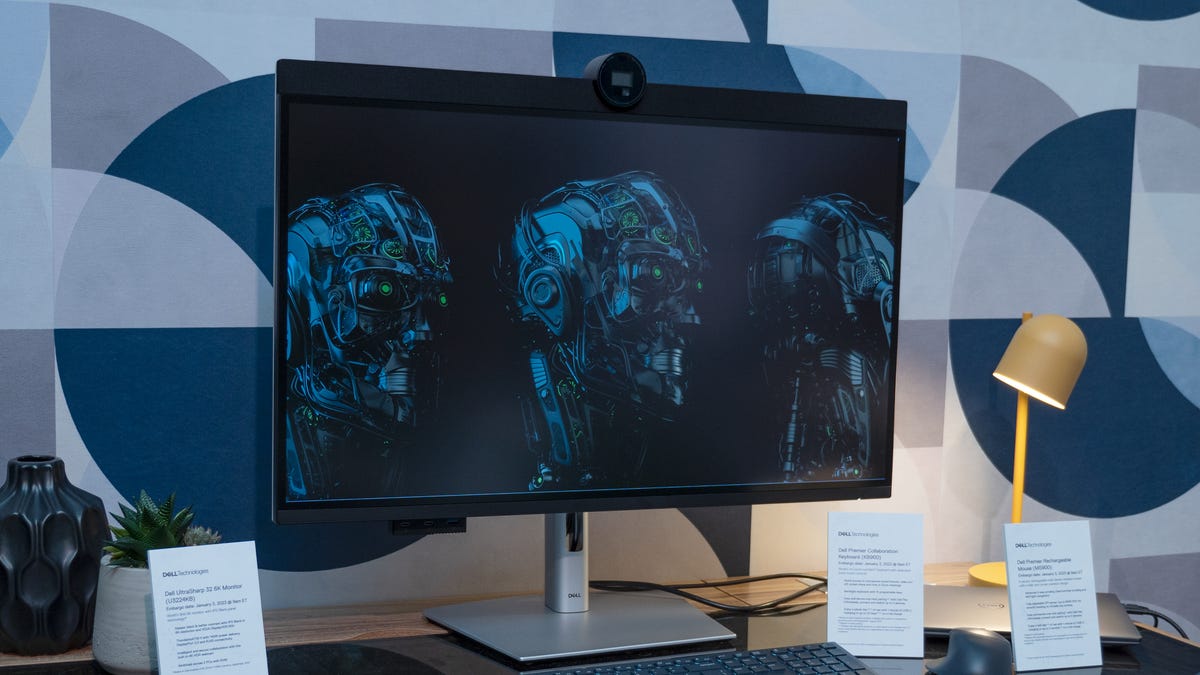 Josh Goldman/CNET
Dell throws everything a worker bee can think of into its new UltraSharp 32 (U3224KB), a new-for-CES 32-inch monitor with a 6K-resolution IPS Black panel (that's 6,144 by 3,456 pixels), plus a plethora of graphics and productivity-focused bells and whistles. The IPS Black screen has a higher contrast than typical IPS panels — and it tested well in the 4K version of the monitor I reviewed last year.
What bells and whistles? 
4K webcam
Mic array and dual 14-watt speakers
Clever pop-down front-facing USB ports
DisplayHDR 600 certification plus 99% P3 color gamut coverage
Thunderbolt 4 support with DisplayPort 2.1, 140-watt power delivery, automatic peripheral switching between two connected systems and an Ethernet connection
Support for portrait-orientation rotation
Thunderbolt and the high resolution plus the 140-watt power delivery make it seem especially suitable for use with a Mac, though it may lose some capabilities that might be dependent on Windows-based software (as frequently happens).
Dell expects to ship it by the end of June. There's no pricing yet, but it probably won't be cheap.  
Two more Dell UltraSharps are getting refreshes: the 43-inch U4323QE with 4K resolution and a USB-C hub (shipping this month for $1,330) and the 34-inch curved U3423WE 3,440×1,440 display, also with a USB-C hub (shipping this month for $1,260).
That's just the beginning of what promises to be a week full of CES announcements for PCs, monitors and components.