Recovering tropical forests offset just a quarter of carbon emissions generated each year by logging, wildfire and land clearing, new research has found.
The study, led by University of Bristol scientists, found destruction of these ecosystems currently far outstripped the pace of regrowth.
Working with an international team, they used satellite data to study the world's three largest tropical forests.
They hope it can inform decisions about protecting these areas.
The study was the first to estimate aboveground carbon absorption in tropical forests recovering from degradation and deforestation, said lead author, Dr Viola Heinrich, who gained her PhD in physical geography at Bristol University.
"While protecting ancient tropical forests remains the priority, we demonstrate the value in sustainably managing forest areas that can recover from human disturbances," she said.
Brazil's National Institute for Space Research took part in the study of Amazon, Central Africa and Borneo forests, published in Nature.
Scientists found areas recovering from human disturbances, such as logging; as well as forests re-growing in previously deforested areas, were annually removing at least 107 million tonnes from the atmosphere.
However, the total amount of carbon being taken up in aboveground forest re-growth was only enough to counterbalance 26% of the current carbon emissions from tropical deforestation and degradation.
Emphasising the vulnerability of the carbon sink in recovering forests, the team also found one third of forests degraded by logging or fire were later completely deforested.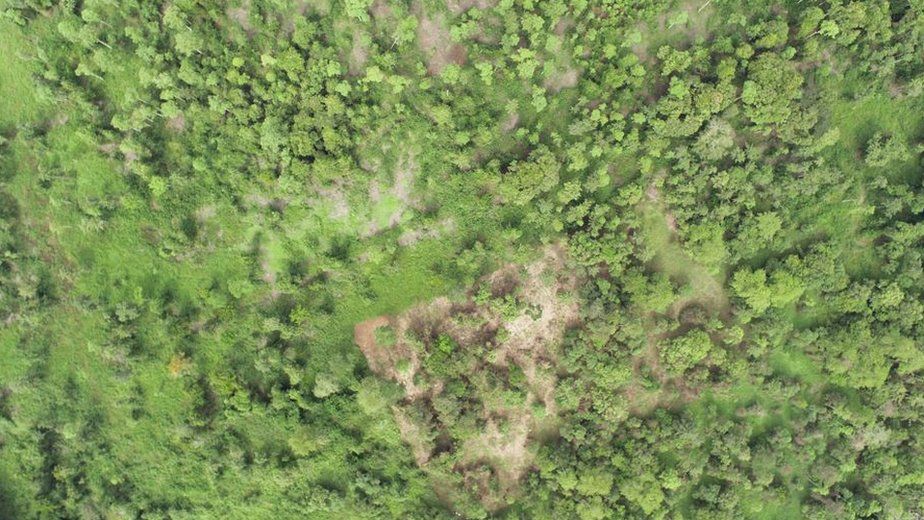 Image source, Regrow BorneoImage caption, The team looked at three of the world's largest tropical rainforests, including in Borneo
"The carbon recovery models we developed can inform scientists and policy makers on the carbon storage potential of secondary and degraded forests if they are protected and allowed to recover," said Dr Heinrich.
'Time running out'
She added tropical forests, which provide vital resources for millions of people and animals, needed to be protected and restored "for their carbon and climate value" but also on a local scale, "people need to be allowed to continue to use" them sustainably.
Co-author Dr Jo House said countries had repeatedly pledged to reduce deforestation and restore areas, which were the "most cost-effective and immediately available way" to remove carbon from the atmosphere – but targets were "repeatedly missed".
"Our research demonstrates that time is running out," Dr House added.
A South-South alliance to protect rainforests was forged by Brazil, Indonesia, and Congo at COP27 last November.

Follow BBC West on Facebook, Twitter and Instagram. Send your story ideas to: [email protected]