close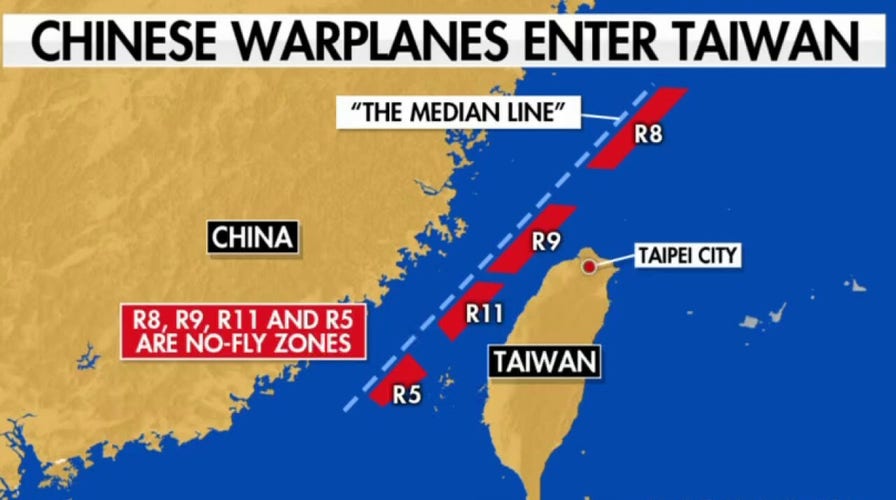 Video
China and Taiwan: Breaking down the military threat
The Heritage Foundation's Lt. Col. James Carafano says there is good news and bad news after China sends 71 planes and seven ships toward Taiwan in 24 hours on 'Your World.' 
Secretary of Defense Lloyd Austin looked to ease concerns Wednesday and said he "seriously doubts" that China's increased aggression around Taiwan means that Beijing is planning an imminent invasion.
"We've seen increased aerial activity in the straits, we've seen increased surface vessel activity around Taiwan," Austin said standing alongside Secretary of State Antony Blinken and their Japanese counterparts in a press conference.
"But whether or not that means that an invasion is imminent, you know, I seriously doubt that," he added.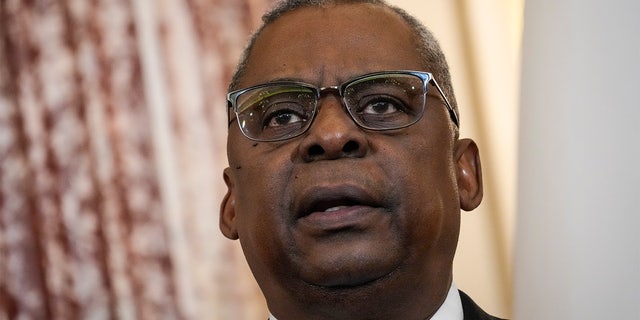 Secretary of Defense Lloyd Austin speaks during a news conference with Japanese leaders at the U.S. Department of State Jan. 11, 2023, in Washington, D.C.
(Drew Angerer/Getty Images)
US, JAPAN TO PLACE ANTI-SHIP MISSILES ON OKINAWA AMID RISING CHINA TENSIONS
Despite Austin's comments, the U.S. has bolstered its relations with nations like Japan, South Korea and Australia to unite in the face of North Korean and Chinese aggression.
Austin renewed the U.S.'s post-World War II commitment to defend Japan "with the full range of capabilities" – which includes nuclear weapons – and underscored that these commitments under Article 5 of the Mutual Security Treaty applies to the Senkaku Islands as well.
Located in the East China Sea, the Senkaku Islands are internationally recognized as Japanese territory following the 1895 Sino-Japanese War, but China contests this and lays claim to the uninhabited islands that Beijing calls Diaoyu.
Blinken told reporters Wednesday that the People's Republic of China (PRC) is the "greatest shared strategic challenge" for the U.S. and its allies and applauded Tokyo's commitment to double its defense spending by 2027.
The U.S. and Japanese officials said China's aggressive foreign policy is looking to change the international order to bolster Beijing's global prowess, and together, the American and Japanese officials unveiled plans to strengthen security in the region.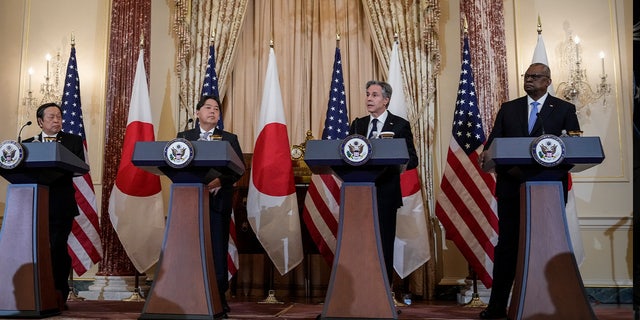 From left to right, Japanese Defense Minister Hamada Yasukazu, Japanese Foreign Minister Hayashi Yoshimasa, U.S. Secretary of State Antony Blinken and U.S. Secretary of Defense Lloyd Austin participate in a news conference at the U.S. Department of State Jan. 11, 2023, in Washington, D.C. 
(Drew Angerer/Getty Images)
CHINESE MILITARY AIRCRAFT ENTER TAIWAN'S AIR SPACE FOR FOURTH TIME IN A WEEK, DEFENSE MINISTRY SAYS
The U.S. will look to adjust its troop presence on Okinawa and enhance anti-ship capabilities to more effectively counter any Chinese incursion into Taiwan or aggressive acts in the South or East China seas.
The U.S. will also look to bolster ties with Japan when it comes to outer space security and made clear that "attacks to, from and within space" could trigger a mutual defense response.
Blinken and Austin both warned against escalating any "misunderstanding" into conflict and said keeping the lines of communication open would be vital in avoiding conflict with China.
The U.S. and China pledged to communicate more openly across multiple levels of seniority following a meeting with President Biden and Chinese President Xi Jinping last year.
"Both of our countries, Japan and the United States, have complex and consequential relationships with China," Blinken told reporters. "And there are clearly aspects of intense competition between us."
However, he also added that "there are aspects…[of] cooperation" as well.
Flanked by Secretary of State Antony Blinken, left, and Secretary of Defense Lloyd Austin, right, President Biden speaks during a cabinet meeting in the Cabinet Room of the White House Jan. 5, 2023, in Washington, D.C. 
(Drew Angerer/Getty Images)
CLICK HERE TO GET THE FOX NEWS APP
"We're not looking for conflict," the secretary of state said. "We'll manage the competition responsibly, but we will compete vigorously.
"We will seek to keep these lines of communication open and do all that we can to establish guardrails, to prevent competition, as I said, from entering into conflict," Blinken added.
Caitlin McFall is a Reporter at Fox News Digital covering Politics, U.S. and World news.