close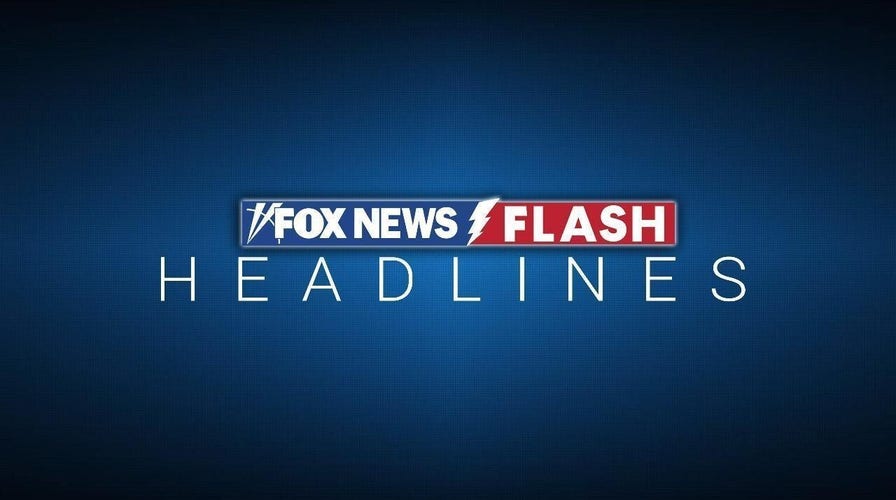 Video
Fox News Flash top headlines for May 14
Check out what's clicking on Foxnews.com.
At least 500,000 people have been evacuated from coastal areas in Burma and Bangladesh as the deadly Cyclone Mocha makes landfall Sunday.
At least three people were killed in the storm as of Sunday morning, including a 14-year-old boy who succumbed to injuries after a tree fell on him, according to local media. Mocha made landfall with heavy rains and sustained winds of up to 160 mph and gusts of up to 195 mpg, according to the Joint Typhoon Warning Center on Sunday.
The cyclone threatens to strike Cox's Bazar, Bangladesh, the home of the world's largest refugee camp. The camp is home to millions, and infrastructure there is unlikely to stand up to a major storm.
"We expect this cyclone to have a more severe impact than any other natural disaster they have faced in the past five years," Arjun Jain, UN Principal Coordinator for the Rohingya Refugee Response in Bangladesh, told CNN. "At this stage, we just don't know where the cyclone will make landfall and with what intensity. So we are hoping for the best but are preparing for the worst."
OVER 5,000 MIGRANTS FLEE BURMA INTO THAILAND AS FIGHTING IN THE COUNTRY INTENSIFIES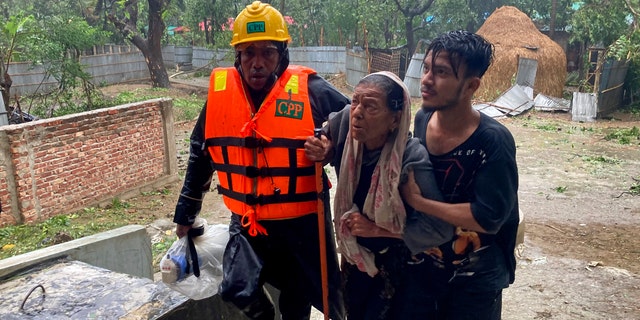 Rescue workers help an elderly woman to reach a makeshift shelter after Cyclone Mocha made landfall in Teknaf, near Cox's Bazar in Bangladesh.
HUMANITARIAN CONVOY AMBUSHED IN BURMA; NO CASUALTIES REPORTED
The storm escalated to far greater strength than meteorologists expected, with most predictions late last week having the storm's winds at up to 100 miles per hour and gusts up to 110 mph when making landfall.
The International Rescue Committee said in a statement that the cyclone posed a threat to Rohingya refugees who fled from neighboring Burma and are living in camps in Cox's Bazar.
"Still reeling from a devastating fire in March that destroyed more than 2,600 shelters and critical infrastructure, over 850,000 refugees risk losing their homes and livelihoods," the statement said.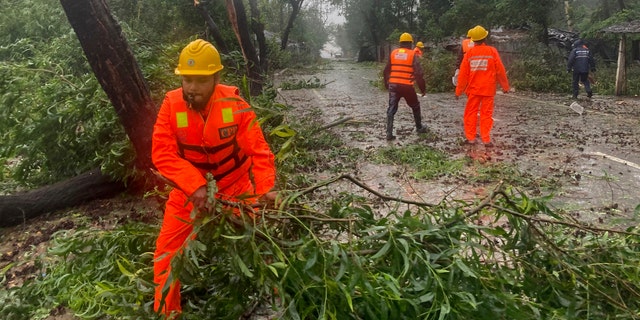 Rescue workers remove the fallen tress after a storm in Teknaf, near Cox's Bazar, Bangladesh.
The committee said it was scaling up its emergency response by deploying mobile medical teams to offer services to vulnerable groups such as women, girls, the elderly, and people with disabilities. The IRC is a global humanitarian aid, relief and development nongovernmental organization.
"This is the first cyclone system in the north Indian Ocean this year," said Rajendra Kumar Jenamani, a senior scientist at the Indian Meteorological Department. "The cyclone is severe and will likely affect millions of fishers and coastal communities in Bangladesh and Burma."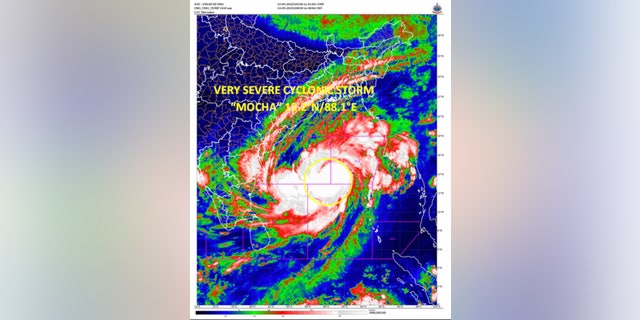 This satellite image provided by India Meteorological Department shows storm Mocha intensify into a very severe cyclonic storm.
CLICK HERE TO GET THE FOX NEWS APP
Cyclones are among the most devastating natural disasters in the world, especially if they affect densely populated coastal regions in South Asia.
The Associated Press contributed to this report.
Anders Hagstrom is a reporter with Fox News Digital covering national politics and major breaking news events. Send tips to [email protected], or on Twitter: @Hagstrom_Anders.