close
Video
Deadly Pennsylvania home explosion captured on terrifying Ring security camera
The Allegheny County fire marshal's office said the home owners had been having 'hot water tank issues'. Credit: Jeremy Rogers/LOCAL NEWS X /TMX
Video footage from a Ring security camera captures the terrifying moment a house exploded in the Pittsburgh area over the weekend.
The footage was taken from a nearby home that was damaged from the August 12 blast that killed five people, including two municipal officials.
The footage shows the front porch of a home in Plum staring out at a peaceful suburban neighborhood shortly before 10:30 a.m. Saturday. Moments later the neighborhood descends into chaos as a blast shakes the house, sending rubble and debris flying in all directions. Horrific screams can be heard off-camera.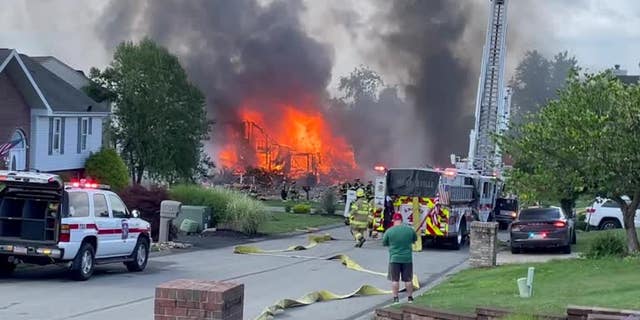 Flames and smoke billowing from a house fire in Plum, Pennsylvania.  (Reuters Connect )
The explosion destroyed three structures and damaged at least a dozen others. It occurred at a home owned by Heather Oravitz, the town's community development director, and her husband.
Authorities revealed Tuesday that the couple had been having issues with their hot water tank, but the cause of the blast remains under investigation by the Allegheny County fire marshal's office, along with local law enforcement. Officials warned that the process would be careful and would take time.
EXPLOSION IN DOMINICAN REPUBLIC KILLS 3, INCLUDING INFANT
Plum Mayor Harry Schlegel said Oravitz, 51, and Plum Borough Manager Michael Thomas, 57, were killed in the blast, along with three others who lived in the neighborhood: Kevin Sebunia, 55; Casey Clontz, 38; and Clontz's 12-year-old son, Keegan.
Oravitz's husband, Paul, suffered severe burns over most of his body and remained hospitalized Tuesday in critical condition, Schlegel said. Two others injured in the blast were treated at a hospital and released.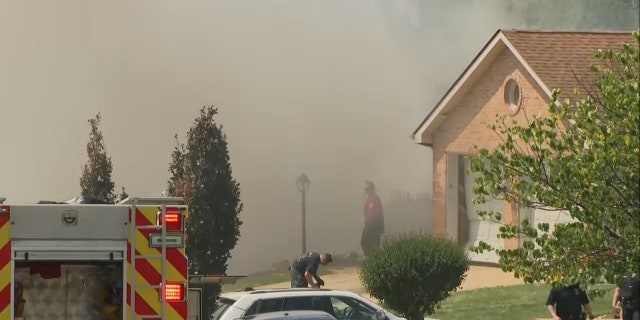 First responders from the Plum Police Department and fire department work to put out fires and rescue residents after house explosion (KDKA via NNS)
Emergency responders said people were trapped under debris when they arrived to the scene. County spokesperson Amie Downs said the blast leveled one house and two others were on fire. Fifty-seven firefighters were treated at the scene for minor issues, an Allegheny County official said.
The Pittsburgh Post-Gazette reported that the development is on abandoned mine land surrounded by shallow still-producing or abandoned oil and gas wells. Two producing gas wells are within about 1000 feet of the home that exploded and a pipeline runs behind the development, but none of those structures have been identified as having been involved in the blast, the newspaper reported.
CLICK HERE TO GET THE FOX NEWS APP
Plum is about 20 miles east of Pittsburgh.
The Associated Press contributed to this report.
Bradford Betz is a Fox News Digital breaking reporter covering crime, political issues, and much more.