Washington, D.C. Mayor Muriel Bowser held a meeting with neighborhood leaders Saturday to discuss government plans to combat the rapidly rising crime rate.
Appearing alongside Bowser was Metropolitan Police Chief Robert Contee, who spoke about the influence and dangers of modern youth culture.
DC COUNCIL SOFTENS PENALTIES FOR VIOLENT CRIMES BY OVERRIDING MAYOR'S VETO OF CRIMINAL CODE REWRITE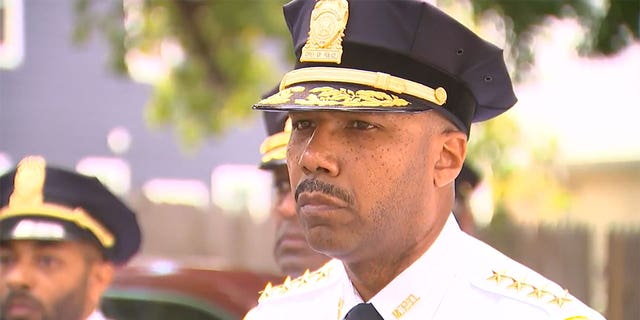 D.C. Metropolitan Police Chief Robert Contee addresses media after shooting outside IDEA Public Charter School. 
(FOX 5 DC)
"It's showing up in schools. Ask the principals. They'll tell you," Contee said. "They're scared. Parents are scared. Everybody in this room is feeling this."
Contee went on to decry the alarming rise of robbery and other violent charges as first offenses among youth.
WASHINGTON DC MAN WHO HELPED PASS CRIMINAL CDE OVERHAUL SHOT AND KILLED
"Their first offense, their first introduction to the criminal justice system — 100 young people for robbery," the chief of police lamented. "I looked at a video about two days ago at a charter school, where three young people took another person's shoes off them — while they're in school — and put the shoes in a trash can while somebody else recorded it."
Contee could not place a concrete, overarching influence driving young people toward crime at such alarming rate, but he warned that something sinister is creeping into youth culture.
CLICK HERE TO GET THE FOX NEWS APP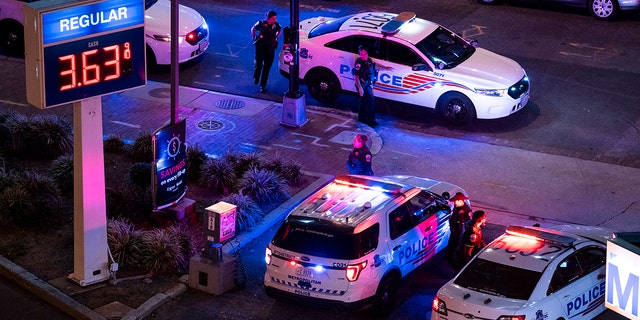 D.C. Metropolitan Police Department officers are seen at Florida Avenue and P Street, NE, Sept. 22, 2022. 
(Tom Williams/CQ-Roll Call, Inc via Getty Images)
"Something going on in within the culture of our young people," he added. "When you look at the juvenile gunshot wound victims. . . . That number every year — 2019, 2020, 2022, that number continues to go up."