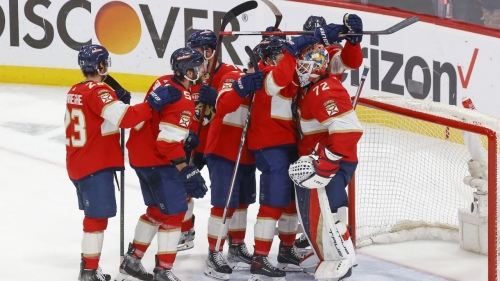 Florida Panthers forced a Game 7 in their playoff series.
Joel Auerbach/Getty Images

CNN
—
Just when it seemed as if the playoff series between the Florida Panthers and Boston Bruins couldn't contain any more drama, it delivered a pulsating Game 6, complete with a spectacular between-the-legs goal, four goals in seven minutes and a shock 7-5 victory for the Panthers.
By the second period it was clear that this was no ordinary playoff game when Bruins winger David Pastrnak tied the scores, steering a pass between his legs and into the goal in one spectacular motion.
"It's just instinct," he said afterwards, according to the Bruins' official website. "I'm not there very often. In front, you don't have much time. I just tried to get it off my stick real quick."
But despite Pastrnak's efforts and taking the lead twice in the third period, the Bruins slipped to defeat as Florida forced a deciding Game 7.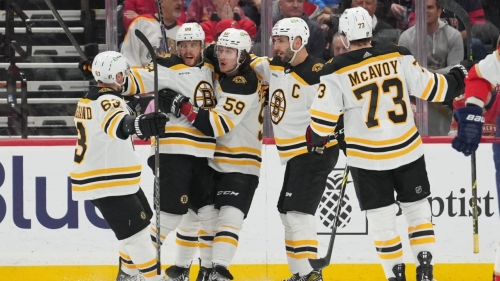 David Pastrnak celebrates his goal with teammates.
Peter Joneleit/Icon Sportswire/Getty Images
"It's a big win," Panthers' Sergei Bobrovsky said. "It's a 0-0 score. The next game is the biggest game, so we have to be ready, be humble, but enjoy tonight. It's a huge win. It's a fun win. And I'd say it's a great feeling for sure."
It had seemed unlikely that this playoff series would require a deciding game. After all, the Bruins broke the NHL record for the most wins in a single season and finished 42 points ahead of Florida in the standings – the biggest gap between playoff opponents in almost three decades, according to ESPN.
The Panthers have hung on this series, staving off elimination earlier this week too after a 4-3 overtime victory in Game 5 on Wednesday.
Boston took the lead twice in the third period following Pastrnak's second goal of the night and another from Jake DeBrusk but Florida tied the scores on both occasions, before Eetu Luostarinen gave the Panthers the lead with 5:38 left in the third.
Sam Reinhart's goal in the game's last minute sealed the Panthers' victory.
"It was a great hockey game," Boston coach Jim Montgomery said, according to NHL.com. "I mean, wow. That's what the Stanley Cup Playoffs are about, right? Back-and-forth all night long. It was that kind of game where there was just teams making great plays offensively."
Game 7 will be played in Boston Sunday.