Rep. Dan Crenshaw, a Republican from Texas, pushed back on criticism and "toxic trolling" he received after missing votes in the new 118th Congress, which officially began on Saturday but had its first legislative debates and votes earlier this week.
Laura Loomer, a political activist and failed congressional candidate, and others took to Twitter to call out the Texas lawmaker over his absence, which he admitted to and unapologetically defended.
"Yes, Laura, it was on purpose," Crenshaw said in a tweet Wednesday afternoon. "I flew to San Diego for a funeral for a friend and active duty SEAL."
He added: "Kindly delete your toxic and obsessive trolling if you don't mind."
210 DEMOCRATS VOTE AGAINST BILL REQUIRING MEDICAL CARE FOR BABIES BORN ALIVE AFTER ABORTION ATTEMPT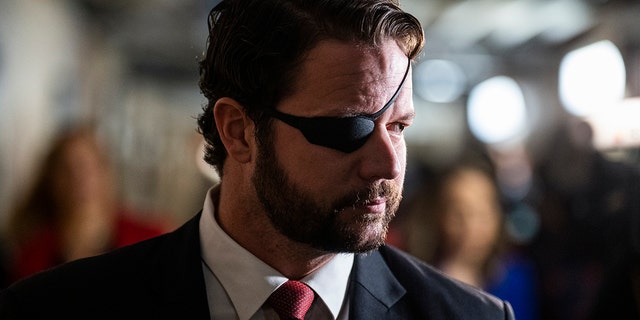 Rep. Dan Crenshaw, R-Texas, is seen outside a meeting of the House Republican Conference in the U.S. Capitol on Tuesday, January 3, 2023. 
(Tom Williams/CQ-Roll Call, Inc via Getty Images)
The tweet responded to Loomer, 29, who called Crenshaw a RINO [Republican In Name Only] and said he was "the ONLY Republican who skipped the vote" to form a new subcommittee.
"He also skipped the Rules Package vote," Loomer added in the tweet. The vote on the rules is typically the first vote held after the body chooses a speaker and swears in new members, as it dictates how members and the body will govern during the session.
REPUBLICANS TO CONDEMN PRO-CHOICE ACTIVIST VIOLENCE AFTER ROE ROLLBACK WITH RESOLUTION
Loomer, who does not shy away from controversy and has subsequently found herself banned from Facebook, Twitter, Instagram, Uber, and PayPal, did not delete the post.
Instead, she doubled down in a tweet saying lawmakers "don't have the luxury of skipping work for sick days, funerals, or days off."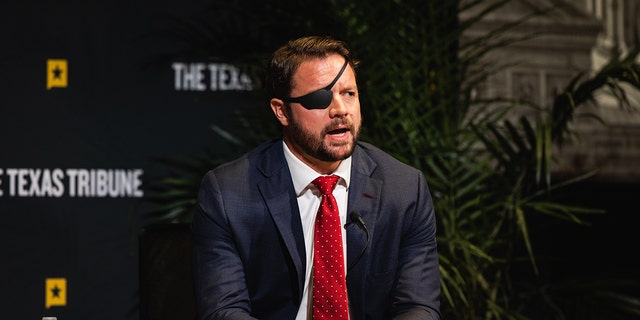 Representative Dan Crenshaw, a Republican from Houston, speaks in Austin, Texas, US, on Friday, Sept. 23, 2022. 
(Jordan Vonderhaar/Bloomberg via Getty Images)
Crenshaw defended his absence in response to another user, who similarly noted the lawmaker missed votes on the rules package and the creation of the new committee, ultimately passed and will investigate the weaponization of the federal government under the Biden administration.
"I missed some votes this week on account of a funeral in San Diego for my friend and fellow SEAL. Being with my brothers was simply more important," Crenshaw said.
NEW YORK PRO-LIFE PREGNANCY CENTER ALLEGEDLY 'FIREBOMBED' BY LEFT-WING GROUP, INVESTIGATION LAUNCHED
"Thankful that my obsessive trolls on Twitter noticed my brief absence," he continued in the tweet.
Crenshaw ultimately returned to Washington, D.C., to support the Born-Alive Abortion Survivors Protection Act, which provides legal protections to any infant born alive after an attempted abortion.
The bill, which ultimately passed 220-210, says the newly-born child is recognized as a "legal person for all purposes under the laws of the United States."
Doctors would then be required to care for the infant as a "reasonably diligent and conscientious health care practitioner would render to any other child born alive."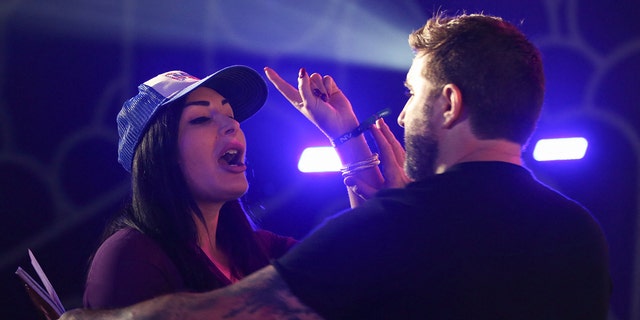 Republican activist Laura Loomer shouts at Jack Dorsey creator, co-founder, and former Chairman of Twitter in Miami, Florida, on June 4, 2021. 
(MARCO BELLO/AFP via Getty Images)
Michael Avenatti (L) and Laura Loomer at the Los Angeles Convention Center on October 20, 2018 in Los Angeles, California.  
(Phillip Faraone/Getty Images for Politicon)
Republicans widely supported the Born Alive Act and it was opposed mainly by Democrats — all but two of which voted against it.
NORTH CAROLINA PREGNANCY CENTER DEFIANT AFTER PRO-ABORTION VANDALISM: 'SPIRITUAL WARFARE'
"Tonight we voted on the Born Alive Act. It is utterly non-controversial to every normal person, but a hard NO from nearly every Democrat in Congress. That's crazy," Crenshaw said on Twitter Wednesday afternoon.
He added: "The Democrats are far too extreme on this issue and NOT in line with the American people. At all."
The bill will not likely clear the U.S. Senate, where Democrats hold a majority.
CLICK HERE TO GET THE FOX NEWS APP
Loomer ran for Florida's 11th Congressional District seat in 2022 but lost in the Republican primary. She also lost in 2020, after she earned the Republican nomination for Florida's 21st Congressional District, to incumbent Rep. Lois Frankel, a Democrat, by a wide margin.