close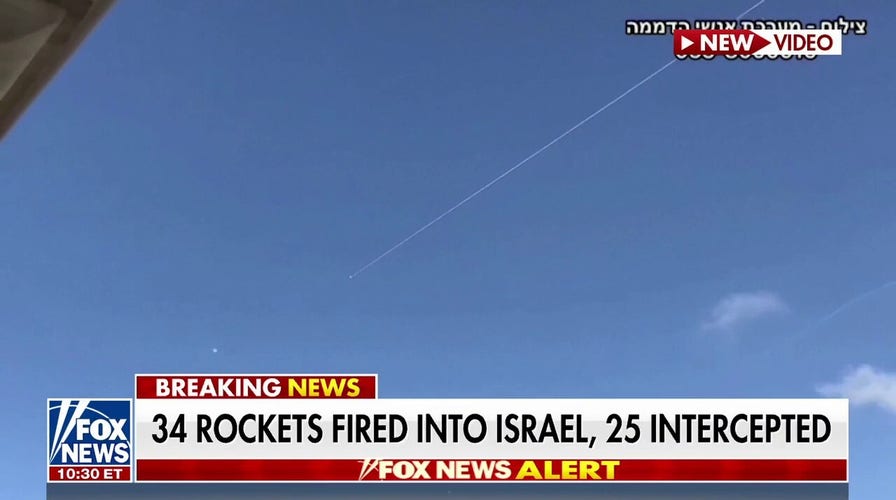 Video
At least 34 rockets fired into Israel, 25 intercepted by Iron Dome
The rockets were fired into northern Israel, and Israeli officials believe the attacks came from a Palestinian faction in Lebanon, 'America's Newsroom' co-host Bill Hemmer reported.
Columbia University will move forward with a "Global Center" in Tel Aviv in the face of vocal opposition from a group of faculty members.
The university announced its plan last week, calling the Global Centers "foundational to Columbia's mission to engage with the world." Columbia already has centers in 10 other cities, including Athens, Beijing, Istanbul, Paris and Rio de Janeiro.
In a press release, the university said the center will "leverage Columbia's expertise and experience and link faculty and students to experts and resources in Israel and the wider region."
Not all the university's faculty supports the move: Law professor Katherine Franke in February circulated an open letter opposing the center over concerns of Israel's human rights and the coalition government, which includes far-right parties.
YALE STUDENTS SLAM UNIVERSITY PRESIDENT FOR ATTENDING NYC EVENT WITH CCP OFFICIAL WHO 'DEFENDED' GENOCIDE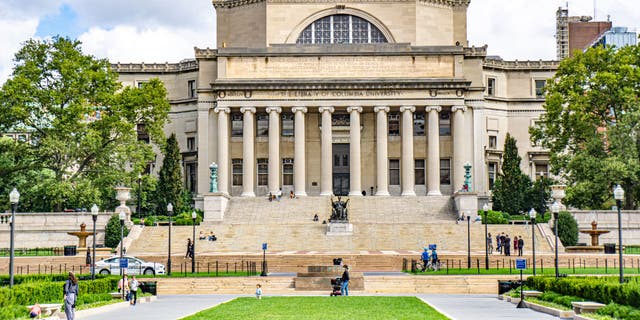 Low Memorial Library, Columbia University, New York City (Education Images/Universal Images Group via Getty Images)
The letter received 95 faculty signatures, according to the Columbia Daily Spectator. The letter also highlights concerns that "substantial concern about the power of donor money to direct major decisions, such as the establishment of this Global Center in Tel Aviv, in lieu of consultation with the faculty," but does not provide any examples.
"We are particularly concerned that Columbia University would take the bold step of opening a Global Center in Tel Aviv at this particular moment, with the newly seated government that is widely, if not almost universally, regarded as the most conservative, reactionary, right-wing government in Israel's history," the letter reads.
IVY LEAGUE PROFS TURN ON EACH OTHER AFTER COLUMBIA ECONOMIST CLAIMS UKRAINE WAR COULD BE 'NEXT AFGHANISTAN'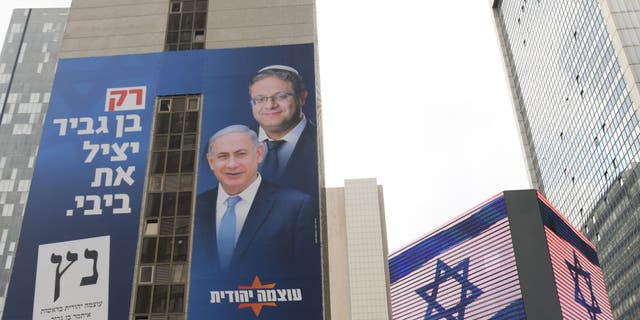 An election campaign poster for far-right Otzma Yehudit (Jewish Power), with images of party leader Itamar Ben-Gvir behind Prime Minister Benjamin Netanyahu, Likud Party leader, on Feb. 25, 2020, in Tel Aviv, Israel. (Artur Widak/NurPhoto via Getty Images)
"For Columbia to preemptively invest in a new Global Center in Israel at the very moment when the domestic and international community is pulling away as part of a concerted and vehement objection to the new government's policies would render Columbia not only an outlier, but a collaborator in those very policies."
The Israel-Palestine conflict has remained one of chief concern on the campus: The letter was a follow-up to a 2021 letter that received 98 faculty signatures.
PROGRESSIVE CHICAGO ACTIVISTS PUSH FOR $1 BILLION IN REPARATIONS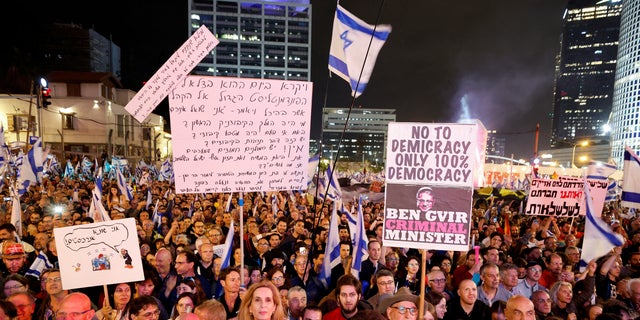 People attend a demonstration against Israeli Prime Minister Benjamin Netanyahu's judicial overhaul, in Tel Aviv, Israel March 25, 2023. (Reuters/Amir Cohen/File Photo)
A counter-letter in support of the center circulated around the same time and received almost double the number of signatures with 171. The counter-letter rejected the idea that global centers have any political nature.
"If we resolved to study only phenomena and ideas that attract our unmitigated approval, we would fail to live up to the obligations of a great global university," the counter-letter stated. The letter also cited China, Jordan and Turkey as countries that have "not free" labels from the most recent Freedom House Democracy Index, while India, Kenya and Tunisia have "partly free" labels.
Meanwhile, Israel is listed as a "free" state.
CLICK HERE TO GET THE FOX NEWS APP
"To apply a separate standard to Israel – and Israel alone – would understandably be perceived by many as a form of discrimination," the counter-letter argued.
Columbia University did not respond to a Fox News Digital request for comment by time of publication.