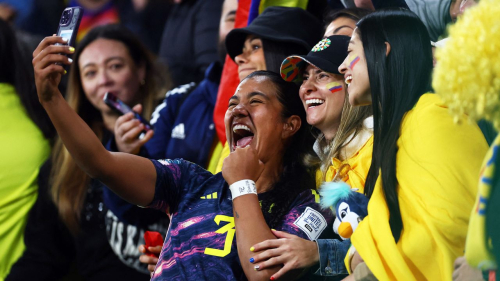 Colombia players celebrate with fans after reaching their first Women's World Cup quarterfinal. Hannah Mckay/Reuters CNN —
Colombia has been enjoying an impressive run at this year's Women's World Cup and its historic achievements are drawing plenty of attention back home.
There may be more than 14,000 kilometers (over 8,700 miles) separating the team from their country's capital city of Bogotá, but the players have still been inspiring their compatriots with their performances in Australia and New Zealand.
Unfancied going into the tournament, Las Cafeteras – translated into English as "The Coffee Growers" – have gone on to help knockout two-time world champion Germany in the group stage and reach the Women's World Cup quarterfinal for the first time.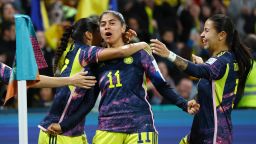 Soccer Football – FIFA Women's World Cup Australia and New Zealand 2023 – Round of 16 – Colombia v Jamaica – Melbourne Rectangular Stadium, Melbourne, Australia – August 8, 2023 Colombia's Catalina Usme celebrates scoring their first goal with Lorena Bedoya Durango REUTERS/Hannah Mckay Hannah McKay/Reuters
The squad is now the last South American team left in the tournament and will bid for a place in the semifinals when it takes on European champion England on Saturday.
"These warriors have us dreaming. Come on Colombia we are with you," Colombia men's star Luis Díaz wrote in a post on X – formerly Twitter – after the 1-0 win against Jamaica in the last-16 clash on Tuesday.
It was a sentiment echoed by the former captain of the men's team, Radamel Falcao.
"Writing their own story. Congratulations. The whole of Colombia is with you," he posted.
World No. 25 Colombia is the lowest-ranked team left in the competition and, according to sport data company Gracenote, it has less than a 1% chance of winning the title.
But after watching the team defy the odds over the past weeks, you get the feeling that Colombia is thriving as the underdog. No one expected the South American side to beat Germany, yet it did. No one thought Colombia would top the group, but it did.
Similarly, not many expect Colombia to beat England in the quarterfinals but, given the Lionesses' poor performance in the last-16 against Nigeria, Las Cafeteras will fancy its chances of causing yet another shock.
In the aftermath of its last-16 victory against Jamaica, former star Melissa Ortiz was in tears as she explained the impact the result would have on the country and, in particular, women.
Ortiz was part of the generation which really pushed the Colombian Football Federation (FCF) to take women's soccer seriously and was overcome with emotion when speaking on Fox Sports.
Win or lose against England, Ortiz said the team has already done enough.
"Just thinking about everything we've gone through as a country, as women. This isn't just about the women's soccer team, this is about a women in Colombia and South America," she said.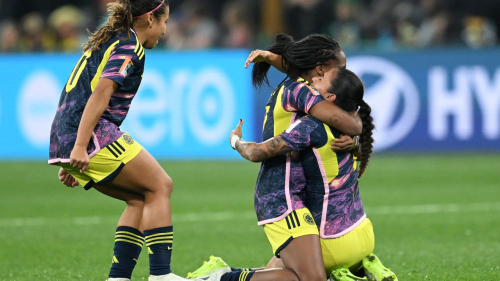 Colombia players celebrate after the team's 1-0 victory against Jamaica at the Women's World Cup. Quinn Rooney/Getty Images AsiaPac/Getty Images
While the current generation of players is benefiting from the hard work put in by former teammates off the pitch, it is also raising the level on it.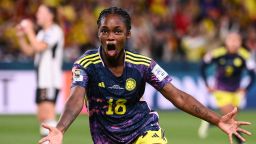 TOPSHOT – Colombia's forward #18 Linda Caicedo celebrates scoring her team's first goal during the Australia and New Zealand 2023 Women's World Cup Group H football match between Germany and Colombia at Sydney Football Stadium in Sydney on July 30, 2023. (Photo by FRANCK FIFE / AFP) (Photo by FRANCK FIFE/AFP via Getty Images) Franck Fife/AFP/Getty Images
More established stars such as captain Catalina Usme and forward Mayra Ramírez are being complimented perfectly by rising stars such as Linda Caicedo.
The 18-year-old has been one of the breakthrough talents of the tournament and has helped Las Cafeteras become a team to be feared on the world stage.
Caicedo, though, is not the only teenager impressing in a Colombia shirt.
Defender Ana María Guzmán, 18, played her first minutes of the World Cup against Jamaica in the round-of-16 on Tuesday, after replacing the suspended Manuela Vanegas in the starting lineup.
Despite her tender age and relative inexperience, Guzmán looked at home on the world stage and even produced the assist for Usme's winning strike.
It was a performance, and passage of play, which drew rave reviews back home. The clip of the winning goal, in fact, has been viewed over three million times on X.
"How about that pass! How about that amazing goal from our captain the champion," Bogotá's Mayor Claudia López posted on the platform.
"Well done Catalina Usme and all of our incredible Colombia women's football team."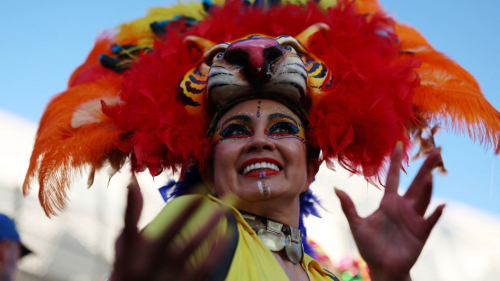 The Colombian team is being well supported by fans in Australia and New Zealand. Asanka Brendon Ratnayake/Reuters
Guzmán was equally confident speaking to reporters after the memorable win against Jamaica, describing the "beautiful" feelings she had when the referee blew the full-time whistle.
"It's an immense happiness," she told reporters. "I'm happy for all of us because we deserve it, we've worked for this.
"We are a group of great players. I feel very proud of them and everything they've achieved. We deserve it and we are warriors.
"It's inexplicable, I felt butterflies, I felt all kinds of things, but I'm really happy and I'm enjoying everything about this beautiful experience because it's special," Guzmán added.
"I'm grateful to everyone who was there and to the fans because they're the ones that inspire us and drive us on."
It's a testament to the team that so many fans have made the journey from Colombia to watch Las Cafeteras in action.
Although difficult to calculate just how many have made the trip, their match against Jamaica on Tuesday sounded almost like a home game.
Of course, one would also have to account for all the neutral fans who have adopted Colombia as their second team, with its underdog exploits appealing to so many.
Being the only South American side left to support, the entire continent is also getting behind the girls in yellow.
"Colombia wins, South America wins," former Argentina star Juan Pablo Sorín wrote on Instagram.
"Keep dreaming, keep fighting and getting the continent excited."
Colombia now heads to Sydney where it will play England at Stadium Australia on Saturday, 6:30 a.m. ET.
If Colombia wins, it will be just two more victories away from pulling off arguably the biggest shock in the sport's history.