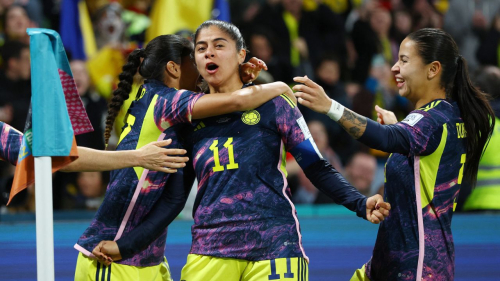 Colombia will play England on Saturday. Hannah McKay/Reuters CNN —
Colombia reached the Women's World Cup quarterfinals for the first time in the country's history after a nervy 1-0 victory over Jamaica in Melbourne on Tuesday.
Catalina Usme brilliantly scored the winner and, in the process, became the first player at this tournament to break Jamaica's stubborn defense.
The Colombians' reward is a last eight tie against reigning European champion and world No.4 England in Sydney on Saturday, a match the South American team has the talent to win despite there being 21 places between the two sides in the world rankings.
Colombia and Jamaica's unlikely journeys to the knockout stages will be a major reason why this tournament will be regarded as a success. After all, what is sporting romance if it isn't the traditional powerhouses faltering and the underdogs thriving against the odds?
With these two teams having been accustomed to largely playing against countries expected to beat them in the group stages, both struggled to take the initiative in this knockout tie and, consequently, there were few chances.
But in doing just enough to beat Jamaica, Colombia becomes the first South American country to reach the last eight since Brazil in 2011.
More to follow.