close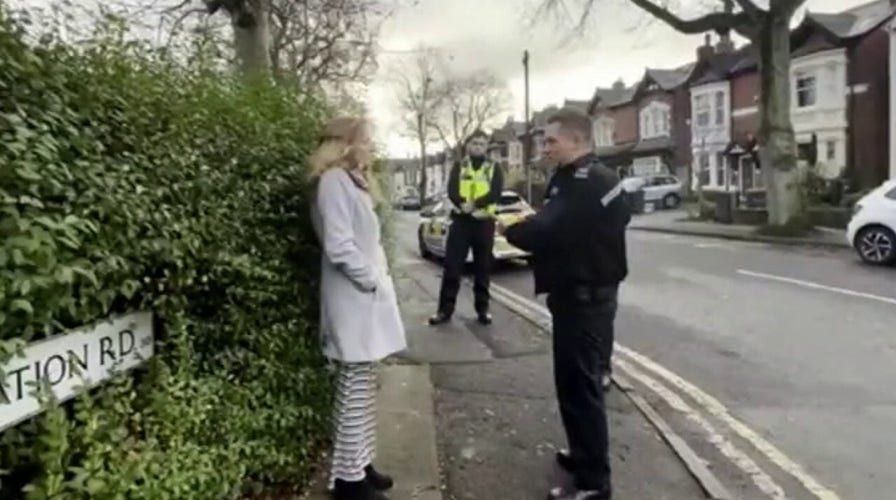 Video
UK woman arrested for praying speaks out to Fox News
British woman arrested for violating protest policy near abortion center joins "Tucker Carlson Tonight" to recount ordeal.
A member of the Church of England's general synod claims his bishop reported him to the police for tweets in opposition to "queer theory" and the sexualization of children.
Sam Margrave, 40, of Warwickshire, England, told Fox News Digital that he lives in fear of "a knock at the door" after being reported to authorities by Archbishop of Coventry Christopher Cocksworth.
Margrave, who said he was elected to the general synod on a platform of "upholding biblical values," says the archbishop was reportedly inundated with complaints about his tweets in opposition to gay pride. Margrave likened pride to "the next Jimmy Savile," an English DJ who faced hundreds of sexual misconduct allegations in his life.
He said he was also accused on social media of "kink-shaming" after he tweeted photos of a child interacting with Pride March participants decked out in BDSM outfits.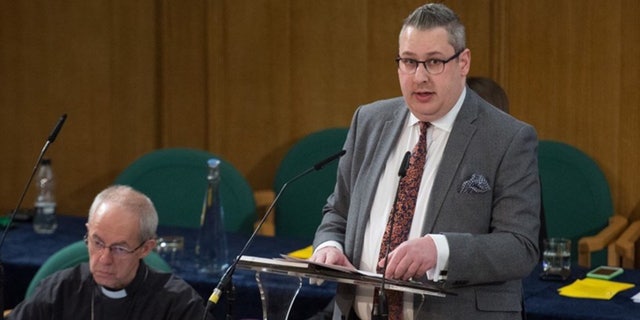 Sam Margrave speaks beside Archbishop of Canterbury Justin Welby. (Christian Concern)
"But I also promised to stand against the sexualization of children," said Margrave, who has been a member of the general synod for 10 years. "And I feel that there's a genuine issue here. And so, I raised the issues about queer theory. I raised the issues about the sexualization of children and pride and that we need to really address it."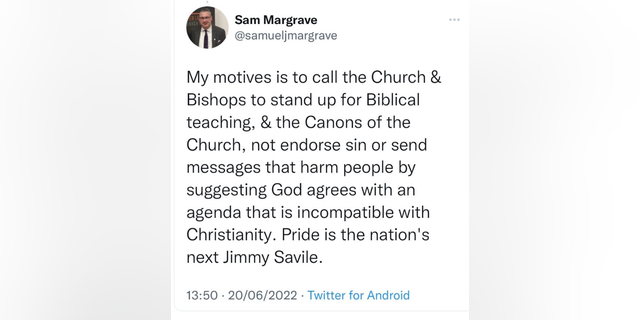 Margrave's tweet that stoked backlash after comparing pride to alleged sex offender Jimmy Savile. (Christian Concern)
Margrave claims after he put forward a petition called a Private Members' Motion titled "Declaration of Christian Incompatibility of Pride" for the general synod last July, he has been faced with phone calls issuing death threats "at all hours." He has installed surveillance cameras on his property, he said.
In the petition, he urged bishops to address concerns about images showing the sexualization of children, enforce church laws regarding the display of gay pride flags, answer questions about alleged links between queer theory and pedophilia, as well as consider whether the LGBT agenda is compatible with the Christian faith.
CHARGES DROPPED AGAINST UK WOMAN FOR SILENT PRAYER OUTSIDE ABORTION CLINIC, THOUGH SHE STILL VOWS LEGAL FIGHT
Margrave said he put forward his petition in an attempt to say "that we need to look at these issues and discuss how we can safeguard children."
Margrave said he has also raised concerns with church leadership about the difficulty some "orthodox, Bible-believing" ministers have faced getting ordained in the Church of England.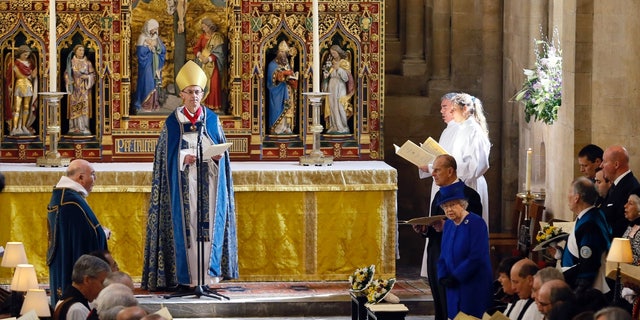 Queen Elizabeth II and Prince Philip, Duke of Edinburgh, stand during the Maundy service conducted by the Bishop of Worcester Dr. John Inge at Christ Church Cathedral on March 28, 2013, in Oxford, England. (WPA Pool / Pool via Getty Images)
Cocksworth's office referred Fox News Digital to a statement released by the diocese that says in part: "We are extremely sorry when an individual makes comments that fall short of the social media guidelines published by the Church of England and fails to behave in a way fitting of their office as a member of Synod."
Margrave also received a formal letter of rebuke on Feb. 3 from Archbishop of Canterbury Justin Welby and Archbishop of York Stephen Cottrell. The two highest-ranking clerics in the Church England admonished him to "publicly apologize" for his Twitter activity "over the past few weeks."
Margrave characterized the rebuke from the archbishops as "a thinly veiled and bullying threat for me to be silent or be removed from synod," according to written statement he provided through the London-based Christian Legal Centre, which is representing him.
CHRISTIAN MOM SUES AFTER 4-YEAR-OLD WAS ALLEGEDLY FORCED TO PARTICIPATE IN LGBT PRIDE MARCH: 'JUST HORRIFIC'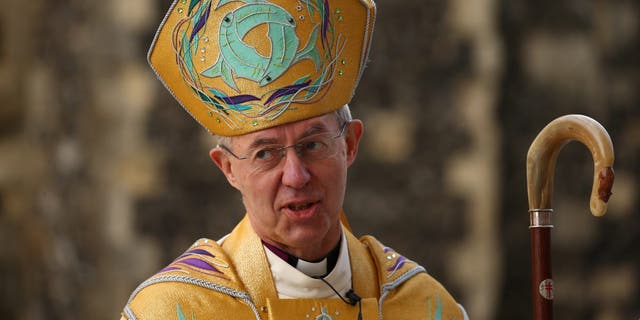 Archbishop of Canterbury Justin Welby is shown before delivering his Easter sermon at Canterbury Cathedral on April 17, 2022, in Canterbury, England. (Hollie Adams / Getty Images)
Margrave, a former local councilor, said he ultimately left politics because the state of free speech in the U.K. has gotten so bad, especially toward Christians.
"You're not even allowed to pray now in your head in some streets in the U.K., and it's getting worse," Margrave said, referencing the case of Isabel Vaughan-Spruce, who was arrested in December for allegedly praying silently outside an abortion clinic in Birmingham. The charges against her were dropped, though she still vows a legal fight.
UK SCHOOL CHAPLAIN SUES AFTER BEING FIRED, REPORTED AS TERRORIST FOR SERMON QUESTIONING LGBTQ ACTIVISTS
"And I think that we're getting to a point now where the church has been taken over," Margrave added. "The battles ahead in the Church of England are really the last defense for Christian freedom. If we lose the Church of England in the U.K., Christians aren't going to have protection."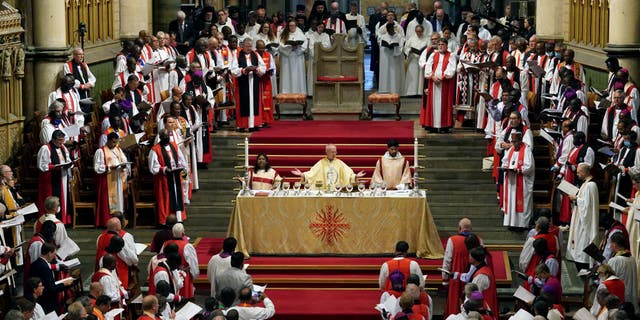 The Archbishop of Canterbury Justin Welby leads the opening service of the 15th Lambeth Conference at Canterbury Cathedral in Kent on July 31, 2022. (Gareth Fuller / PA Images via Getty Images)
Margrave's controversy comes as the Church of England heads into its general synod, which has faced fierce division over the issue of same-sex marriage.
CLICK HERE TO GET THE FOX NEWS APP
Instead of overturning the Church of England's historical teachings regarding marriage and sexuality, bishops instead announced last month that they will offer proposals urging "prayers of dedication, thanksgiving or for God's blessing" on same-sex couples while offering an apology for the "rejection, exclusion and hostility" LGBTQ people have faced in the church, according to a press release.
Jon Brown is a writer for Fox News Digital. Story tips can be sent to [email protected].