close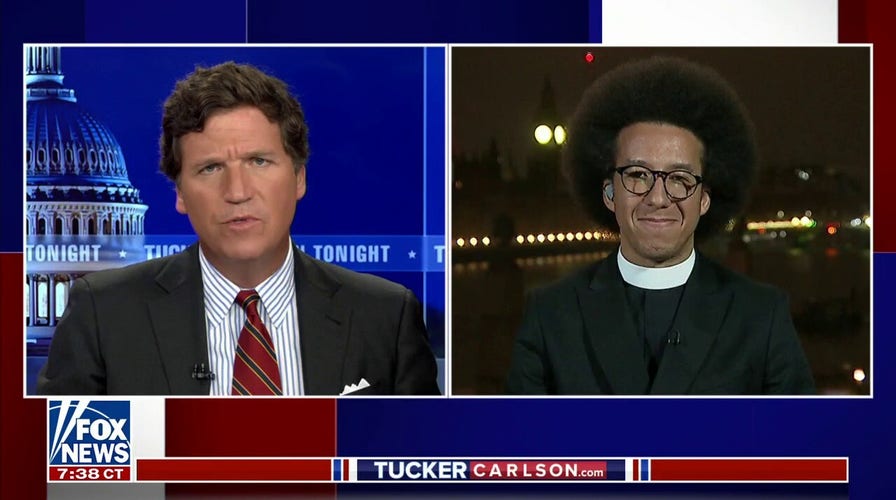 Video
We're close to eradicating racism because 'people are having to invent it': Father Calvin Robinson
Father Calvin Robinson shares his opinion on Lady Susan Hussey, a royal aide, being canceled for asking Ngozi Fulani where she was from because she was dressed in African clothing on 'Tucker Carlson Tonight.'
The General Synod of the Church of England voted Thursday in favor of offering prayers for God's blessing on same-sex couples following two days of extensive debate.
The three houses of the Synod, which serves as a sort of parliament for the U.K.'s established church, voted overwhelmingly to support the motion, which had been introduced by Bishop of London Sarah Mullally.
The Synod also voted to "lament and repent" for not be welcoming toward LGBTQI+ people, according to a press release.
"It has been a long road to get us to this point," Archbishop of Canterbury Justin Welby and Archbishop of York Stephen Cottrell said in a joint statement.
"For the first time, the Church of England will publicly, unreservedly, and joyfully welcome same-sex couples in church."
CHURCH OF ENGLAND BISHOPS SLATED TO UPHOLD BAN ON SAME-SEX MARRIAGE, WILL ISSUE APOLOGY TO LGBTQI+ PEOPLE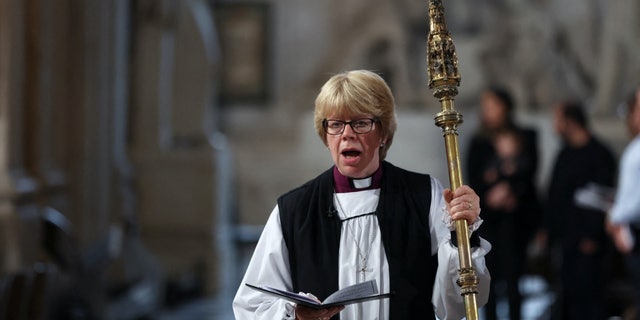 Bishop of London Sarah Mullally introduced the motion to offer blessings on same-sex couples, which overwhelmingly passed all three houses of the General Synod. (WPA Pool / Pool via Getty Images)
Acknowledging the church "continues to have deep differences on these questions which go to the heart of our human identity," the church's two highest-ranking clerics called for unity and said they "are committed to respecting the conscience of those for whom this goes too far and to ensure that they have all the reassurances they need in order to maintain the unity of the Church as this conversation continues."
FIRST 'GENDER-QUEER' PRIEST IN CHURCH OF ENGLAND EXPRESSES DESIRE FOR 'NORMALIZING' IDENTITY AMONG CHILDREN

The vote comes after bishops released a report last month titled "Living in Love and Faith," which followed a six-year consultation period about identity, sexuality, relationships and marriage. Their proposals fell short of changing the institution's formal teaching that marriage is between one man and one woman.
The proposals instead urged "prayers of dedication, thanksgiving or for God's blessing" on same-sex couples with "a range of draft prayers" that clergy can use to bless those who reach a milestone such as a civil marriage or civil partnership.
Bishops will continue to refine the draft prayers before formally commending them for use in churches.
CHURCH OF ENGLAND TO CONSIDER GENDER-NEUTRAL GOD: REPORTS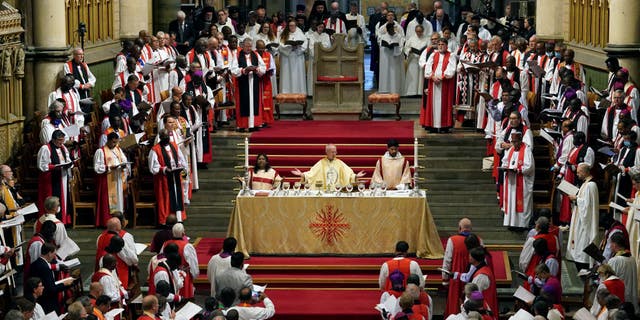 The Archbishop of Canterbury Justin Welby leads the opening service of the 15th Lambeth Conference at Canterbury Cathedral in Kent on July 31, 2022. (Gareth Fuller/PA Images via Getty Images)
Multiple bishops have publicly urged the Church of England in recent months to begin conducting same-sex weddings, including the high-ranking Bishop of Oxford Steven Croft.
CHURCH OF ENGLAND SYNOD MEMBER CLAIMS BISHOP CALLED POLICE OVER TWEETS AGAINST GAY PRIDE, 'QUEER THEORY'
Calvin Robinson, an Anglican deacon in the separatist Free Church of England who has claimed his ordination in the Church of England was "snatched away" because of his conservative theological views, condemned "a clear fudging of the law" by clerics in a recent statement to Fox News Digital.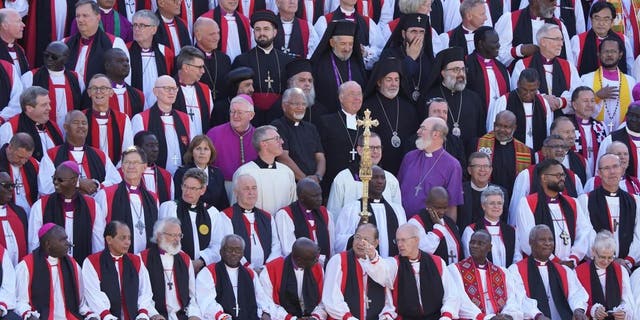 Archbishop of Canterbury Justin Welby, front and 4th from right, with bishops from around the world at University of Kent in Canterbury during a group photo during the 15th Lambeth Conference on July 29, 2022. (Gareth Fuller/PA Images via Getty Images)
Explaining that Anglican bishops understand the "clear" teaching of the Bible regarding marriage, Robinson said "instead of proposing to alter doctrine, they are attempting to skirt it."
CLICK HERE TO GET THE FOX NEWS APP
"Allowing the 'blessing' of same-sex relationships is essentially enabling the blessing of sin; that is dark. Christ taught us that we are all sinners but that we should repent, ask his forgiveness, and turn away from our sins. The Church is now attempting to undermine the Word of God by encouraging people to live in sin," Robinson added.
Jon Brown is a writer for Fox News Digital. Story tips can be sent to [email protected].