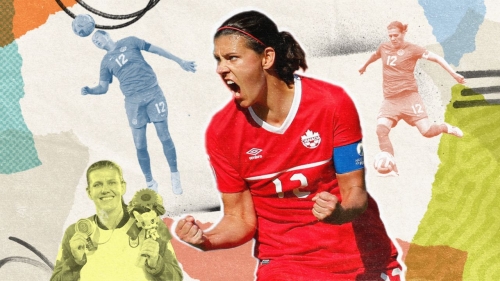 Getty Images

CNN
—
Diana Matheson is driving but can't help checking her phone. She knows she shouldn't, but the temptation is too much.
She pulls over to devote her full attention to her phone.
Matheson is being distracted by events in Edinburg, Texas, where a crowd of 820 people are watching history being made.
Christine Sinclair has just tapped home her second goal of the game and Canada's fourth goal in an 11-0 win over St. Kitts and Nevis.
Although it might not sound spectacular, it is a landmark goal: her 185th for her country, meaning the Canadian has just become the all-time leader for international goals scored by both men and women.
Matheson, a longtime Canada teammate of Sinclair's, watched the replay of the history-making goal in January, 2020, on her phone. It was a journey she will never forget.
"It was a big moment," Matheson – who made 206 appearances, scoring 19 goals, for Canada – told CNN. "The fact that a Canadian holds the goal-scoring record in the world's most popular game is, I mean, it's unbelievable."
Sinclair's name is etched in the record books, ahead of soccer luminaries such as Abby Wambach, Mia Hamm and Cristiano Ronaldo.
And the 40-year-old has a chance to add further records to her name as she leads Canada at the 2023 Women's World Cup in Australia and New Zealand.
She could become the first player of either sex to score in six World Cups – she became just the second to score in five editions in 2019, after Marta had done so. Ronaldo becoming the third to do so in 2022.
From becoming Canada's young-ever player when she made her debut aged 16 to arguably soccer's greatest ever goal scorer, Sinclair has led quite the life. With this likely her last World Cup, she has one final opportunity to add 'world champion' to her long list of achievements.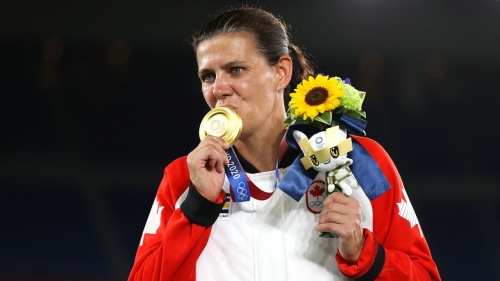 Sinclair poses with her gold medal at the Tokyo 2020 Olympic Games.
Naomi Baker/Getty Images
'Christine Sinclair is a goal scorer'

Matheson recalls a 16-year-old Sinclair bursting onto the scene and vividly remembers her first on-pitch encounter with 'Sinc.'
"I think I actually got an elbow in the face from Sinc that day and knowing Sinc, she would say it's my fault because my height is of that of her elbows, so she'd blame it on me," she said.
Growing up in a sporting family – her father and uncle both were players, her dad managed in the Canada Soccer National Championships – Sinclair had a well-rounded sporting background that included soccer, basketball and baseball.
She was the star of her local school soccer team, and at the age of 15 attended games at the 1999 Women's World Cup in Portland – a tournament regarded as a watershed for women's soccer with increased attendances and viewership.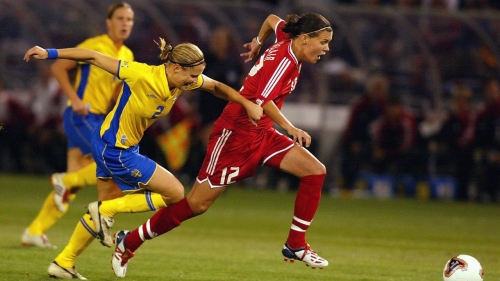 Sinclair dribbles against Sweden's Karolina Westberg during the semifinals of the 2003 Women's World Cup.
Ben Radford/Getty Images
Once soccer became the sole focus, Sinclair went from strength to strength, committing to the University of Portland while also making her first forays on the international stage with the under-20s Canadian team.
Not only did she develop an eye for a goal – she scored a record 110 goals for the Portland Pilots – but she also established her effective style of play.
Matheson described Sinclair as a dynamic player early on in her career, with a game full of movement and hard running. But, more importantly, she said "Christine Sinclair is a goal scorer."
"She's one of the rare, rare type of player that they receive a ball anywhere in and around the vicinity of the goal and their heart rate and their blood pressure drops, if anything, and she just has always had the ability to put the ball in the back of the net where the goalkeeper isn't," she said.
Over the years, with age quelling the dynamism, Sinclair has had to tweak her game, changing focus from speed and onto ball control and positioning.
Kenneth Heiner-Møller, former manager and assistant manager of the Canadian women's national team, said that ability to adapt her game points to her biggest strength: her brain.
"Her movement is like textbook material," Heiner-Møller – who calls Sinclair a "warm" person – told CNN.
"Her movements, for me, they're second to none. I haven't seen anyone with that ability to be in the right position at the right time without being offside and all that."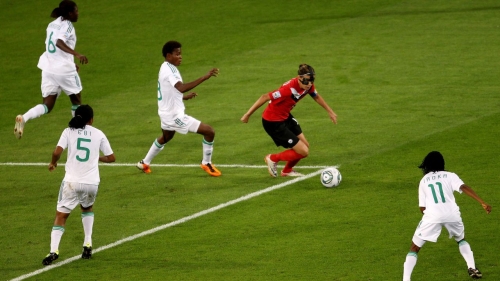 Sinclair in action during the FIFA Women's World Cup 2011 Group A match between Canada and Nigeria.
Scott Heavey/Getty Images
Matheson highlighted how much easier her job as an attacking midfielder was with someone of Sinclair's ability and skillset in front of her.
But Heiner-Møller, while acknowledging the obvious benefits of having a lethal striker in his team said it did come with its downsides.
"So much [is] put on her shoulders but also built around her," he said.
"I think that's a code that got cracked later on that a lot of other players, like very skillful players, younger players, came through in the team. So it wasn't just everything was on Christine. It was on more than her, like other players could also contribute to the success.
"There was a phase of like six, eight, 10 months potentially where it was still on her, like she was the best by far now, all of a sudden, the quality of the players improved and then it was easier.
"But having a player like Christine should never be a downside. And when she was not there, you could feel it very much."
A crowning moment?

Not traditionally known for being a footballing nation, Sinclair's arrival in the Canadian national team coincided with the country's most successful period.
The Canadians finished fourth at the 2003 World Cup – Sinclair scoring three goals along the way – as well as back-to-back bronze medals at the 2012 and 2016 Olympics Games.
However, Sinclair wrote her name into Canadian sports folklore, captaining the team to a triumphant gold medal at the 2020 Tokyo Summer Games, beating powerhouses Brazil, the US and Sweden along the way.
And now, with potentially one final World Cup in front of her, she has the opportunity to cement her legacy as one of the most transformative players in soccer history.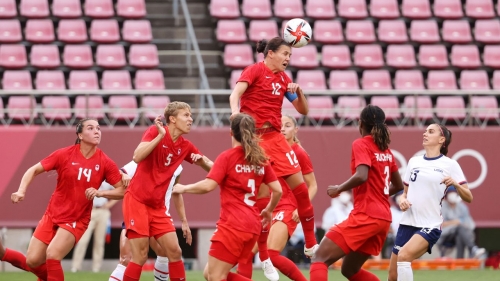 Sinclair wins a header during Canada's semifinal at the Tokyo 2020 Olympic Games against the US.
Atsushi Tomura/Getty Images
In arguably the most open Women's World Cups in history, both Heiner-Møller and Matheson said there was no reason Sinclair couldn't lead Canada to glory. Qualification to the knockouts is still not guaranteed, however, after a draw and a win in the opening two games. Progress rests on the final match against host Australia on Monday.
"I do think they could be a contender for the title. I think the biggest precursor for success is having previous success," Møller said. "And they are the title holders from the last big tournament.
"So coming in with that mindset of having been successful already, knowing exactly what it takes to be a tournament team, I think that's something they could find very beneficial.
"So I'll hold them up there as a final four team. And if they're not going to get there, I know they'll be disappointed."