close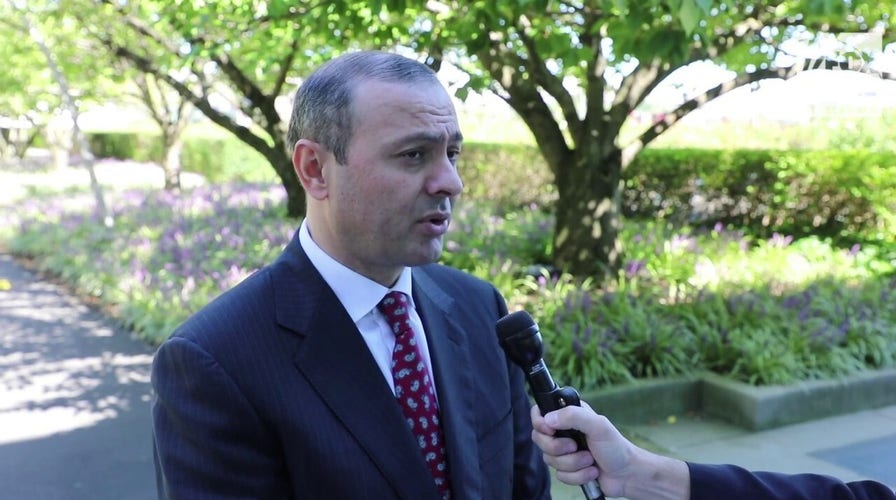 Video
Armenian security official praises US support, 'concerning' to see Russia help Azerbaijan
Armenian Secretary of the Security Council Armen Gigoryan spoke exclusively with Fox News Digital about the various concerns Armenia has as the conflict with Azerbaijan remains unresolved.
A Christian advocacy group is urging President Biden to intervene in the Nagorno-Karabakh conflict to stop a potential genocide from occurring.
Armenia and Azerbaijan have fought two wars in the past 30 years over Nagorno-Karabakh, internationally recognized as part of Azerbaijan but home to a large Armenian population in the Caucasus Mountains. Tensions have spiraled between the two ex-Soviet neighbors over the blockade of the only road giving direct access to Nagorno-Karabakh from Armenia.
In a letter sent to President Biden on Wednesday morning, the Philos Project supported calls from the Armenian National Committee of America in asking for U.S. intervention to prevent Azerbaijan from persecuting Christians in the region as conflict between Armenia and Azerbaijan continues.
"Day by day the situation in Nagorno-Karabakh grows more dire, as routine shipments of basic supplies, medicines, and food supply on which the region is utterly dependent remain completely shut off, save a handful of International Red Cross humanitarian convoys," the letter stated. "Soon the situation will become untenable for the 120,000 Armenians" in the region.
UKRAINE-RUSSIA WAR: GERMANY AGREES TO SEND 2 BATTALIONS OF LEOPARD 2 TANKS AFTER HEAVY PRESSURE
The Philos Project has urged the Biden administration to "put human rights at the center of its foreign policy" and to "make good" on his recognition of the Armenian Genocide by the Ottoman Empire and "avert a second Armenian Genocide by taking decisive action now."
"Though thinly disguised as work of eco-activists protesting mining operations, the blockade's intent was laid bare by President Aliyev's offer that the road out was open to any Armenians who wished to leave," the letter stressed. "Ethnic cleansing…not eco-activism."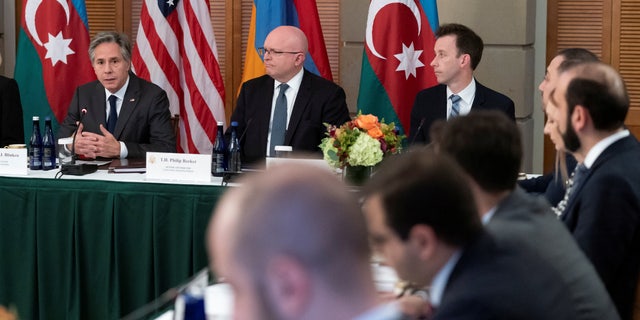 Secretary of State Antony Blinken, top left, speaks during a meeting with Azerbaijan's Foreign Minister Jeyhun Aziz oglu Bayramov, and Armenia's Foreign Minister Ararat Mirzoyan at Blair House, Monday, Nov. 7, 2022, in Washington.
( Alex Brandon/Pool via Reuters)
Azeri President Ilham Aliyev denied that the Lachin corridor, which links Nagorno-Karabk to Armenia, was subject to a blockade, insisting instead that officials in the region had to halt a mining project that is the main reason for disrupting traffic, Reuters reported.
The Azerbaijan Embassy in the U.S. did not respond to a Fox News Digital request for comment by time of publication.
During an orthodox Christmas address this month, Aliyev pushed back against the accusations, saying that Azerbaijan is "a native land for everyone who lives here regardless of language, religion and ethnicity. Relations of friendship and fraternity between separate peoples and religions, which are based on mutual respect and trust, have been established in our country, which is reigned by a high culture of co-existence."
CHINA'S XI WANTS TO USE CAPITALISM TO SAVE COMMUNISM. BIDEN, WEST MUST NOT TAKE THE BAIT
The Azerbaijan constitution also stresses that the government cannot interfere in religious activities, empowering both government and citizens to combat "religious extremism" and "radicalism," specifically giving the government power to dissolve religious organizations that cause racial, national, religious or social animosity, according to a 2022 report by the U.S. State Department.
Russia has said that it "continues painstaking and difficult work with both Armenia and Azerbaijan" to resolve the dispute and blockade, but European officials criticized Moscow for a general passivity on the issue that has allowed it to develop to this point.
U.S. Secretary of State Antony Blinken asked the president of Azerbaijan on Monday to redouble efforts to clinch a peace agreement with Armenia, but human rights groups have started to call on Biden to do more.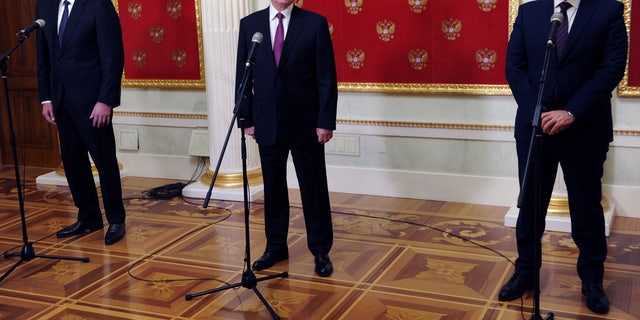 Russia's President Vladimir Putin, center, Azerbaijan's President Ilham Aliyev, left, and Armenia's Prime Minister Nikol Pashinyan attend a news conference following their meeting to discuss the implementation of the ceasefire over Nagorno-Karabakh reached on November 9 and measures to solve problems in the region, in Moscow Jan. 11, 2021. 
(Sputnik/Mikhail Klimentyev/Kremlin via Reuters)
"Azerbaijan is taking advantage of a distracted Russia to force the remaining Armenians out of Nagorno-Karabakh," Sam Brownback, former U.S. Ambassador-at-Large for International Religious Freedom, told Fox News Digital. "This blockade is intended to make Nagorno-Karabakh uninhabitable by this ancient, mostly Christian, population."
"The United States, Europe and the rest of the world must not allow this to happen," he added. "The blockade must end quickly and not be repeated."
CHARGES DROPPED AGAINST US-TRAINED AFGHAN SOLDIER DETAINED WHILE CROSSING BORDER AFTER ESCAPING TALIBAN
The Armenian National Committee of America posted on its website the 14 risk factors for genocide tracked by the United Nations are now present in the region. The group accused the government of Azerbaijan of promoting official hatred and impunity for atrocities committed against the Armenians in the region.
Estonian MEP Marina Kaljurand urged Azerbaijan to also refrain from using "high-level inflammatory rhetoric," which helped discriminate against Armenians, and the European Parliament has called on the Azerbaijani government to lift the blockade, but so far there have been no signs of change, according to Open Democracy.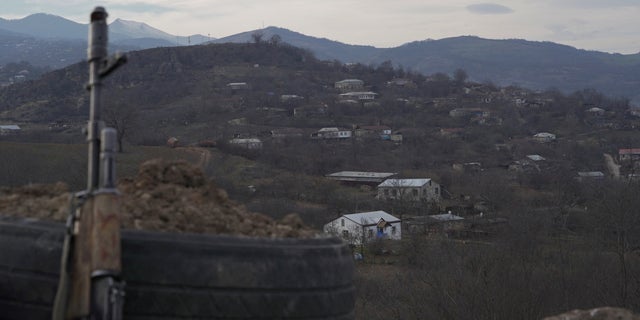 A view shows the village of Taghavard in the region of Nagorno-Karabakh, Jan. 16, 2021. 
(Reuters/Artem Mikryukov/File Photo)
Bashir Kitachayev, an independent journalist from Azerbaijan with a focus on the Azerbaijani-Armenian conflict, wrote that any Armenians in the region who would take Azerbaijani citizenship would face "rampant Anti-Armenian sentiment, or Armenophobia, fueled by the state."
CLICK HERE TO GET THE FOX NEWS APP
"The country must take real steps towards democracy and reject a national-patriotic identity based on hatred of Armenians," Kitachayev wrote, criticizing the government for "exacerbating a humanitarian crisis … when it could be creating conditions for peace."
Reuters contributed to this report.
Peter Aitken is a Fox News Digital reporter with a focus on national and global news.